Free Solar Power for Refugees
The campaign owner has stopped the page from accepting further donations. Please contact them if you'd still like to donate
Help this ongoing fundraising campaign by making a donation and spreading the word.
Elpis means Hope. Our mission is to charge refugees' mobile phones for free.

Imagine leaving behind all you have ever known, and being left with only one way to contact your family, transfer money and access information. Suddenly what just seemed like a phone has become a lifeline.

---
Access to electricity is very limited in camps. Refugees are faced with little choice but to continue to look for alternatives, not hesitating to take dangerous risks.


This is how refugees need to charge their devices right now:


A dangerous example of refugees hacking a light-pole, and exposing themselves to high voltage electrical current in order to charge their mobile devices (Credit: Georgios Makkas). Refugees using a TV station's satellite truck to charge their mobile phones (Credit: Mauricio Lima, The New York Times).

Together we can change this!




Our Solar-Charger has been built in collaboration with Entec, a Greek solar technology company and its partners; Solar World, Steca Elektronik and Viosy S.A. The unit generates electricity for 12 plugs per hour using only the sun. It runs for 10 hours a day, delivering electricity to 3600 refugees per month and costs only £850 to produce.



Two units have been successfully installed throughout Greece.

NOW THERE IS OVERWHELMING DEMAND to produce more!


Society: Refugees can live more independently from community resources, improving coexistence with locals and reducing tensions between the two.
Economy: The solar-unit does not connect to the electricity grid, reducing energy expenditures while providing free and accessible energy to all who need it.

Environment: People need to communicate with family and access information. Our design offers a renewable and environmentally viable way of doing so.


Together we make it happen!


Your contribution will allow migrants to access a much-needed opportunity to seek out travel advice whilst also enabling communication with family and friends back home.

Dependable information empowers people in crises and aids in clarifying rumors, reducing confusion, stress and susceptibility to fraud.

Therefore refugees will be able to make better-informed decisions for themselves and their families for a better chance of resettlement.


You will also help refugees in safeguarding their most cherished memories that are often documented on their mobile phones; offering them hope in the darkest moments.


Remember, a donation as small as £1 can go a long way!



We are students from the University of Edinburgh who want to contribute towards achieving positive change, and take this as an opportunity to start making an impact now. There are over 1.2 billion people around the world without access to electricity. The scalable nature of Elpis has been designed in order to gradually increase the amount of people who will benefit from our services. This is only the beginning.
Please help us by making a contribution, however small it may be.

Contact:

Email: [email protected]
FB: http://facebook.com/projectelpisgreece

Rewards:

1. Greek recipes




2. Solar powered toys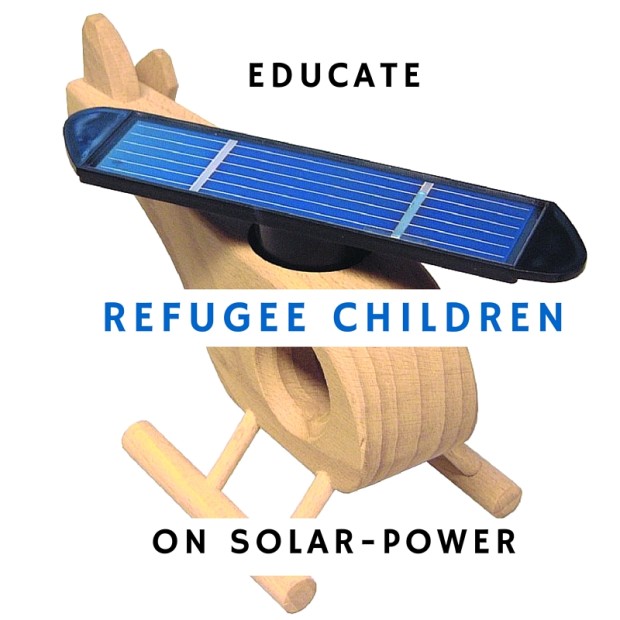 3. Your own station!

Samuel Kellerhals
Elpis Team
Alexandros Angelopoulos
Elpis Team
No updates for this campaign just yet