Massive 6.9 earthquake hit Lombok, Indonesia
On the 5th August 2018, the North coast of Lombok island, Indonesia, was hit by a devastating earthquake, which, with subsequent tremors, inflicted significant loss of lives and destruction.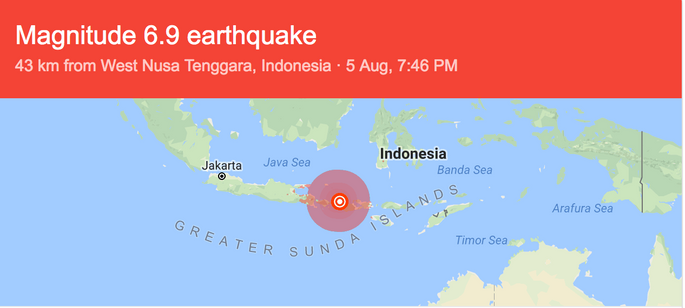 Thousands of victims
The death toll is now reported to have reached over 350 people, and at least 2,500 have been severely injured. The hospitals have been overwhelmed, and part of the Tanjung hospital has collapsed.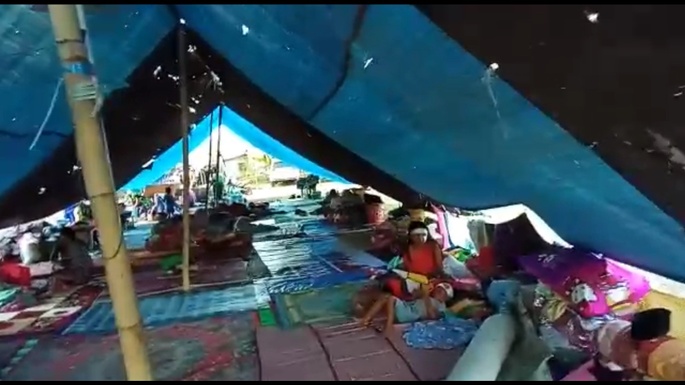 Massive destruction
In the region, tens of thousands of houses have been flattened to the ground, and most standing buildings are severely damaged. Over 150,000 survivors are homeless and have taken refuge in camps, where they lack water and food. Electricity, water, and most essential services are no longer available in most affected areas.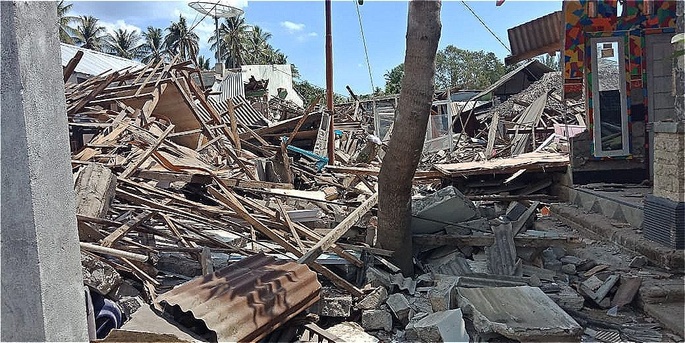 Urgently delivering necessities
The team of the Anandita villa, in Sira, North Lombok, is arranging to urgently provide essential supplies to the villagers nearby, until the government support kicks in.
We need your help to procure and deliver:
Drinking water
Rice, instant noodles, canned food
Blankets
Other essential supplies
and later, if funds allow, cement for basic reconstruction
YOU can make a difference NOW!
We believe that our initiative can locally help fill some of the gaps in aid as the government needs to rescue people still trapped under the rubble, attend to victims in hospitals, restore transport, communications, electricity, water and maintain law and order.
In the Sira peninsula, most people have taken refuge in makeshift camps where they lack basic necessities.
---
FAQ:
Who are we?
This campaign is set up by the Anandita villa in Lombok and supported on the ground by its team, who knows the area well and can reach out extremely fast to those most in need.
How will the funds be managed?
The funds raised will be received in Hong Kong and transferred to our legal representative in Lombok, who will duly supervise their allocation:
LILO Consultants, Jl. Arief Rahman Hakim 31, Mataram, Lombok.
What will the funds be used for?
The funds will be used as specified above in this page, as well as for delivery and distribution costs.
What can US$15,000 buy?
As a reference, our campaign target US$15,000 can provide the following for around 1,000 people:
1 box of 30 packs of instant noodles, IDR 70,000
6 bottles of 1.5L water, IDR 30,000
10 Kg of rice, IDR 100,000
= Total around US$15 /person
Why are we raising in HKD (Hong Kong Dollar)
As our first receiving account is in Hong Kong, contributions are listed in HKD.
1 HKD = 0.127 USD
1 HKD = 011 EUR
Are there any processing costs?
We will be deducted a credit card transaction fee by Stripe, the leading card platform provider that we use, which includes a processing fee of 3.4% +USD0.30 for transactions paid in US$, a payout fee of US$25 per transfer (Expecting one transfer weekly), an additional 1% fee for foreign credit cards and a foreign exchange fee of 1% for different currencies. Lower rates apply for PayPal payments. So in effect, around 94.5% of what you pay will reach the people of Lombok.
How will I get feedback?
We will keep you informed of the actions undertaken by regular emails, and we will provide a final accounting sheet detailing the expenses.
Why only the Sira peninsula?
While other areas such as Loloan, Tanjung, the Gilis, and Bangsal, have also suffered extensive damage, we intend to focus on the area where we are and which we know best, for maximum efficiency.
Where is the Sira peninsula?
The Sira peninsula faces the Gili islands and lies West of Tanjung, in North Lombok, Indonesia. It comprises 3 main villages.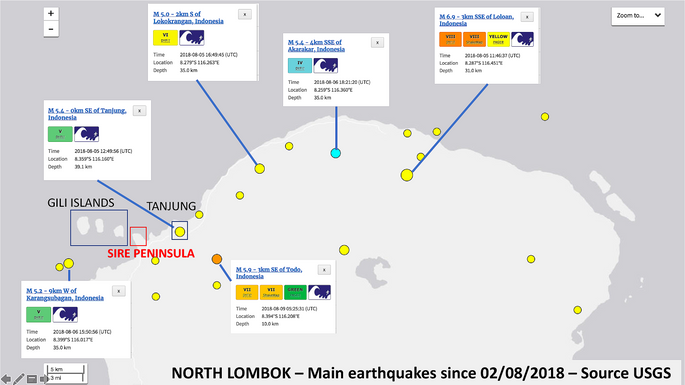 ---
Thank you!
Please also help us share this page!
Please click the style of widget you'd like to install