25 Ways To Say Thank You

Please Share This on Facebook, Twitter, and Instagram:

We all know how important practicing gratitude is, right? When we focus on what we have to be grateful for, our lives feel more abundant and we are reminded that life isn't as difficult as we often feel it is.

When you practice gratitude, you get to enjoy the benefits of reliving the positivity in your mind, and you spread gratitude to those around you through your actions.

The best part of practicing gratitude is that there are so many ways to do so that there's no excuse to not be reaping its benefits! Here are 25 simple practices you can start today:

1. Send a thank you card.

2. Donate to a cause or company for their efforts to create a positive impact you support.

3. Volunteer locally.

4. Write in your gratitude journal.

5. Recycle as gratitude for the planet's resources.

6. Accept compliments graciously.

7. Give compliments genuinely.

8. Talk about what you are grateful for with family (bonus points for reflecting on gratitude out loud).

9. Celebrate!

10. Give a generous tip for outstanding service.

11. Be present — get out of your head and practice gratitude by valuing the moment you're living right now.

12. Meditate.

13. Give a gift, send a gift, hand-make a gift.

14. Bless your meals and give thanks for the food that nurtures your body.

15. Write a positive public review.

16. Say thank you always.

17. Pay it forward by giving out the kindness you received to someone else, and pass on the gratitude

18. Call your parents (remember, they gave you life).

19. Fill out a compliment card.

20. Send personalized thoughtful notes: congratulations/thinking of you/get well/birthday.

21. Pick up the bill when you're out with people you care about.

22. Pray.

23. Text someone a personal note of appreciation out of the blue.

24. Honor the success of others as you do your own successes.

25. Go the extra mile.

Please Donate as much as you can to help us to spread the word.

THANK YOU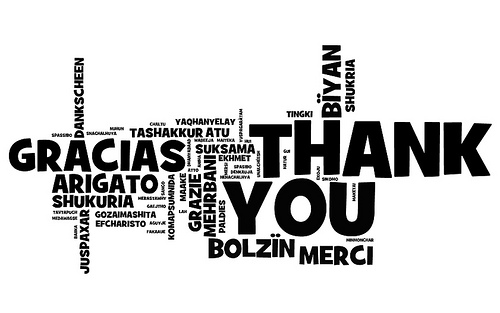 Whenever Bob and I travel to a non-English speaking city, we try to interact with locals using their language (even if we butcher it sometimes). The effort seems to go a long way in showing respect and befriending a stranger. I can't tell you how many times we've ekk'ed out merci or gracias and been given a helpful smile (or directions and advice) from a local. Committing to a basic understanding of a foreign language is a great, FREE, travel tool to have up your sleeve.
How-To Say Thank You in 14 Different Languages:
English– Thank you, Thanks
Spanish– Gracias
French– Merci (Thank you very much= Merci Beaucoup)
Italian– Grazie
Japanese– (Domo) Arigato (ah-ree-gah'-toh) or written ありがとう
Chinese– do jeh, daw-dyeh
German– Danke sehr
Thai– Khop Khun Mak Kha
Russian– Spasiba (spah-see'-boh)
Korean– written 감사합니다 gamsahabnida
Icelandic– Takk
Hawaiian– Mahalo
Hebrew– Toda (toh-dah')
Greek– Efharisto (ef-har-ris-tou')
Is there a special way to say thank you where you are from? When we were in Australia, everyone would say No Worries or Easy As whenever we would thank them. In my hometown of St. Augustine, you are likely to hear a few, Thanks, y'all, coming from the locals. Have any favorites that should be added to the list? Let us know in the comments below!
YOU CAN PAY IT FORWARD BY HELPING US TO SPREAD THE WORD. PLEASE DONATE AS MUCH AS YOU CAN TO HELP THIS CAUSE. TOGETHER WE CAN MAKE THE WORLD A BETTER PLACE. THANK YOU AND GOD BLESS YOU.

TO CONTRIBUTE WITH PAYPAL SEND YOUR DONATION TO [email protected]

OR YOU CAN PAY WITH BITCOIN TO THIS WALLET ADDRESS:
1JRsD1GFBRpu5Rk6NLP1yn1WvG1hY3ttKJ
Please click the style of widget you'd like to install