This all began Thanksgiving 2016 when Rebecca Leon, at 21 years old, had a grand mal seizure, without any warning. She was sent for a CT scan, and shortly after she was taken in for surgery due to a brain tumour that was found. Rebecca underwent a 7 hours surgery at VGH (Vancouver General) within days to remove the tumour.
After biopsy, Rebecca was diagnosed with a malignant brain tumour - an astrocytoma. Unfortunately not all of the tumour was removed, meaning that Rebecca is at risk of of the tumour regrowing, and increasing the risk of severe seizures, which could lead to her death.
She suffers from frequent migraines and fatigue. Due to the invasive nature of her surgery, Rebecca experiences facial numbness, pain along the incision line, hair loss, and soft spots in along her scalp. The titanium plates used to reconstruct her her skull after surgery are a cause of great discomfort in her daily life. Despite this, Rebecca is active within the community, working two jobs with autistic adults and children, and finishing her studies at Langara. Rebecca strives daily to move past her experiences with cancer, and to build a sense of normalcy and positivity in her life.
However, because the tumour could not be completely removed, Rebecca needs further treatment - treatment that is not available here in Canada. Her oncologist has recommended a consultation with a specialist in neuro-oncology at the University of California Medical Center, San Francisco. It is our goal to to be able to send Rebecca to their facilities to receive the best immunotherapy treatment available for this type of brain tumour. 

Rebecca could be sent for her consult in California as early as November.
This is Rebecca, just before this suffering began.

Photos from Rebecca's time in the hospital.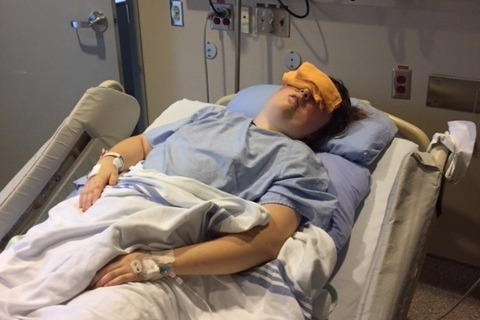 Rebecca is my little sister, and I hope and pray for nothing more in life than her to be able to live a long, and pain free life. On behalf of Rebecca and my family, I would be so grateful for any assistance you can offer to help us to get Rebecca the treatment that she desperately needs.
Rebecca is a warm, wonderful, loving, charismatic, goofy, and giving 23 year old, whom I love so dearly. She deserves every opportunity this world has to offer her, and I hope you can find it in your heart to help me achieve this outcome by affording her the best chance of survival.
Me and Rebecca will be immensely grateful for all your help, every little help means a lot to Rebecca.
THANK YOU!
Jenna Leon
Please click the style of widget you'd like to install