US$102.00

raised of $78,000.00 goal goal
No more donations are being accepted at this time. Please contact the campaign owner if you would like to discuss further funding opportunities
Short Summary
As we tried to show in the video, we are trying to get funding for a start up of the family business with a slight touch of a global reach with our online solution. Basically we are trying to build a Georgian wine shop and wine bar in our family house backyard and also help local wine cellars sell their product globally to different wine bars around the world with the help of our website. Let me briefly introduce myself and bring some of the key points of our business idea to your attention.
My name is Guram and I'm trying to start a family business with my wife Tamuna. I have a degree in Economics and I have been working at CWT Georgia for 14 years (now as a Director). I have years of experience in the field of travel, which will come handy in this small enterprise we are trying to start. I have experience managing a hotel in one of our ski resorts and I have recently completed a Georgian wine expert course.
Recent economic developments in Georgia showed a great potential for our country in wine making and tourism and collaboration of these two. Lots of new cellars have emerged in the past few years, most of them small businesses offering boutique wine products. Due to their size they have trouble maintaining a stable and effective marketing campaigns resulting in their products getting lost on the store shelves. Our business idea is all about personal approach to all our clients ensuring fare promotion of their products. The location of our store (most touristic neighborhood in Tbilisi) will help us promote products directly to the visitors of our country. Here are some key points of our idea:
Developing video profiles for every small to medium sized cellar interested in our services or presented in our store.
Displaying these profiles on our website and on monitors in our store.
Ensuring all crucial data about every product is properly analyzed and documented.
Helping our clients develop a cost effective system to provide product samples for tasting.
Conducting wine testings and happy hours at our store with the cellar owners, creating a presentation type event to promote their products.
Making contacts with wine bars around the world starting with countries in scope of Georgia's trading strategy.
Your contributions will help us make our dream come true and build something from nothing. We have already started acting - we created a architectural project and already submitted it to the city hall for approval (detailed description and images of the building are presented below). We are in contact with some of our potential clients/vendors and we will be visiting them during this summer creating their video profiles (you will be seeing all new videos in the update section of this campaign). We will also be capturing videos of landscape and cultural monuments of the regions of our country where we will be traveling to, thus expending perception of our potential clients, where the wine is from.
General description
The idea is to build a wine bar/wine store in the backyard of our house. The wine bar would promote wines from only selected small cellars. In addition to the wine bar we are creating a website for small cellars to promote their products internationally. Let me beak the idea down and spread it in details.
The Wine Bar
The house is built in the beginning of 20th century in the oldest neighborhood in Tbilisi. There is an old building in the back yard which is mostly demolished. The plan is to demolish the remains of that building and build a new one instead.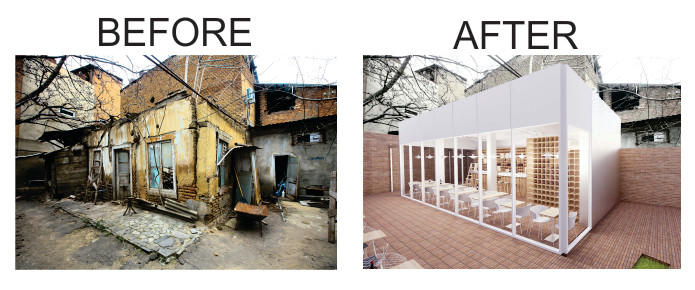 The Winter Garden
In the back yard there is a small garden with a palm trees. We are planning to transform the place into a winter garden. It will be transformable - open space in summer and closed, roofed space in winter.

The "Hallway"
When you enter the backyard there s a long "hallway" before you get to the garden. Our architect had a great idea of turning that space to a stairway leading up to the wine bar.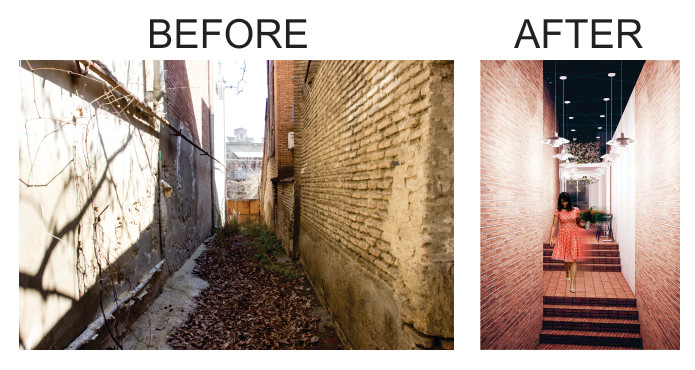 Alignment & Design
This drawing shows building alignment.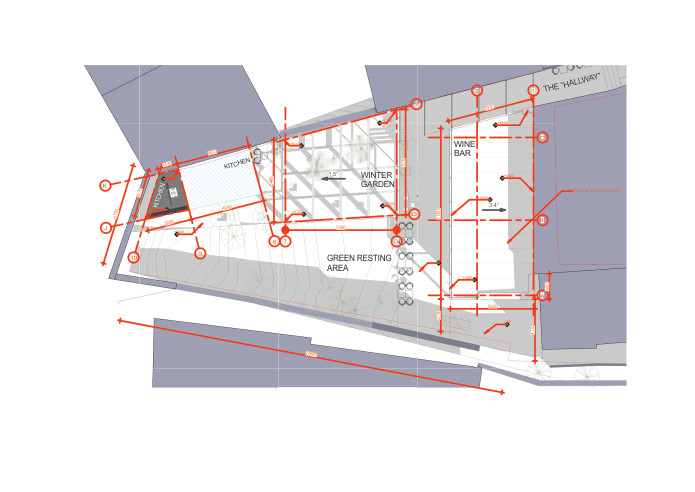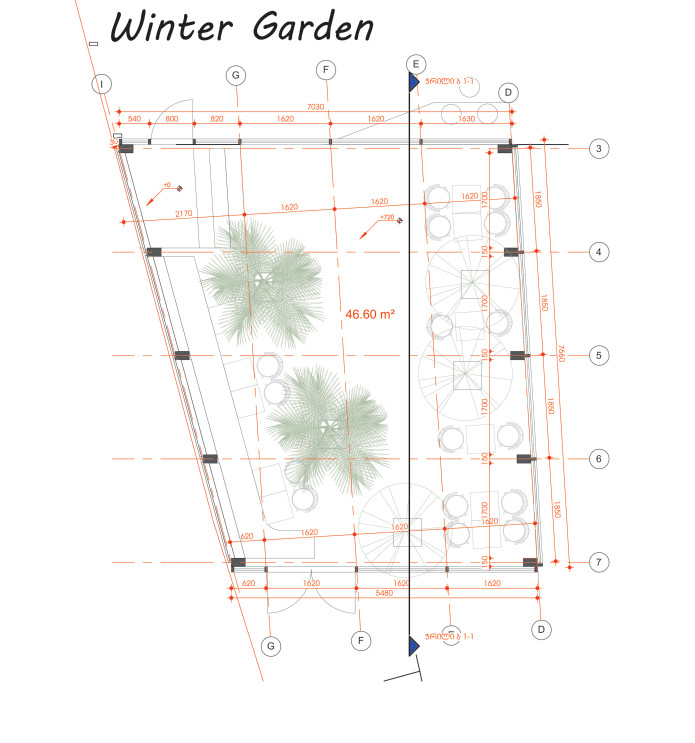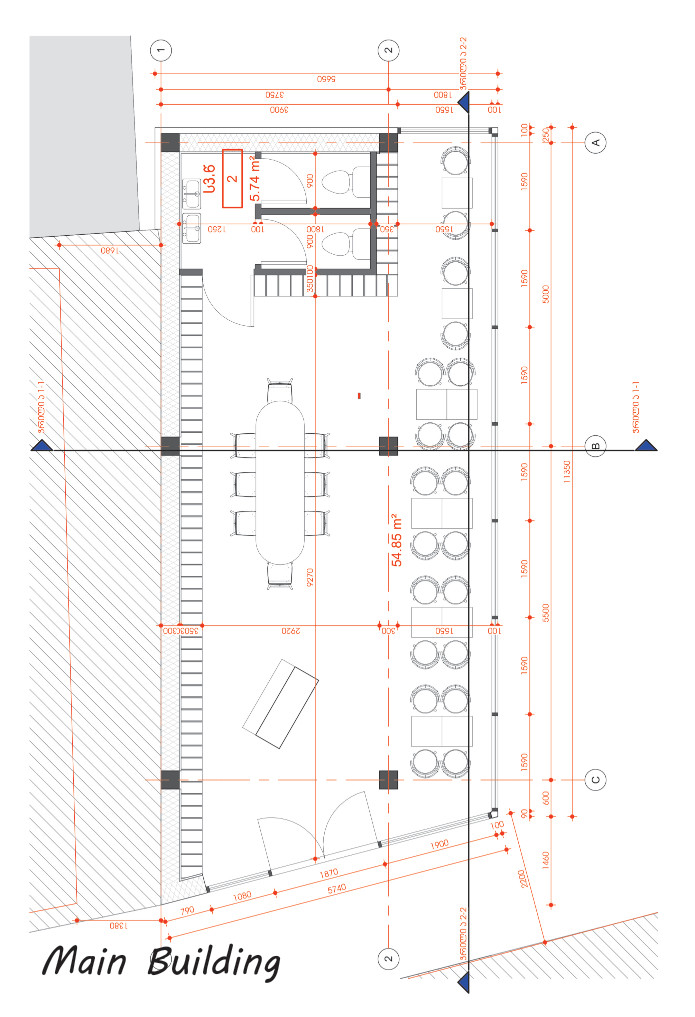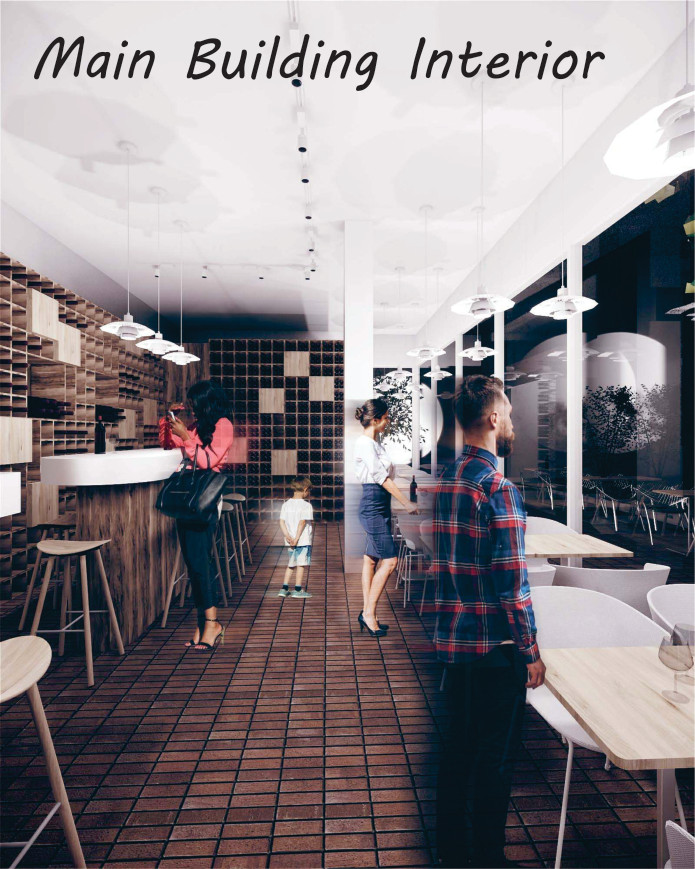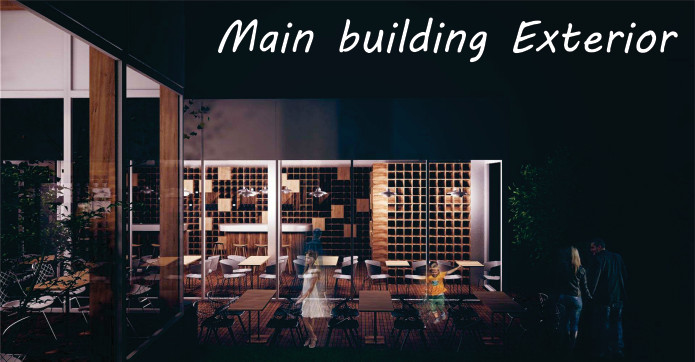 Location
The Wine bar is located n the oldest part of the city. This is the most visited neighborhood by tourists. It is 1.1 km from the freedom square (a main square of Tbilisi) and 2 minutes to the Funicular train station (very tourist visiting Tbilisi eventually goes to funicular). We actually think this is one of the reasons this project will work.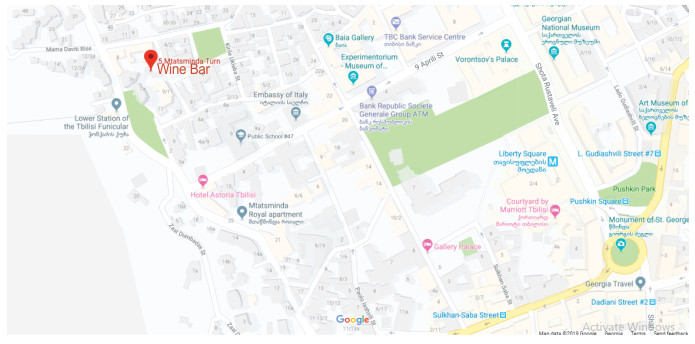 Food Menu
The menu will be simple and wine oriented. These are some examples: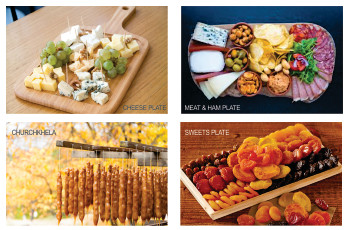 Cheese Plate
Meat & Ham Plate
Plate of edible greens on corn bread
Plate of Sweets
Activities at the Wine Bar
Lectures on wine products and wine tasting
We thought extra activities at the bar would bring more business and add value to our services. Taking into consideration the revived interest in Georgian wine and wine industry in general, we thought that small interactive lectures with wine tasting will be a good idea. The lectures will be conducted by Georgian winemakers giving them an opportunity to promote their products and educate at the same time.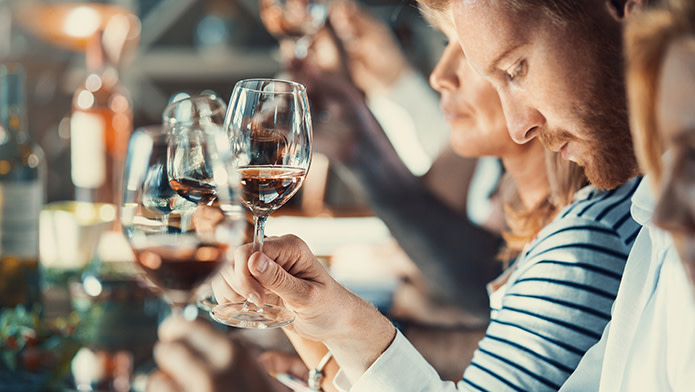 Story Sharing and Stand-up Comedy
As the majority of our guests will be tourists we thought it would be a good idea to create a day of story telling, we thought it would be fun for our guests to hear interesting stories from around the world.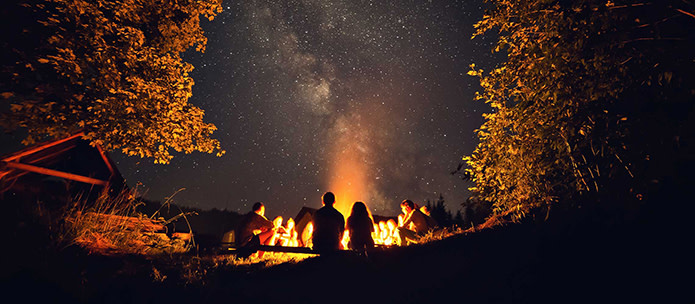 Another idea we had is about another field of entertainment that is picking up in Georgia - stand up comedy. The phase it is in right now is just observation but it is gaining popularity among the youth. More and more young artists are experimenting with it. We are planing to do open mikes on Thursdays calling them "Comedy Thursdays".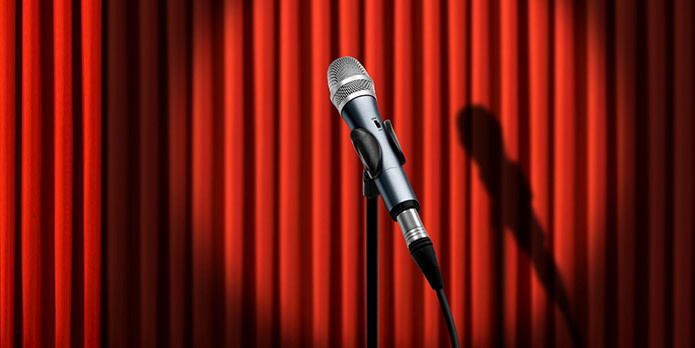 The Website
As I have mentioned earlier together with the wine bar we are developing a website designed as a platform to help local winemakers cell their products abroad. The website is itsfromhere.ge and generally it is a library of Georgian made boutique wines of different sorts. This website will combine an online shop for individual shoppers and a wholesale catalog for wine bars and wine stores all over the world.
The plan is:
Visit cellars that are interested in our services and make their video profiles. Video profile will include:
Video footage of the vineyard and the cellar itself.
Small interviews with a vine-grower and a winemaker.
A sample wine tasting - discussing tasting values of their products.
Gather all technical information about the vineyard and the wine (e.g. share of copper in the preparation used to maintain the vineyard and the amount of sulfur in the wine).
Categorize cellars by region and display their profiles on a website with a brief review and general technical details.
Collect product samples from these cellars.
Create product packages (based on region of origin) and include products of different cellars.
Contact wine bars starting with countries/cities that are already importing Georgian wine.
Send out sample packages to interested parties.
Collect orders from buyers
Prepare and send shipment.
Budget
The Impact
Any kind of support you can provide will be highly appreciated and most helpful. Your donations will help us:
Rebuild our family yard.
Build family business.
Help Georgian wine producers better promote and cell their products locally and abroad.
Promote our small country and its culture.
Risks & Challenges
We think short-term risks are in connection with the architectural plan submitted to the city hall for approval. We could be asked to:
Provide additional documentation.
Change Building materials.
make changes in building design.
Provide additional research of the area.
We have the most capable architect and we are ready to face any challenge.
Other Ways You Can Help
If you are not ready to donate financialy, there are other ways you can help.
Share our project on your social media pages
Tell your friends
Tell us about the ways we could approve our plan.
That's it folks, Thank you!
A bottle of Georgian Wine
1 Day wine tour for 2 persons
2 Day wine tour for 2 persons
4 Day tour to Svaneti, Georgia for 2 persons