You may check Baby Ty's updates on the next tab or on the below Facebook page:
FB Page: https://www.facebook.com/trailblazintyler
----->

A Letter From The Dad.

Hi Everyone,
Thank you for taking the time to read the story of Tyler Alastair A. Pick.
He was born on the 4th of February 2020 in Cavite, Philippines.
Having Tyler is the biggest blessing that we have received as a husband and wife. He has completed the two of us and made us what we have been waiting for, to be Parents "Mom and Dad".
Everything was normal at first even in his newborn test. Hence, knowing that Tyler was healthy is something we are beyond grateful to the Almighty and everyone who have supported us from the start.
Little did we know, our little boy was having a seizure disorder already lasting for 15-20 seconds. There has been a decrease in his activity with more sleeping time but he was eating well. My wife has noticed it and decided to have it checked at a local medical institution for CBC and then to DLSU Medical Center in the Philippines for further evaluation.
He was admitted to the same hospital last May 4, exactly his 3rd month. The final diagnosis has shown that he has an Acute Symptomatic Seizure Secondary to Primitive Neuroectodermal Tumor.
Both of his CT Scan and Cranial MRI results showed that he has a large, lobulated, heterogeneous mass in the right cerebral hemisphere, with areas of necrosis, perilesional edema, subfalcine and uncal herniation, and with severe mass effect. Also, Obstructive hydrocephalus with subependymal and Sinus inflammatory disease, both ethmoid and left maxillary sinus. The Main consideration is neoplastic disease process, which are the following, but not limited to 1. Supratentorial Primitive Neuroectodermal Tumor 2. Malignant Astrocytoma and 3. Supratentorial Ependymoma.
Doctors have said that he has a Brain Tumor larger than his brain and it needs to be removed immediately otherwise can cause further health problems or worst.
While staying in the hospital he had a complication that resulted to a Mild Pneumonia which then made him classified as COVID suspect. He did a swab test last May 6, 2020 and we are now waiting for the results that will be released within 10-11 days. As soon as the results of the Swab test is done, we may then proceed to the surgery.

We have tried to reach out to other public hospitals in Manila but we were informed that there's a lack of room availability due to the current COVID situation in the country. Also, there's a travel restriction because of the community quarantine and lockdown. Moreover, the Doctor that we have spoken to from Philippine General Hospital (PGH) for a 2nd opinion advised us to stay in the current hospital as well because Baby Tyler won't be able to travel anymore due to his condition.
We know that all of us are facing a very tough situation during this time of Pandemic but any help will do and will go a long way for Baby Tyler to keep winning in this fight.
We humbly request to include Baby Ty and our Family in your prayers, to share this campaign with your friends/ family and also for financial support in any amount you may offer.

We believe that "NO ACT OF KINDNESS, NO MATTER HOW SMALL, IS EVER WASTED".
God knows how thankful we are for all the support we are being blessed.

We, as a parent still have a lot of dreams for him, to see his first walk, to hear his first word saying Mama or Papa, to see him go to school, watch him play with his friends, to have a meal with him every day as he grows older, to learn with him every day. To bond with Tyler as like any Fathers would, I will teach him to play basketball, to drive, and more. We still want to be able to take care of him longer, to show him the value of life and the people around us. One day in the future, this will be one of the stories I will tell him that once when he was still a baby everything of these happened and we have been blessed to survive.
All of your kindness means a lot to our family especially to Tyler, let's all look forward to witnessing his precious smile again.

PRAYERS MAKES HUGE DIFFERENCE ESPECIALLY IN TIMES LIKE THIS.

The surgery is a must but the operation has a 50% chance of survival only. As much as we want to cry or to feel weak, we cannot be like that. We believe that everything will be better, God is bigger than all of these. We are optimistic and strong for Baby Tyler.
For Baby Tyler, we will win this battle.


To get further updates, you may follow our Facebook page:
https://www.facebook.com/Trailblazin-Tyler-1138752...
For cash donations, please see below Account details:
BDO Account:
Account Name: Ferlie A. Pick
Account number: 011100161579
Gcash Account:
Account Name: Ferlie Arnesto Pick
Account number: 09165571878
BPI FAMILY SAVINGS BANK
Account Name: Cecilia Escander Pick (Tyler's Lola Mama)

Account number: 6706221032
Paypal Account:
We would like to say thank you in advance to everyone for a big or small donation.
Please also support this cause by sharing this campaign.

Patient Name: Tyler Alastair A. Pick.
Mother: Ferlie A. Pick (Currently in the Philippines as a housewife)
Father: Jude Earvin Pick (Currently in Dubai as OFW but in No Work No Pay status due to COVID Pandemic)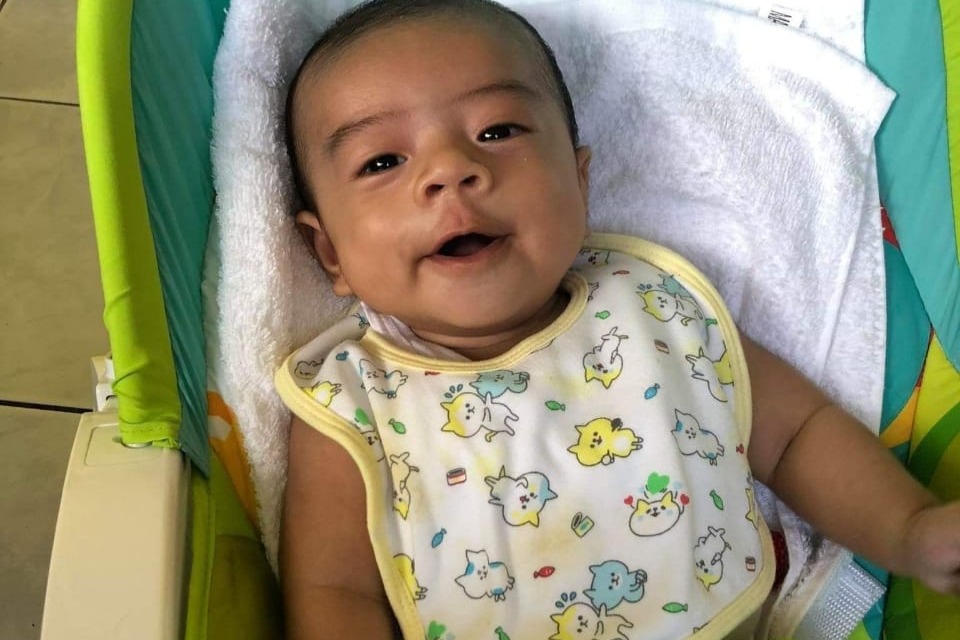 Please click the style of widget you'd like to install