Overview. Hello nature's lovers! In short, we are a '' family '' not too many of 25 friends who have heard the cry of help of their mother and have decided to help them! We are opening a foundation for this and here we need your help. If I have made you curious, I will wait for you in the following lines to convince you that the change comes from us.
In Romania, our contry,according to a report from Greenpeace Romania, 3 ha are disappearing PER HOUR. Massive deforestation has dramatically accelerated in Romania between 2000 and 2011. In the last 25 years, 400 000 ha of forest has been illegally cut in Romania, causing an estimated damage of 5 billion euros.
Between 1990 and 2011, hundreds of thousands of hectares of Romanian forest were deforested, both by private companies and the government. About 900 hectares of woodland disappeared over a period of four years in the region of Arges alone without anyone noticing – until 2012, when a reforestation process started. The cost of that operation has now reached about €2 billion (£1.6 billion), and that's only paying for replanting in half of the affected area – there are still hundreds of hectares that nobody's taking care of.
If you ask how can 900 hectares of forest just disappear, the answer is simple: The will of the politicians, the impotence of the institutions and of course their complicity are at the core of the problem. The fact that we don't have a precedent for applying any laws against the people who deforest is one of the many things that worsen this situation.
• The study developed by Greenpeace show that the total deforested and degraded forest area in the period 2000-2011 was 280 108 hectares - about 28,000 hectares per year. The most affected counties are Suceava, Harghita, Arges and Cluj Maramures.
I add a map of deforestation in Romania during 2000-2011
Distribution counties, protected areas and virgin forests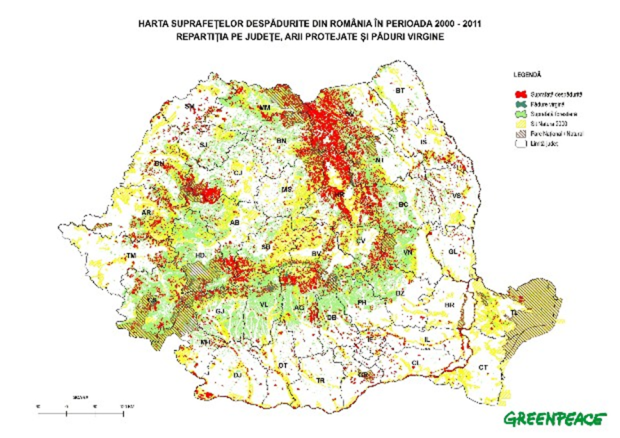 But enough with bad news, because ROMANIA ACT TO SAVE THEIR FOREST!
There is desperate need for new measures. The most effective would be to control the manufacturing and processing of plants and forbid companies from using illegal wood. It's much easier to control a maximum of 4,000 companies, than to guard the billions of trees in the woods.
We are an organization able teen which protest and fights against the illegal forest deflorations because we have had enough of the illegal cutting and exporting wood by the big corporation of this contry.
A large number of Romanian organizations , NGOs and associations have decided to stop the ecocide of their forests. The campaign began in several cities in Europe and Canada: Brussels, London, Paris, Milan, Vienna, Dublin, Prague, Rome, Munich, Madrid, Montreal, Toronto, Bucharest and Timisoara. Representatives of several organizations handed an open letter to the Austrian embassies and consulates in the above mentioned cities. This campaign continued with big protests in several cities in Romania and abroad: Bucharest, Alba-Iulia, Baia Mare, Brasov, Cluj, Focsani, Iasi, Ploiesti, Oradea, Sfantu-Gheorghe, Sibiu, Suceava, Targoviste, Vaslui, Constanta and, abroad: London, Paris, Madrid, Montreal, Vienna. For Holzindustrie Schweighofer this is a huge PR nightmare and for Romania this is a good opportunity to strengthen the Forest legislation, which is exactly what they are now trying to do. Already, the government announced it would temporarily ban the export of wood and the President himself now calls deforestation a national security threat.
(These protesters in Timisoara were among thousands who rallied to protect the forests)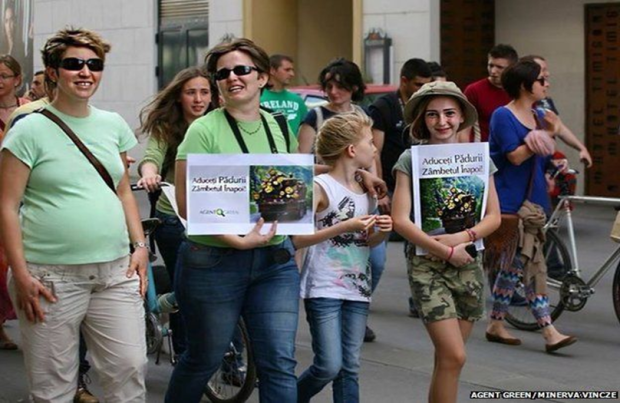 The next is my story. Enjoy
My name is Ana, I am 20 years old and already I want people to not destroy my world. I am a cheerful girl who laughs from ear to ear, he cries when he sees an abandoned pet and studying law in order to specialize in environmental law .. and leisure time are passionate about humanitarian causes or those that bring harm to our planet such is the cause about which I write here. I go to classes, I have a part time job and do volunteering at an animal shelter,who is dealing with their gathering on the street, and then promotion for adoption.
Sometimes I take food and clothing to people less fortunate. In my spare time I dream.
What I dream about?
That's what my boyfriend has encouraged me to write, which supports me in all my efforts, and he is also a fan of doing good.
My dream is to have money for access a project, start up nation, the national funds for opening a center to deal with the reforestation of forest areas affected and as we develop, I want to save as much as possible from our wonderful forests in Romania.
To accomplish my dream, I need a maximum of $ 4,000 to pay for a consulting firm to help me write my file correctly and to renovate the building that I have already rent. My dream does not stop there, I still want to become a true non-profit association to open up a another animal shelter and an asylum for the elderly.
I work in many groups dealing with the replanting of the forest areas, and recently we organized a replanting of an affected area in Tulcea County, where I went over 40 teenagers who were happy to help without receiving anything in return.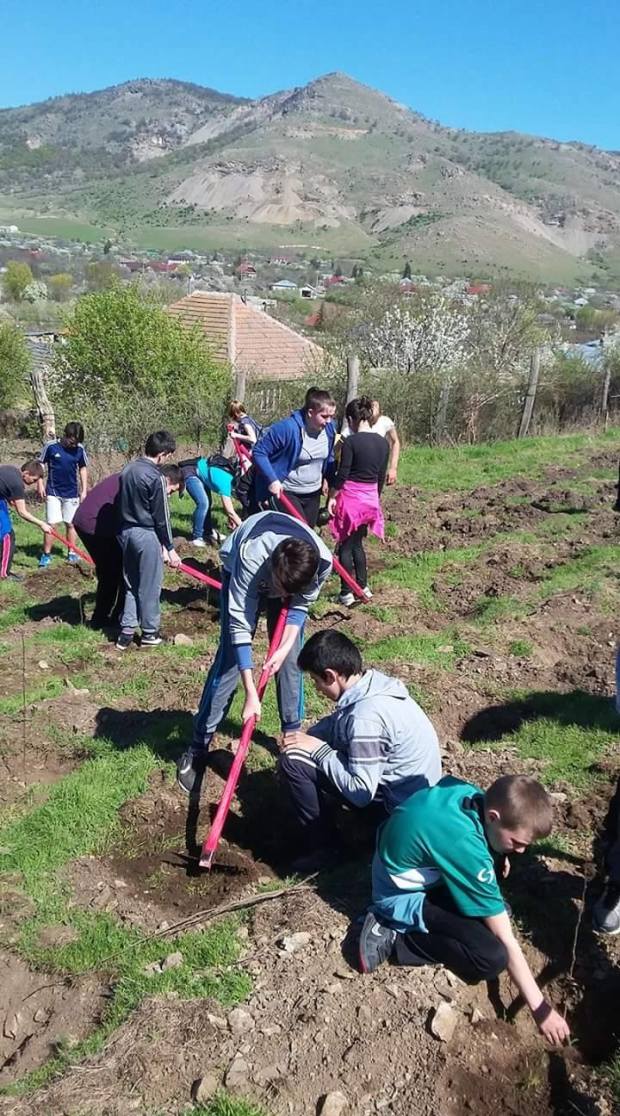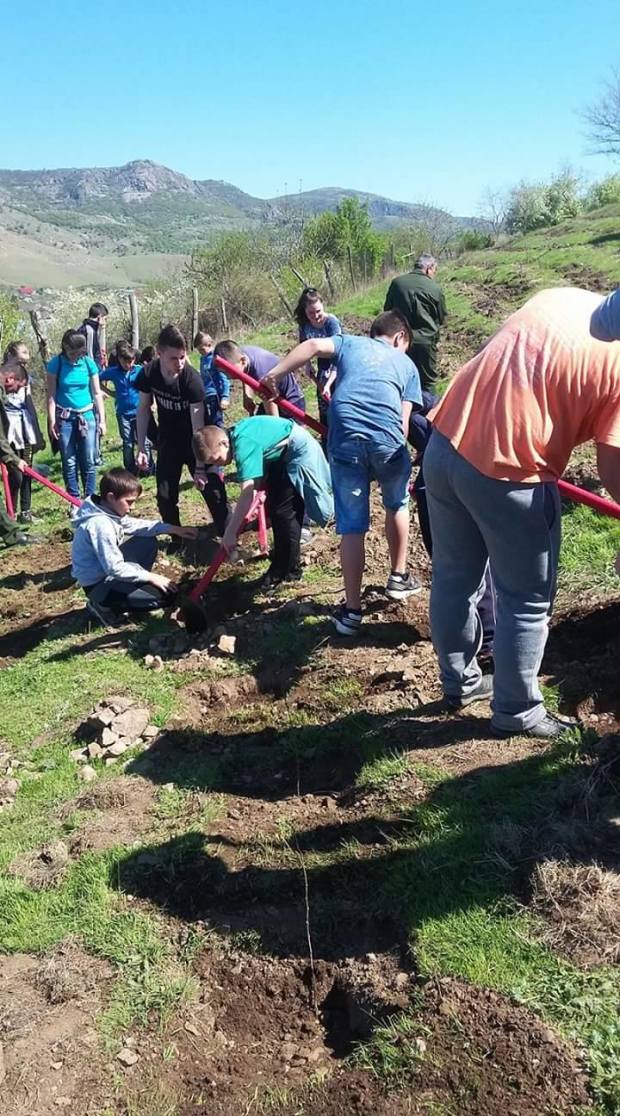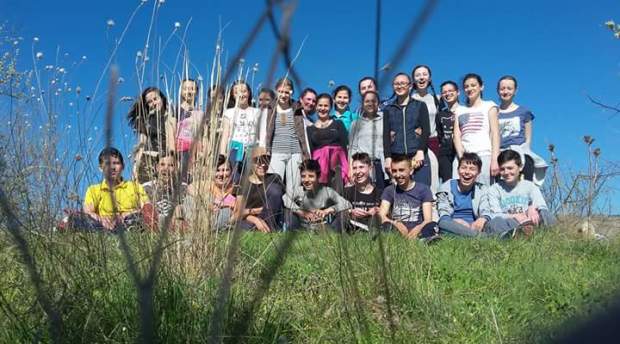 Please click the style of widget you'd like to install