A mother who has his son's back.. :)
Hi everyone, I am Raising a Fund for my son and his group's first ever international dance competition to be held in Brisbane, Australia.
History
I have always been a supportive mother to my 5 kids, although I trained them to be independent, I still managed to check everything, from their homeworks to their school project up to the competitions they are participating (both scholastic and co-curricular)... and always making sure, they feel loved and supported by their number 1 fan... Me :)
Myke Jhoevin was my first born, a consistent honor student ever since he started school. He has tried a lot of curricular activities during his junior high school days and was fascinated in dancing. At first, I was reluctant since he comes home late at night (sometimes midnight) practicing with his group. He is still a minor and as a mom, I am worried. I have been following his facebook account and was overwhelmed by the feedbacks of his classmates and even teacher commending his talent as a dancer... and an honor student.. (he got it from his mom.. :) promise!)...
Fast forward, he entered senior high at Polytechnic University of the Philippines (PUP) Sta. Mesa Manila. I have assumed that dancing was just fascination during his junior years and eventually will fade, but then.. I was wrong... again following his fb account... I saw his name on a list of successful students who auditioned for a school dance group in his school -- "Move to the Groove". We had this mutual understanding that this should not affect his studying and he keeps his promise finishing his 11th grade with honors...
The Event
He has been with Move to the Groove for a year now and I haven't seen him dance with my own eyes... So I decided to bought a ticket on one of his competition held in Resort World Manila named "Bodywars Metalux". I am never been more proud seeing my son perform on stage as if he owns it. From their on, from a reluctant mom, I have been a very supportive mom to him from checking the event location (directing him so he wont get lost) to going to his event (if works permits).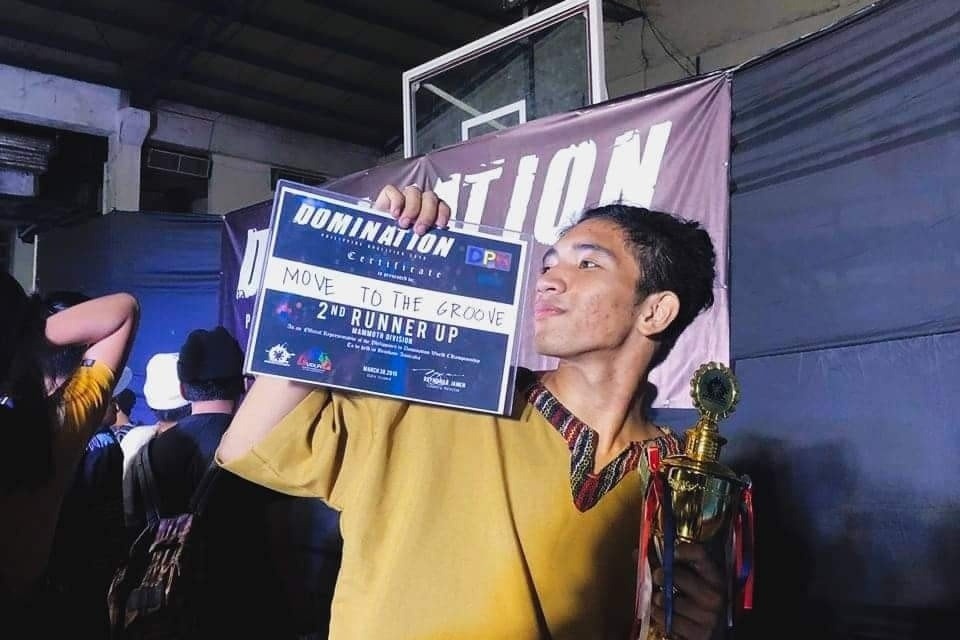 And so Domination Philippines came, this is their ticket to the world stage since winning this can take them to Australia. They participated, they dance their hearts out, they conquer... out of a lot of contenders, they grabbed the spot landing them to defend it in Brisbane, Australia this coming November 1-3, 2019.
The Fund Raising Stuff
As a mom, I can only do so much for my son, Since I still have 4 other kids to support, and with my mom (his grandmom) and my other siblings (uncle and aunt) who is helping me financially, I cannot shell out a large amount of money to send him abroad. Yes they won the competition, but they still need to provide money for them to compete.
Move to the Groove consist of 25 student from PUP who generally aims to finish college and to land a great job opportunities after graduation. That's their future, but for now they are just a student who still asked money to finance a project and food from their parents.

Their road to Australia is still a dream until they can provide a large sum of money for the plane tickets, accommodation, travel allowance and food for almost a week of stay there.
I, as a mom who wants the best for my kids but cannot literally provide financial support... is knocking to your good hearts... let these kid's dream come true... let them represent Philippines and showcase their talent to the world. I am thanking everyone in advance who can help my son and his group in fulfilling their yet starting dreams.. their very first try out of the country.. their passion for dance.. :)

Again, I am thanking you in advance for your help. :)
Nothing in this world can make a mom more proud than seeing his son soar high and fulfill his dream. :)
I understand that this is a paypal donation.. If you wish to donate.. You can send it to his paymaya account via smart padala...

Name :myke jhoevin corsino (09495263679)
Paymaya number for smartpadala : 8877 9495263679
My Gcash Number: 09997846845
Please click the style of widget you'd like to install