Hi everyone I'd like to introduce Grey the puppy.



I saved him from a very damped household where the area is cramped with residential houses in one site, I found him and all of his siblings in an area near my boarding house. I only took him as he was suffering than one of of his siblings.

Grey suffered dehydration and malnurishment when I first admit him to the veterinary, when checked he was so weak and and had worms inside him, due to that ,deworming was a no go for him due to him being very weak that it may cause him to expire. Putting an IV drop to help his dehydration was also a problem due to him still a puppy.

Additionally, he also has an infection on the lungs, cannont open his eyes, abnormal drop of temperature and very low iron in his system, blood coming out when he poops.
It broke my heart completely to see him being left there at a flat box suffering, curling his body crying.



So the only way to help his condition was to slowly build up his strength and give him doses of vitamins. Thank you very much to the people the "Pets in the City" veterinary, for doing there best to improve his condition. The good thing is that his able to drink water and milk normaly and that was a good sign.



For 11 days they took care of him and I would visit him to check his condition and ask about the docter's report about him.

Right now his condition has greatly improved, as he finally opens his eyes and was able to take deworming 2 times.

His temperature has finally normalized and still drinks milk and water and finally looks healthy. Grey finally looks healthy and I'm so happy of his progress.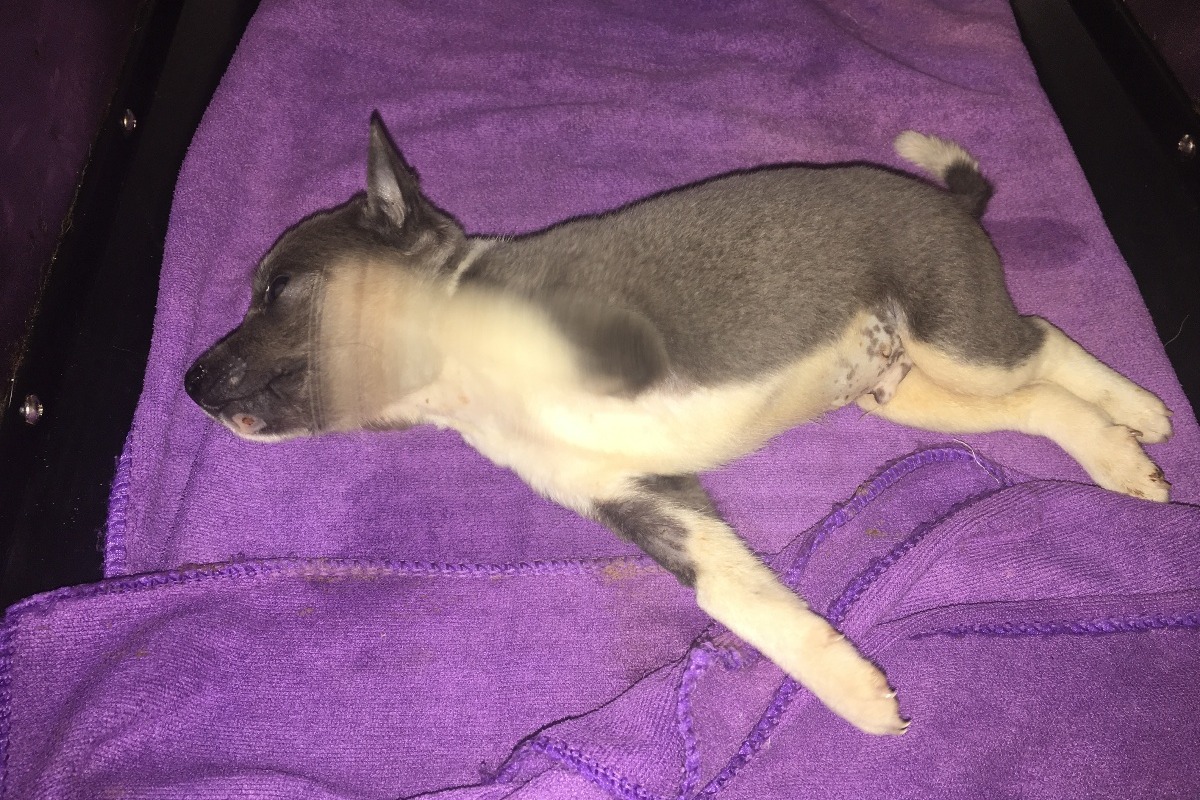 The only problem as of now is that his inability to walk and that is a major concern so an X-ray is needed to asses the cause, but hopefully rehabilitation can help his development since his still a puppy.

Right now my concern is the mounting medical expenses for Grey ,which I tried finding ways to find funds and donations but sadly had trouble to find someone to connect with, thats why I made a GoFundMe page.

Right now the total expenses is now 7300+ Pesos ($140+) and it would increase due to his extended stay for his x-ray and rehabilitation.

Any amount helps to keep this puppy alive and happy, because its important to me just to save just one puppy since its so hard here in the Philippines as there a few services to help this animals from the harsh conditions here.

Anyway a donation go straight to the expenses of Grey and if any amount is left go straight into Animal Rescue Groups that need the funds to help this animals.

Thank you so much for taking the time to ready this.

sincerly, Prince.

Please click the style of widget you'd like to install