POTARA - A Stylish & Smart Pet GPS tracker.

About the Project.
POTARA earring Project is aimed to become one of its kind when it comes to Pet and Animal Tracking. With an Original and innovative idea, POTARA Pet earring is designed to suit the owner's taste of style with a Modern and stylish look and feel.
The Idea behind this Stylish looking Pet GPS Tracker design is inspired from the Excellent & Most famous Anime series "Dragon Ball", where the characters use a very unique stylish Earring called POTARA to merge and combine their powers in an exciting and admirable manner which gave birth to the idea around which this Project is built.
The main Goal behind this project is to help people and pet owners to keep track on their pets and animals effortlessly relying on modern technology and art. No more struggling with your pet's whereabouts anymore !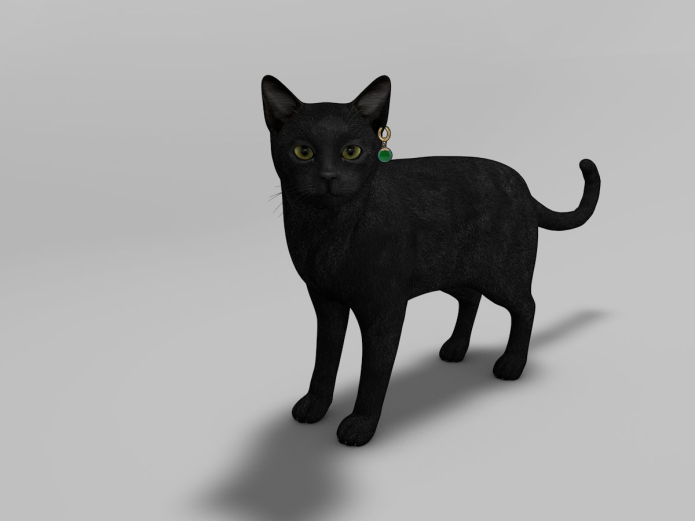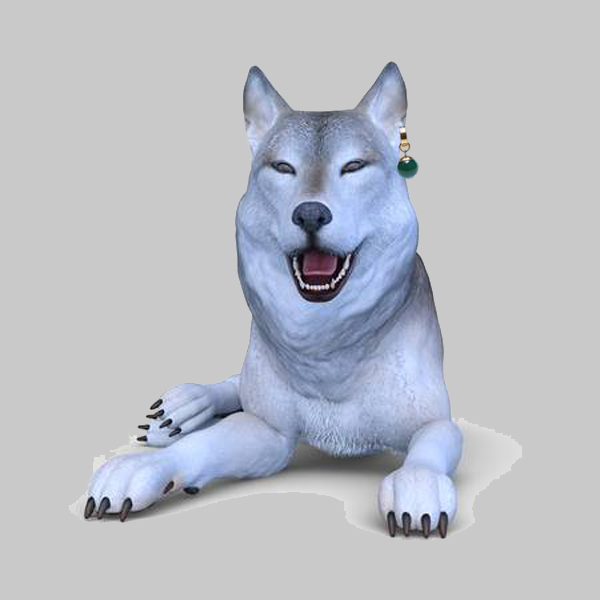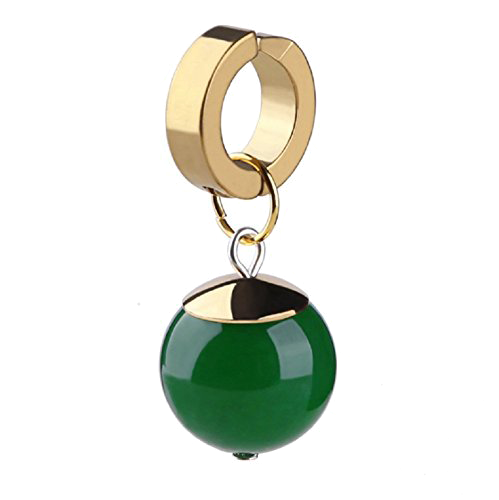 PLAN
The POTARA Project is divided into Two (2) subprojects, Hardware and Software.
The First half Involves working on the Potara Earring which requires various raw materials like Glass, Micro Ships, Plastic, Silver… in order to build and design the Earring.
The Second half concentrates on Developing the "PotarApp" Mobile Application which is responsible for gathering information from the Potara Earring and interpreting them for the user to track His/Her Pet.
We are currently planning to produce 5,000 units of the Potara earrings as initial release.
Plan Outlining :
Building of the Potara Earring.

Building & Installing the Three Main Components of the GPS System ( GPS Tracking Chip, Proximity Sensor Chip, PedoMeter Sensor Chip).

Developing the PotarApp Mobile Application and Linking it to the GPS Tracking System located in the Earring.

Testing and Packaging the Product.

Marketing and Selling.
Requirements :
- Licensing the project and registering copy rights.
- Raw materials.
- Manufacturing company to build the Potara Earring Glass and silver.
- Purchasing the Smart Micro ships for the GPS and other sensors.
- Hiring a mobile application development team to build the PotarApp.
- Paid marketing campaigns to let the masses know about the product.
The full estimated cost for this project to come to life is between 450,000 $ and 500,00 $ for the production of 5,000 Unites of the Potara earrings trackers.
Time line :
The project is estimated to take between 10 and 15 months to rollout of production and be ready for the market.
Products in detail.
Since this project is divided to 2 main subprojects, there will be 2 main products.
I.Potara Earring.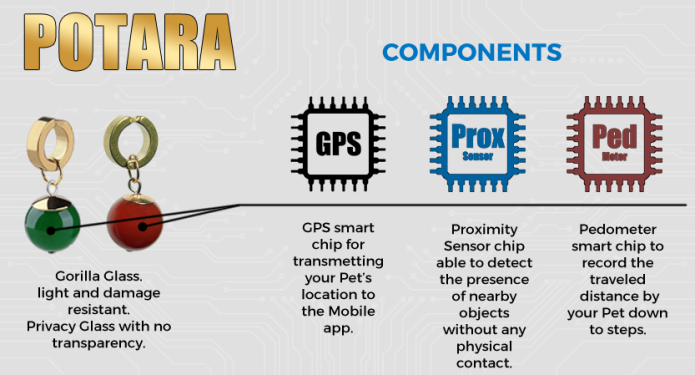 The earring is a signal transmitter, it works like the GPS microchip implant that many people use in order to keep track on their pets, but unlike implanted microchips, Potara only requires the owner to get his/her pet a small piercing in its ear and he's done (it is recommended to visit the vet for safe piercing) !
Once the earring is placed, you can activate it through the mobile application "PotarApp" which will act as a remote controller for the earring and also an information gathering and displaying App.
Components :
Potara is mainly made with :
Gorilla glass which is considered to be one of the most tough and light glasses used by modern technology which will provide safety for the internal components of the Earring. It is a damage resistant glass with zero transparency that adds a stylish look to the Earring by reflecting outside light.
A GPS tracking smart chip installed in the bottom half of the Potara Earring responsible for transmitting the GPS signal of your pet's location to the App on your mobile phone.
A Proximity sensor smart chip installed in the middle of the Earring responsible for detecting the presence of nearby objects close to your pet without any physical contact, which gives you an idea about the surroundings of your Pet.
A PedoMeter sensor smart chip installed in the top half of the Earring. Its main function is to record the traveled distance by your Pet and trace down its path.
Silver, which will be used to make the other parts of the Potara Earring.
Silicon, which will be used to force-close any opening in the Earring build which is aimed to make Potara a Water Resistant Product, so even if your Pet runs through a puddle or a river, Potara will not be damaged and the internal components will keep functioning.
A small battery (similar to those we find in hand watches), which will represent the power source for the GPS system and other Microchips to work and keep transmitting data. The battery will be designed to function for 6 months straight without any need of recharging ! After 6 months of use, all you have to do is buy a new battery ( very cheap, you can get one from any store you like for 1/4 dollar) and replace the old one following the instructions listed in the Potara's Manual.
P.S : You can ask for a modified version of the Potara Earring which enables you to choose the color you want or add text or logo on the glass of the earring to add a personal touch to it.




II.PotarApp.
PotarApp is the Mobile Application responsible for gathering Data from the Potara Earring and interpreting them for the convenience of the user . It will act as a link to your Pet providing live feed of the data collected from the multiple signals transmitted by the Sensors mounted on the Potara Earring. It will intercept the signal transmitted from the GPS, Proximity & PedoMeter sensors and output them on your Mobile's screen so can have a clear understanding of the whereabouts of your Pet and its surroundings.
The App provides Live feed of the exact Location, The Objects nearby and the Traveled distance and path of your Pet relying on pinpointing the signal of the GPS System.
The App will have a minimalistic Design with great flexibility which allows for a Very Easy-to-Use Navigation and information reading that will help the owner to Locate His/Her Pet easily and effortlessly.
The PotarApp Mobile Application will be available on all Mobile Stores for download FREE of charge !
About the Founder :
Marouan El Marzgioui, 25 years old , from Morocco and i am an App Developer !

I have started my own startup company ,which goes by the Name of "BL4CKL00P", specialized in Programming and Designing Android and IOS Apps.

Being Pushed by the dream of becoming a worldwide known app developer and, of course, hoping to get some money along the way to cover my student loans, i have decided to become an app developer .A decision that i will never regret !

After many tries and fails, many disappointment and headaches ... i managed to create a Game that restored and empowered my faith in my dream. I already had 5 apps live on the market, but none of which seemed promising .. Low download rates and zero exposure ! So i hatched an idea for a game, worked hard on the design for 5 months, add another month of coding , now that's 6 months of truly hard work (10 to 14 hours per day) leave alone the pressure of my studies at University and the constant worry about exams and financial problems ... it was by all means, the toughest year in my entire life !
Trying to compensate between studying and developing apps is a nightmare ! i can't let go of neither of them, my parents' wish is for me to finish my education and mine is to be a developer ! So.. i kept on doing both , study and developing… until the day I have lost my buddy .. he was named "ISRY", the most amazing cat I have ever seen in my life, he went out the door one afternoon and I never saw him again ! I wished that I had a product similar to what I am trying to create now so I would've traced him and found him.. he was so dear to me that sometimes I felt like we had a strong link between .. a bond of some sort.. similar to those of friends. I loved him so much that it change my entire life goal and purpose and I became only focused on providing services for people in similar situations like me, with my expertise & skills in the field of Mobile Application Development, I have decided to take on the journey of creating a product and service for pet owners and animal shelters that will help a great deal in protecting and tracking their pets easily and which also add a certain touch of style to the look of your pet.. I mean … who doesn't want a cool looking pet wearing an earring right ?
So that's how the idea of creating this project came to mind although the lack of financial means, but I have faith in each and every one of you that you will like the idea and help me and millions of people provide safety for them beloved pets and enjoy that peace of mind knowing that, with Potara GPS tracker, they will never go through what I went through when I lost my buddy !
Please click the style of widget you'd like to install