Denis is the little tom on the picture. It's a picture of him when he was found. He was dirty and small and we didn't even notice him, not until he used all of the strength he still managed to have in his little body and pulled himself into our car. We weren't even sure he'll live when we took him home. He does. He's still just few months old now, but he's bigger, his eyes are brighter and he's one of the sweetest toms out there. He is still having problems - he has terrible pains, that are sometimes so bad that he's unable to move, his hind legs clumping down, but we're fighting.


He's our youngest.

At the moment we are taking care of 17 cats - yes, 17, you read that correctly, and 3 dogs.

My city doesn't have an animal shelter and even though we have volunteer stations, they are not enough. They can't really be enough, so we always end up with few kittens or puppies looking for homes. And we're trying to help them. We manage to help a lot of them as well, even though it's mostly the puppies who manage to find nice and loving owners. Nice and loving homes. Cats aren't something usually sought after in my country and a lot of them are dying in the small charity shelters , because of sicknesses. And I'm sure no one, no one can watch that happen. More and more cats are out there on the street and less and less people actually want to adopt. And that wouldn't be usually a problem. We might have seventeen of them, but we're giving them as much love as we can. They are happy and mostly content - but we can't keep that up for too long.
Not only are we fighting with space, the bills are also starting to pile up. Denis needs looking after his bones and correct growing.

Another kitten - Hugo - a wonderful red and white one year old - had skin problems. He's still trying to over come those, with baths and pills.


Then we have Puf and Muf, two toms that were just recently neutered, because they were attacking and jumping on the cats. They are much friendlier now! Just look at their faces.


Another vet bill is from Guliver, our three years old who ended up in a fight with one of the kittens. His ear got bitten in the process and he started scratching it, until it got infected. He had to have a surgery in which his ear ended up with bunch of holes and generally painful.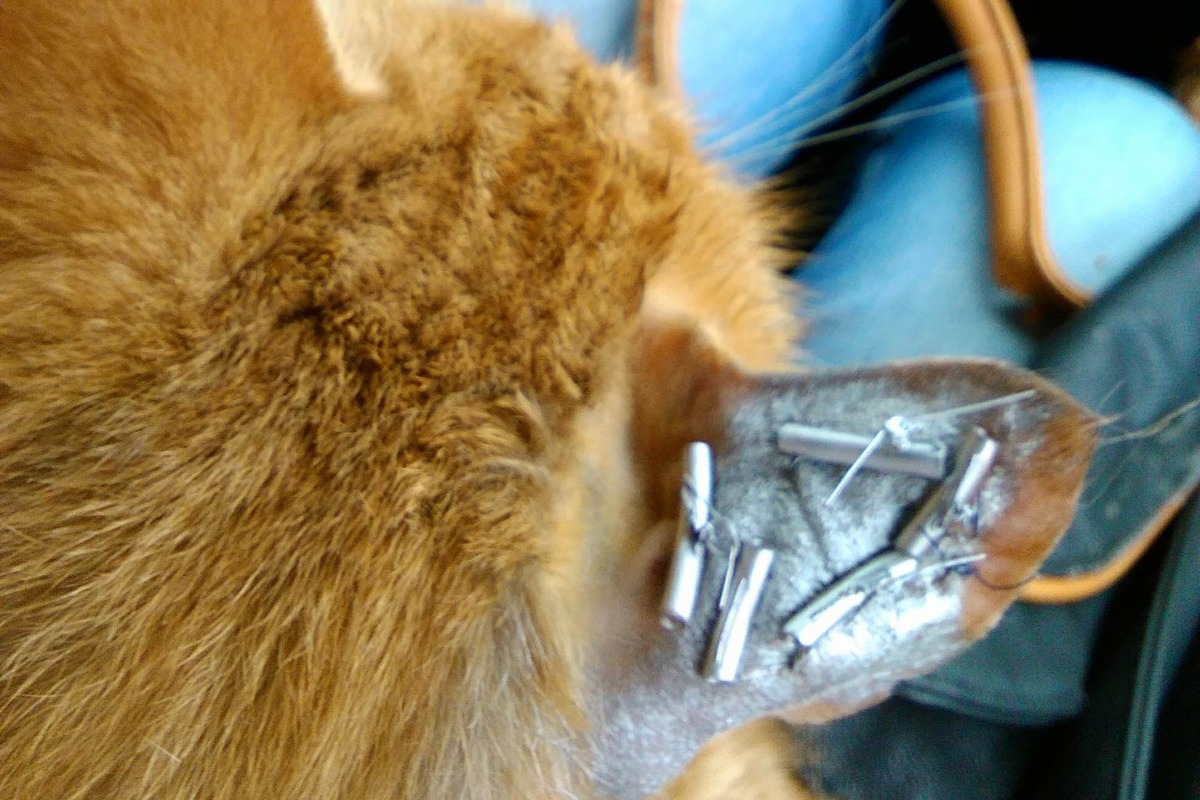 Elise, she's a cat that people gave up on before she had a chance to live. Someone threw her, freshly born in trash along with her three siblings. Only their desperate and helpless meowing helped them to be found. They got to us, and there was a month where we woke up every two hours, warmed up formula and fed them, weighting them and recording that to compare on next feeding. Unfortunately, not even our attempts were enough to battle human cruelty. Elise's sister died, and Elise, even though she survived ended up with immunity problems for her life.

With 17 cats there is always at least one that needs special care. Not to mention how much that small army eats. Again, the volunteers that gave us the cats are trying to help, but even they don't have any money left to work with and keeping 17 cats and 3 dogs full (along with new puppies every now and then) is terribly expensive.


We literally don't have the funds anymore. Bills are piling up and we don't even know what to pay for first.
Not to mention the lack of space that we have. If we could raise enough money, we would be actually bill free and could buy some food for later.
I am working, as well as my mother, but we are unable to keep up anymore. That's why I am asking all of you people to help out. If just 15000 people out there all gave us 1 Euro from their savings, we would be able to get food, pay the bills and manage to survive.
I wouldn't do this if I weren't desperate. We tried to do this on our own, but we can't. Please help us.
Please click the style of widget you'd like to install