Hello,

Introduction:
I am Shuva Aich. Before starting I am apologize for my bad English. I am from Bangladesh. At first I apologies for my trying to hide my IP to enter in this website. Our family is a lower-middle class family. I am only one child of my parents. My father's name is Narayan Aich, my mother's name is Suporna Aich & my spouse name is Mamoni Biswas. Our full family is Godly, We have a deep faith in GOD. I have got so many surprise gift by GOD from my birth to till now. At present me & my family are spending a very difficult time. So I am here because I am badly in need of some help for the treatment of my father's & wife's treatment. I upload our nationality proof, my father's & my wife's medical test reports below. So please help us.
What Happened:
My father had a little pharmacy shop which destroyed by an fireplace at 25th November, 2012. This was 1st surprise. After this accident my father was totally shocked, because this shop was our only earning source & total earning deposits of his life was spent for this shop. Then he tried to collect money for a new shop but nobody was there to help him. Every relatives, friends & known person was showed there real face to him, whose were got many helps from him in past.
After some days (13th February, 2013) he arranged a loan from a local man of BDT =1,000,000/- tk. ($12,000 USD) & interest rate was BDT =3/- tk. in every BDT =100/- tk. That means without any principal amount my father had to pay every month interest was BDT =30,000/- tk. ($358 USD). This was a big burden for him. But nothing was to do. He started his shop from beginning. But the income of his shop was mostly little than his expenditure. After 01 year (from 2014) he started to due of the interest. Because our monthly expenditure was BDT =60,000/- (family=20,000/ + Shop=10,000/ + Interest=30,000/-) & monthly income was only BDT 20,000/- or 25,000/-. So the local creditor started to insulting him everyday for the interest.
Those day first time I saw the tears in his eyes. He tried to hide this to us. But I saw, I saw that who was a well-wisher for every known person even the street beggars got free medicine from him, those days nobody was there to hold him hand & say that I am with you. So my father started to loan from several people as the same methods to pay monthly interest. Day by day his loan amounts & interest amount starting to grow up. Now his total loan amount is BDT =2,500,000/- tk. ($29,832 USD) & he has to pay BDT =100,000/- tk ($1,193 USD) monthly interest. I was single & only graduate & I had a dream to complete my post-graduation. But at those time I need a job & luckily I got a job in a local private NGO. Starting salary was BDT=10,000/- tk. ($119 USD) per month. I joined there at 27th December, 2014. Now my salary is BDT =20,000/- tk. ($238 USD) per month.
This time even there is no god to help our family. Because of so much tension he got a Heart attack on 15th December, 2018. There are caught 03 blockage in his heart (34%, 74% 80%). This was my 3rd surprise. But by the blessing of GOD he got his life back. Doctor suggest an angiogram & Ring adjusting in his heart & this will cost BDT =200,000/- tk. ($2,400 USD). Now I carry the whole expenditure of my family. But I am & my father is fully disabled to pay monthly interests.

.
I married at 27th February, 2015. After marriage we planned not to get baby within 2 years. From January 2017 we decided to get baby. We are keep trying for 01 year but no result was come to us. Then we went to a doctor & I got my 2nd surprise from GOD. Her both Fallopian tubes are blocked by polluted water. Then I loaned some money from office & went to CMC, Vellore, Chennai, India at 26th October, 2018 for exact report. But the report was same. They told that there is only one way that is getting baby by Test tube & will cost Indian Rupees =240,000/- Rs. (BDT=320,000/- & USD=3,630/-), which are so much big amount for me.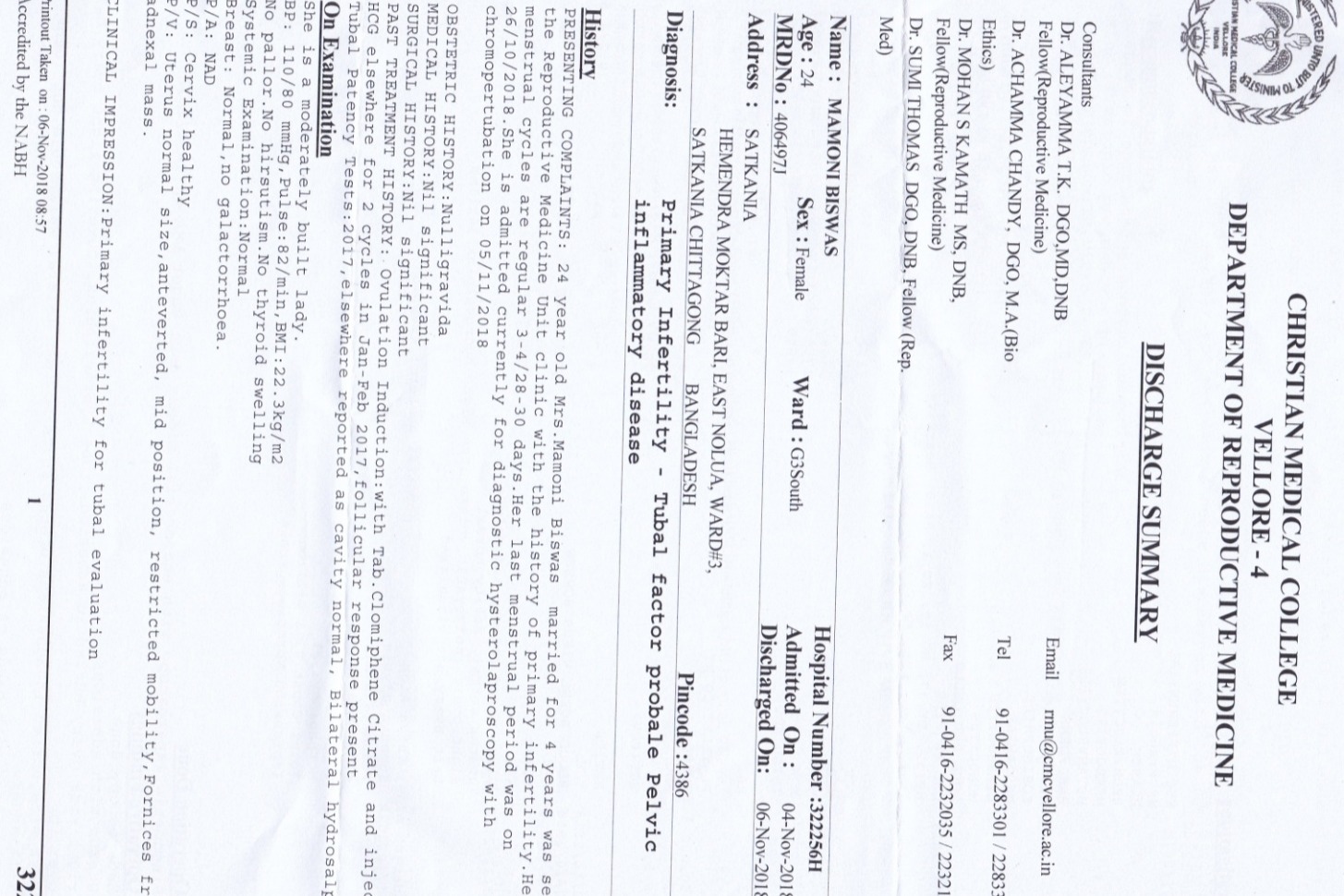 By salary of my job only family expenditure is possible to carried of by me. My fathers & wives treatment cost which is almost BDT =5,00,000/- tk. ($6,000 USD) is not possible for me to carry. And the loan & monthly interest which is almost BDT =2,500,000/- tk. ($30,000 USD) is a burden to me also.

Recommended treatment:
1. For my father Doctor suggest an angiogram & Ring adjusting in his heart & this will cost BDT =200,000/- tk. ($2,400 USD).
2. For my Wife Doctor suggest to cut the both tubes & get a Test Tube Baby & this will cost BDT =300,000/- tk. ($3,600 USD).
3. For paying some dangerous local creditors loan we need more BDT =500,000/- tk. ($6,000 USD). We will manage rest amount of loan.
I have to arrange this amount as soon as possible.
At this moment I belief that, the way GOD has given so much difficulties in our life, as the same way he will give us a hand to pull up our family from this squash. I am badly in need of help from great & merciful man as like you who donates here. I don't want help from you to pay my fathers loan. I need help of $12,000 USD only to treatment my father & my wife & pay little parts of loan of some horrible local creditors. So that our family can fight the war against bad luck. We belief that Every night has an end & after every night a graceful morning comes. Now this faith is our only hope to survive.

Thank you. And please forgive for my bad English. Pray & bless for us.


Thanking you


Shuva Aich.
Please click the style of widget you'd like to install