Assalamualaikum, Salam kemanusian
Pekenalkan saya, Togar Abadi. Saya adalah seorang pemuda yang mempunyai cita-cita besar selayaknya pemuda pada umumnya ,saya bercita-cita untuk mengelola sebuah usaha makanan tepatnya usaha FoodTruck, namun ditengah mimpi itu, ada berbagai macam polemik yang saya hadapi salah satunya dan yang paling mencolok ialah terkendala oleh masalah modal.
Dilain sisi, sembari berusaha mewujudkan cita-cita saya , saya memberdayakan waktu dengan mengabdi sebagai tenaga sukarela/relawan, disalah satu organisasi yang bergerak sekaligus pemerhati dalam dunia pendidikan yaitu, Guru Untuk Bangsa (GUB) yang bertempat di Kab. Maros, Sulawesi Selatan.
Di masa pengabdian, saya betul betul melihat ketimpangan, baik masalah sosial maupun masalah pendidikan. Ruang kelasnya berada tepat dibawah rumah kepala dusun setempat, yang hanya berdindingkan kayu tanpa ada pintu dengan beralaskan tanah, itupun hanya terdapat 1 ruangan, yang dimana 1 ruangan itu ditempati oleh murid dari kelas I-VI SD. Tapi dengan fasilitas yang seadanya dan tanpa tenaga pengajar professional mereka masih bisa bersyukur, mereka masih biasa tersenyum, dan mereka masih biasa bersemangat untuk menuntut ilmu ditengah keterbatasan.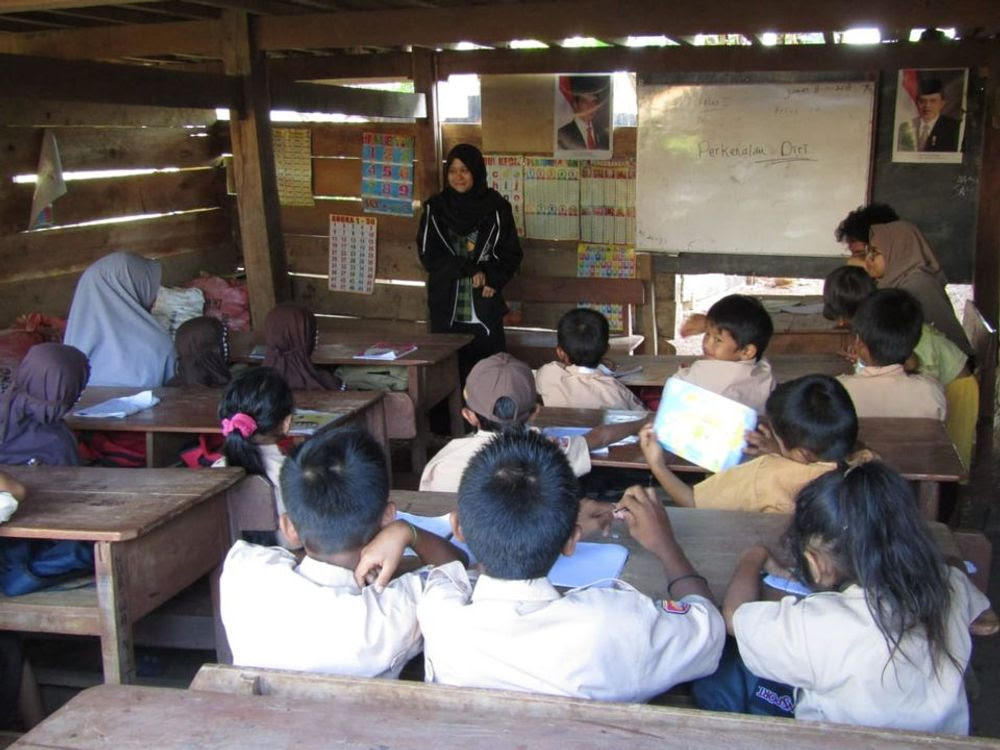 Di hari berikutnya saya terus merenung dan berfikir, yang pada akhirnya timbul sebuah pertanyaan "Ini salah siapa? Apakah ini salah Pemerintah?" "tidak!" jawabku dalam hati, tapi ini adalah salahku, salahmu, salah kalian, salah mereka, dan salah kita semua! Kita terlalu asik mengkritik lalu lupa memberikan solusi! Ini sejalan seperti apa yang perna dikatakan oleh Ridwan Kamil "Negeri ini butuh banyak pemuda pencari solusi, bukan pemuda pemaki maki"
Setelah renungan itu, sekarang muncullah sebuah ide untuk membangun usaha HUMANITY FOODTRUCK yang dimana usaha ini akan memberikan 50% dari hasil keuntungan yang didapat setiap bulan nya untuk didonasikan ke sekolah pelosok dan memberikan makan gratis untuk anak yatim piatu, dengan rincian 30% untuk pendidikan dan 20% untuk anak yatim piatu.
Contoh Unit FoodTruck

Namun untuk mewujudkan mimpi itu saya masih membutuhkan bantuan uluran tangan dari #orangbaik untuk menyiapkan/mebeli unit agar usaha ini biasa berjalan, Adapun beberapa rincian sebagai berikit:
Membeli 1 Unit FoodTruck Rp 200.000.000,00-,
Biaya Karoseri tambahan Rp 50.000.000,00-,
Modal awal dan promosi Rp 50.000.000,00-,
Total Rp 300.000.000,00-,
Adapun target pendapatan setiap bulannya, sebagai berikut:
1. Pendapatan/hari Rp 1.100.000 x 30 Hari = Rp 33.000.000,00-,/Bulan
2. Donasi pendidikan 30% = Rp 9.900.000,00-,/Bulan
3. Donasi Anak Yatim Piatu 20% = Rp 4.620.000,00-,/Bulan
4. Total Donasi setiap bulannya = Rp 14.520.000,00-,/Bulan
5. Biaya Operasional dalam sebulan = Rp 18.480.000,00-,/Bulan
Berapapun donasi yang anda berikan sangat bermanfat untuk saya, kamu, mereka, dan kita semua. Dan saya juga meminta bantuan doa untuk kelancaran usaha Humanity FoodTruck semoga ini akan menjadi amal jariyah untuk kita semua. Aamiin
Narahubung: TOGAR ABADI 081355235862
--------------------
Assalamualaikum, Greetings, humanity
Introduce me, Togar Abadi. I am a young man who has big aspirations as a young man in general, I aspire to manage a food business to be exact FoodTruck business, but in the midst of that dream, there are various kinds of polemics that I face one of them and the most striking is the problem capital.
On the other hand, while trying to realize my ideals, I empower my time by serving as a volunteer / volunteer, in one of the organizations engaged in and observing in the world of education, namely, Teachers for the Nation (GUB) located in Kab. Maros, South Sulawesi.
During the service period, I really saw inequality, both social and educational problems. The classroom is right under the house of the head of the local hamlet, which only has a wall of wood without a door on the ground, and even then there is only 1 room, where 1 room is occupied by students from grade I-VI SD. But with makeshift facilities and without professional teaching staff they can still be grateful, they are still used to smiling, and they are still usually eager to study in the midst of limitations.
The next day I continued to reflect and think, which eventually arose a question "Whose fault is this? Is this the Government's fault? "" No! "I replied to myself, but this is my fault, your fault, your fault, their fault, and our fault! We are too cool to criticize and then forget to provide a solution! This is in line with what was said by Ridwan Kamil "This country needs a lot of solution-seekers, not young men."
After that reflection, now came the idea to build a HUMANITY FOODTRUCK business in which this business will provide 50% of the profits earned every month to be donated to remote schools and provide free meals for orphans, with details of 30% for education and 20% for orphans.
But in order to realize that dream I still need help from a good person to prepare / buy the unit so that this business is used to running, As for some details as follows:
Buy 1 FoodTruck Unit Rp 200,000,000.00-,
Additional Body Fee of IDR 50,000,000.00-
Initial capital and promotion of IDR 50,000,000.00,
Total IDR 300,000,000.00-
The monthly income target is as follows:
1. Income / day Rp. 1,100,000 x 30 Days = Rp. 33,000,000.00 -, / Month
2. Education donation 30% = IDR 9,900,000.00 - / month
3. Donations for Orphans 20% = IDR 4,620,000.00 - / Month
4. Total Donations every month = Rp. 14,520,000.00 -, / Month
5. Operating costs in a month = Rp. 18,480,000.00 -, / Month
Whatever donation you give is very beneficial for me, you, them, and all of us. And I also ask for prayer assistance for the smooth running of Humanity FoodTruck's business. Hopefully this will be a charity for all of us. Aamiin
Contact: TOGAR ABADI 081355235862
Please click the style of widget you'd like to install