In Africa Female Genital Mutilation (FGM) is deeply embedded majorly due to cultural and traditional beliefs, while in other parts of the world reasons ranging from, health, social acceptance, religion and even rite of passage have been cited. Majority of researchers and authors however have cited religion as the primary source of FGM. Though there has been tremendous progress in trying to curb this practice due to the World-Wide Anti-FGM Campaigns, it still continues to harm the girl child by exposing her to physical and psychological health risks as per these pictures.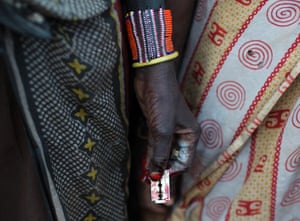 This is a woman circumcisior holding a blood stained razor blade.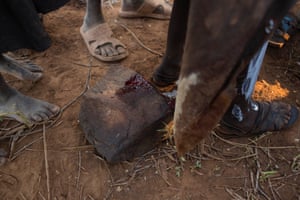 This one shows a stone used for circumcising young girls stained with blood.

All these are pictures which show how Female Genital Mutilation (FGM) is taking place here in Kenya in some communities which have not changed their traditional/cultural beliefs.

Conversely, in most societies in Kenya, the girl-child is seen as a source of income due to the anticipated bride price that their parents are likely to get. Due to this, parents tend to be motivated by wealth thus giving their daughters away early for marriage meaning that girls as young as nine years are sometimes given away and thus have to undergo FGM, which in the long-run forces them to drop out of school. As a result, Community Based Rescue Centres play an important role in identifying such cases and rescue the girls as easy as they can and educate the community on why they do that for the benefit of the girls. This strategy has proved to involve members of the community to campaign for girl safety, thus a sense of ownership and promote long-term sustainability and rapid elimination of FGM. Furthermore Community-Based Rescue Centres monitor, rescue and support girls who have been sensitized and who have run away from their families to escape FGM. They further provide temporary accommodation to young women who run away from FGM. According to Karanja, the main objective is to ensure that the girls who have been thrown out of their homes or run away as a result of refusing FGM or early marriages are sheltered and supported morally, socially and eventually returned to their homes through a reconciliatory process.
Thus in Kisii County, the need to promote sensitization of girl-child education to ensure girls do not drop out of schools has also been instrumental in discouraging FGM. In this case for instance, girls who leave rescue centres are provided with opportunities to join secondary schools for higher education by which they are able to acquire professionalism and training courses to help them become self reliant and dependent. Furthermore through girl-child education girl are able to develop and nurture entrepreneurial skills so as to improve on their standards of living. This promotes the economic and social development of their families and thus become role models for younger girls who desire to follow their footsteps by not going through FGM. Conversely, despite these efforts there are still high illiteracy levels among some communities such as the Maasai, Kisiis, Kurias, etc since the community do not value female education and would rather marry off their young girls for economic benefits.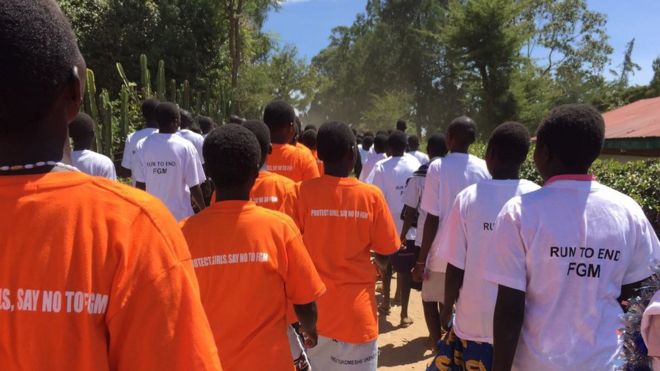 The above pic shows an FGM awareness as planned by the SWDGfHRs.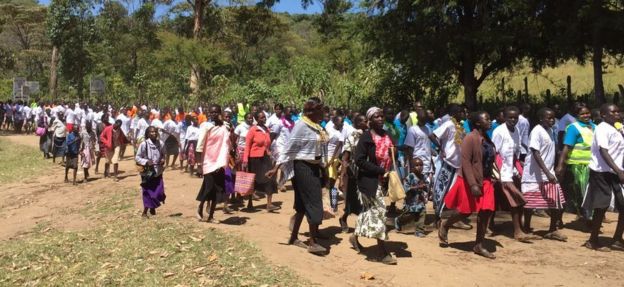 The above pic is showing Parents who are against FGM among escapees/students to campaign against the practice in Kisii - Kenya.

To help make sense both to the FGM Escapees and the community they come from, we intend to train them on the following sub- sectors under the businesses in the MSE sector as follows:-
a). Textile and garment,
b). Leather and leather products,
c). Food processing and beverage,
d). Metal works and Engineering,
e). Wood-works including furniture and ornaments service,
f). Plastics,
g). Chemical and detergents,
h). Ceramics and pottery,
i). Building materials,
j). Mining works,
k). Cobble stone,
l). Etc.
Classes are held at our (Stema Women Development Group for Human Rights') safe house for the girls who have escaped from their families, and the threat of FGM as per the above pic.

We, therefore anticipate that US$ 1,000 will definitely enable us buy assorted training materials and equipment including sub-granting for business start - up of the ToTs for 1 (one) FGM Escapee, despite of the course (s) taken of interest.
With the above narrative, we wish to request our contributors or supporters to humbly consider contributing to this cause as a matter of goodwill as well as helping us spread the message across their networks so that this program becomes a reality to the most needy - FGM Escapees as a way of eradicating violence against women's and girls' human rights. Please help contributing. God bless you all.
Please click the style of widget you'd like to install