Empowering the young is investing in the future. Save Environment. Save Earth. Cycling is the only SOLUTION to Say NO TO POLLUTION
US$150.00

raised of $4,500.00 goal goal
Help this ongoing fundraising campaign by making a donation and spreading the word.
Campaign Story
---
Hello
I'm inviting you to fund my project . I want you to be a part of building something that exemplifies all of the remarkable things that the cycling tour has to offer.
Hi and thanks for reading this..
My name is Hassan George I can say that I am a responsible and a hard -working person. I'm a very sociable personal and I have many friends since I like to communicate with people and get to know new interesting individuals. I like to receive and deal with challenging tasks. As soon as I meet new people who are happy to meet me, I feel extremely comfortable with them. I believe that friendship is one of the most important values in human life. We exchange new ideas, find many interesting things about each other and experience new things. I appreciate friendship and people who surround me.
My Goals
Raise at least $4500 to start my cycling enterprises .In the meantime, I am trying to save as much of my income as possible in achieving my goal.
Cycling tours are my passion, but this is not the only reason why I want to start this business.. Indeed:
I'm very sensitive about climate change and I want to reduce tourists contribution to it. Instead of using cars to visit nearby tourist attraction, bicycle will be alternative transport because it doesn't require fossil fuels .
A short term goal is that I want to complete my degree because I dropped it during my second year when my parents were unable to pay my school fees. My hope is being able to pay for my university studies, over the next years, with the income generated by this business.
If I exceed my fundrasiing goal, funds will go into the store build-out and additional start-up costs.

My Cycling tour enterprises will create inter active cycling trips in Tanzania. From Mountain cycling, day tours, adventure holidays and cycling inclusive itineraries. Also I will promote cycling tourism as a positive force for responsible travel in Tanzania . I will provide tour planning for a host of different cycle tours from race events, charity challenges to custom designed cycling trips to support community development projects in partnership with local communities, NGOs and I will support students who fails to pay schools.
Why should you invest on me?
√I support worldwide 'eco tourism which focus on conservation, cultural and community awareness
√I want to set down roots in my community that benefits students who have failed to pay their fees
√ Want to be the number one cycling tour company in East Africa.
√ I need your help to make this project happen. I'm putting down my own savings to get the project started and all donations will go towards other costs
What I Need to start business.
I'm asking for help reaching my goal of $4500.
These contributions will help me to put the finishing touches bike and legal fees
The breakdown of the distribution of these funds is fairly even.
√$1900 will buy 10 bicycle , each bicycle cost $190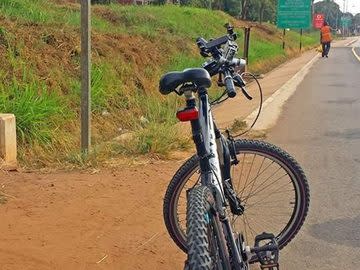 √$2000 for local business license or permits that needed to operate a bike tour business. This is the link for ministry of natural resources and tourism www.mnrt.go.tz that shows the cost of the license mentioned above.
√ There is also the usual costs of business office rental or store for bicycles and reliable navigation services which is $600
Please remember that any amount helps me greatly!
Risks & Challenges
It will take time, patience and kindness to break through this habit that we have gotten to use cars when we visit nearby tourist attraction.
Disable people who are not capable of riding bikes: I hope I'll be able to create something feasible for them too.

Technical Challenges .The way that tourists discover, book and organise trips is changing. In an increasingly digital world, cycling tour company have to adapt to offer a seamless online experience. Fail to do that and you'll be quickly overlooked and left behind.
What you get for donating?
A $10 will get a thank you card gift.
A $50 will get Donation Thank You Letters .
A $100 will receive an opportunity to get a free 3 hours bike rental when visited in Tanzania.
Please make a donation and then sharing it with your network I would greatly appreciate it .I knew the money can be tight so please know that even $5 helps me get closer to my goal let me know if you have any questions and I'll be happy to answer them.
Other ways you can help.
Even if you can't contribute, you can still help
Help me by telling people about this campaign, share my fundraising link 🔗 https://assets.gogetfunding.com/?p=6230415 on social media share with your friends , families ,neighbors ,coworkers and anyone you think is interested .
Hassan George
Campaign Owner
I'm Hassan George born and raised in Tanzania. I have done my O-level & A-level education in U/taifa &Alfagems secondary school.
I'm Hassan George born and raised in Tanzania. I have done my O-level & A-level education in U/taifa &Alfagems secondary school.
Leonardo Ruvituso
Funds captain
No updates for this campaign just yet
Create a support campaign in seconds!
Support campaigns allow you to get your own fundraising page dedicated to 'Empowering the young is investing in the future. Save Environment. Save Earth. Cycling is the only SOLUTION to Say NO TO POLLUTION'
You'll have your own unique link that you can share, and all funds raised will go directly to 'Empowering the young is investing in the future. Save Environment. Save Earth. Cycling is the only SOLUTION to Say NO TO POLLUTION'. It's the ultimate way to show your support!
Create support campaign