Elmer Cua's medical and surgery needs
The campaign owner has stopped the page from accepting further donations. Please contact them if you'd still like to donate
Help this ongoing fundraising campaign by making a donation and spreading the word.
Campaign Story
"Tragedy should be utilized as a source of strength. No matter what sort of difficulties, how painful experience is, if we lose our hope, that's our real disaster."

Cancer sucks, yeah. It always is. Diseases have the power to take away everyone we care about in just a snap. That particular disease that is latched onto that horrid word decided to take away my father's life away slowly. Internet artist/painter Ellyza Cua or most commonly known as Ellyphant needs your help!! Let me tell you a quick backstory about this campaign we're doing.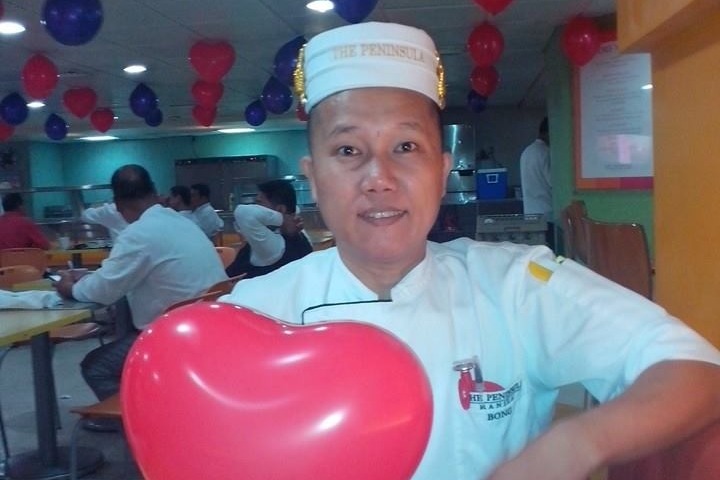 (Elmer Cua during his past few years as a pastry chef)
Elmer Cua is the father of only child Ellyza Cua and husband of the sweet loving wife, Lisa Cua. He's a marathon champion and a cyclist in some occasions. Elmer works as a pastry chef in one of Makati's busiest hotels. Elmer's loyalty in his field as a chef garnered him respect from his peers and his bosses. He is a consistent employee that earned awards for his punctuality and dedication to his company. His passion for serving desserts to hotel guests has earned him influence all around the kitchen. Living in a simple life is easy for Elmer, he is the sole provider of his small family.
(Elmer Cua, a year ago)
(Elmer Cua, today)

During his free time, he used to be an active cyclist who can bike from Makati to Baguio. He also used to run in several marathons. From paying his daughter's scholarship education to securing their monthly bills in their little-rented bungalow in which he also pays for every month.
(Elmer Cua as a cyclist)



For the last few months, Elmer was advised by a doctor to regulate his health when he started to lose weight every day gradually. He starts to notice that his skin is beginning to become yellowish. As time went on, bad news came. And recently, on a Saturday morning of June 2, Elmer was struck with devastating news with his family in the hospital. He was diagnosed with stage 4 Pancreatic Cancer. To give you an idea, Pancreatic Cancer is a disease in which malignant (cancerous) cells form in the tissues of the pancreas. These cancer cells cause a mutation in these cells to create a blockage in the passageways inside the pancreas. Then these cancer cells begin to widespread in the carrier's system.

None of the doctors gave him how much he has left to live, and it worries some of the family members because of Elmer's worsening condition and the hefty medical bills. His only child Ellyza decided to raise money online in a GoFundMe campaign plus a Benefit Show featuring some Local Philippine bands in Mow's QC on July 27, 2018.
(A part of Cua Family)

Let's not lose any hope. In a time of catastrophe, then that's when we know that we are there when times like this are in need. Let's help one another and let's help Ellyza's dad out!! Let's be in this together!!
UPDATE: According to his medical abstract, he has a mass in his pancreas that can be removed through surgery. The price of the operation at Makati Med costs 700,000 pesos ++. Even if we can't target the large amount, we will find other ways to get help.
Let me take a part of our slogan that I and my thesis partner made for our thesis about crowdfunding (https://tulongtulongtayo.com/). I appreciate any amount that you will give because I believe that any deed, whether big or small, can make a significant impact, not only in my life but also to the future people that you, guys, will help too.
Ellyza Cua
Campaign Owner
No updates for this campaign just yet