BUILDING A RETREAT CENTER IN TRANSYLVANIA (phase 1)
€340.00

raised of €25,000.00 goal goal
Raised offline:
€10,900.00
No more donations are being accepted at this time. Please contact the campaign owner if you would like to discuss further funding opportunities
Since 2017 our association has been devoting its efforts for developing a compassionate community, dedicated to the wellbeing of others, in Cluj-Napoca. Our most meaningful project is building a retreat center in the beautiful Apuseni Mountains, Romania. Nestled amongst beautiful forests, the small village of Tranisu (80 km away from Cluj-Napoca) will be home to a retreat center, consisting of a Main Retreat Cabin, a Teacher's Cabin and a kadampa stupa.
WE WISH FOR THIS RETREAT CENTER TO BENEFIT ALL, OFFERING A SAFE SPACE FOR:

short-term educational and spiritual programs or long-term retreats

sheltering a small residential community, that maybe in time could support other study groups and centers in neighboring areas or cities

practicing Dharma – we intend to offer this space to other communities with similar interests both in Romania and neighbouring countries, like Bulgaria, Ukraine, Hungary and even Cyprus

practicing Dharma consistently, making the best of the proximity of the stupa.
WHAT ARE WE FUNDRASING FOR?
This campaign is dedicated to raising money for PHASE 1 of BUILDING THE MAIN RETREAT FACILITY: FOUNDATION WORK, INFRASTRUCTURE AND BASEMENT.
The campaign started on Losar 2021 (February 2021) and consists of fundraising for 25.000 € until April 2022 when we will begin the building work on the infrastructure, the foundation and the basement of the building.
Your donation will be exclusively used for:
site excavation & infrastructure

foundation and plumbing work

concrete work and brick walls of the basement.
WHAT HAVE WE ACCOMPLISHED UNTIL NOW?
We raised awareness about our project and built up a community of supporters and volunteers.
We completed the "First Stupa in Transylvania" fundraising project / project to be finalized by April 2022:
we received precious advice from Lama Zopa Rinpoche on placing and building the Kadampa Stupa

we have explained the benefits of the project: from engaging with holy objects to cultivating appreciation for the teachings and teachers that have allowed us to attain such knowledge

we created almost all needed ingredients for the stupa (mantras, tsatsas and the Tree of Life)

we raised all needed amounts for building the stupa (with the help of FPMT and 108 individual donors).
We have almost finalized the building of the Teacher's Cabin (small cabin) / project to be finished by April 2022:

we finalized the design, obtained the building permit and started building

we are at the last stage of completion, finalizing the interior finishes.
We planned for the construction of the main retreat facility (big cabin):
we finalized the design: a meditation hall able to accommodate up to 35 participants; dormitories with a total of 16 beds - each bedroom having its own bathroom; basement – actually the first floor of the cabin, accommodating the kitchen, the dining and the living rooms, two bathrooms, a technical space and a storage room


Feng Shui principles were taken into consideration, with The Stupa placed facing the entrance door of the main cabin

we obtained the construction permit for the following phases:

phase 1 (February 2021 - April 2022): foundation work, infrastructure and basement (cost 25.000 €)

phase 2 (April 2022 – April 2023): ground floor, stairs and external amenities (25 000 €)

phase 3 (April 2023 - April 2024): attic, roof, external finishing (25 000 €)

phase 4 (April 2024 - December 2025): interior finishes and furniture (25 000 €).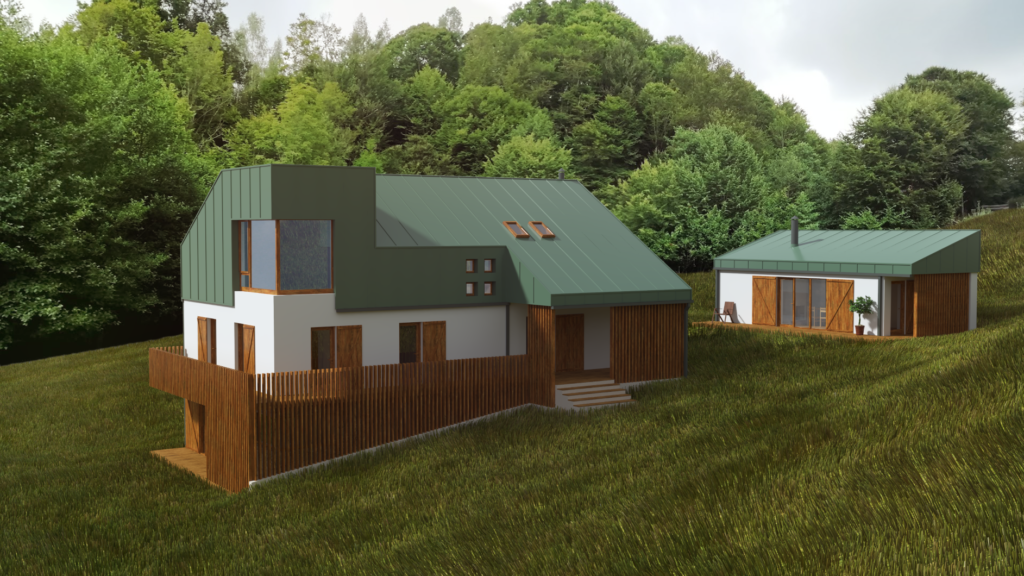 WHAT DO WE NEED YOUR SUPPORT WITH?
Please consider making a one-off or a monthly donation via this fundraising page.
ALL DONORS will receive a DONATION CERTIFICATE and a PDF Booklet with teachings of Venerable Robina Courtin.
DONORS of 54 € or more will receive the donation certificate and the pdf booklet as well as a Tsa Tsa.
DONORS of 108 € or more will receive the donation certificate and the pdf booklet as well as a small Kadampa Stupa.
DHARMA SUPPORTERS (MAIN DONORS) will join our MALA-OF-MERIT and their portrait will be on our "WALL of FAME":
RAFTER SUPPORTER: by donating 500 € or more you sponsor a rafter and your name will be engraved on it;

PILLAR SUPPORTER: by donating 1000 € or more you sponsor a pillar and your name will be engraved on it;

BEAM SUPPORTER: by donating 2000 € or more you sponsor a beam and your name will be engraved on it;

FOUNDATION STONE DONOR: by donating 5000 € or more you will receive life-time "free access" to our classes and your name will be engraved on the FOUNDATION of the building.
WHAT DOES YOUR KINDNESS BRING ABOUT?
You will be creating skies of good karma which in turn will bring happiness and success on your own path.
You will be helping support the work of HH Dalai Lama, Lama Zopa Rinpoche, the FPMT and Mahayana Buddhism throughout Cluj and Romania.
TESTIMONIALS
About the Center
Anamaria Tatu / participant: I first arrived at the Buddhist Center in January 2020 … this being my first effective contact with Buddhism. And I am very happy …. because there are some essential visions that I have understood and integrated in my daily life. There are such simple and so revealing ideas…
Anca / organizer: A reminder that we are connected with those around us, that we have the same sufferings and we want to end them… a family that accepts itself as it is. A support for access to information.
About the Retreat
Cristina Urs / facilitator: A place where I can participate in retreats (lasting a week or two) near Cluj, without the need to travel thousands of km to have access to such events. In this place I would like to meditate in a group, to study the Buddhist teachings and to have the opportunity to share knowledge with others.
Doina Grigoras / event organizer: For me, retreats are very important because I know that it is essential to spend time with your mind, in an environment that gives you security, with people you feel comfortable with so that you can internalize certain mental processes. For me, they act as community centers, allowing members to manifest behaviors and actions that they would otherwise fear or be reluctant to manifest. Moreover, they often set an example of healthy living in all respects. I am grateful and delighted this project is taking shape in Romania and I intend to be one of its greatest supporters.
Ven. Robina Courtin's Booklet
Raisa Hagiu
Social Media Manager
No updates for this campaign just yet