Always feel angry and frustrated when transfer data from one usb pendrive/flash drive / thumbdrive to pc or vice versa with a slow speed.

Why you so slow?????
Source: http://giphy.com/gifs/frustrated-why-JHL3Afuumaoq4
Always feel the branded flash drive is too expensive.
That is too expensive, I have no money to buy.
Source: http://www.dailyedge.ie/lazy-cooking-habits-1321172-Feb2014/
The pendrive is not protected.
My pendrive is "attack" by virus.....
Source: http://www.csoonline.com/article/2362680/data-p...
The pendrive is not water proof.
My pendrive spoil after "attack" by water.
So here we are to solve the problem
1. Hi-speed
How we do this?
- We use SLC and MLC flash. We do not use TLC flash for our product. Hmm..May I know what is SLC, MLC and TLC flash?
Check here
-> http://blog.shawnhyde.com/post/2013/09/11/TLC-vs-MLC-vs-SLC-Performance-benchmarks-and-reliability.aspx

-> http://embedded-computing.com/news/nand-slc-mlc-tlc/

-We use USB 3.0 and compatible with USB 2.0 ports. When plug into USB 3.0 ports you can get high speed but if plug into USB 2.0 ports you can't get that high speed.

2. Affordable price
-We sell lower price than market since we are new brand. And we will make discount for indiegogo supporter..Yeah!!
3.Protect pendrive

-Our Xcream Drive have a button to on to protect data. When button on we can only read data but not write data. This feature is use to protect data being edit, prevent attack by virus, prevent error delete data.
4.Water Resistant
-Our Xcream Drive is with feature water resistant.
5. Small enough with huge storage(Normal pendrive/thumb drive/flash drive size)
Hi-Speed Xcream Drive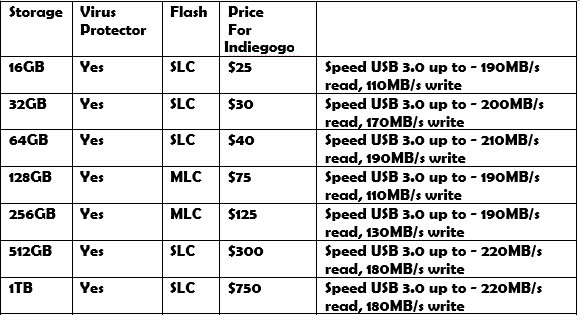 Windows To Go Xcream Drive


> $100000 usd - Colourful Xcream Drive can be chosen

>$500000 usd - A cover for Xcream Drive will be free for every Xcream Drive buyer
FREE USA and Malaysia Shipping
If you are shipping outside of the USA please add $6 perk to help cover the cost of Shipping.
Please click the style of widget you'd like to install