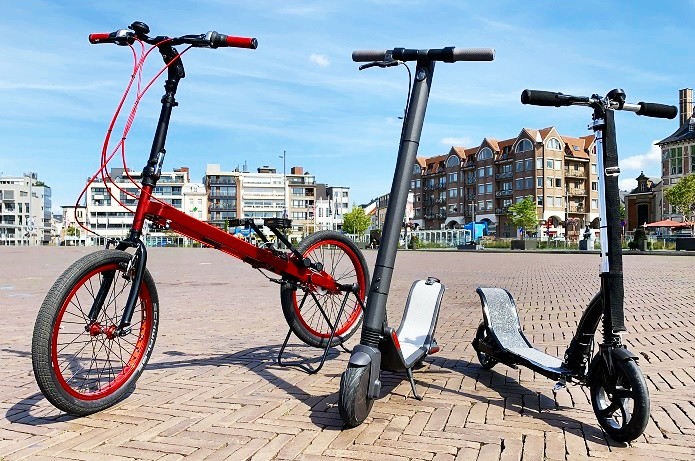 StepTwin ® Bike: Each leg has a separate drive.
All your power directing into the downward stroke. This is termed the "drive phase". You can end the drive phase with any leg at any time. You can relax any leg at any time.


The pedals lift automatically, there is a servo to lift them.
Besides, you can adjust the lifting force for each pedal separately.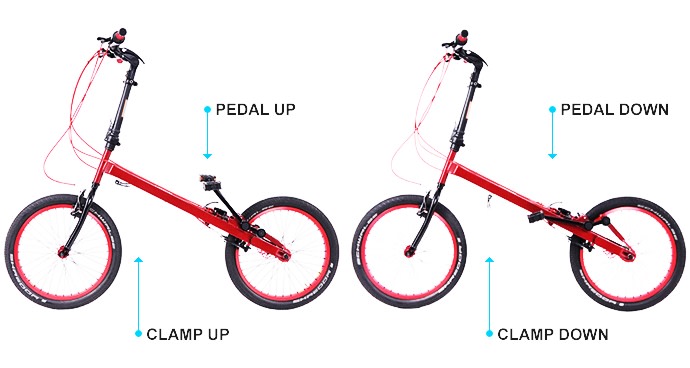 Legs move exclusively vertically
StepTwin® Bike, perfect for training your leg, hip, seat, and upper body muscles. You can choose any cadence for each leg. Your muscular system can contract and relax at any rhythm. In other words, as the right leg pushes down, the left leg can push down too.


Two bike drives to choose from




Innovative string technology
No chain drive noise, the only noise is the sound of the tires.


Adaptive separate rear-wheel drive
StepTwin drive is a separate rear-wheel drive that can be mounted asymmetrically to provide different loads for each leg by replacing the rear locking sprockets 13T - 18T.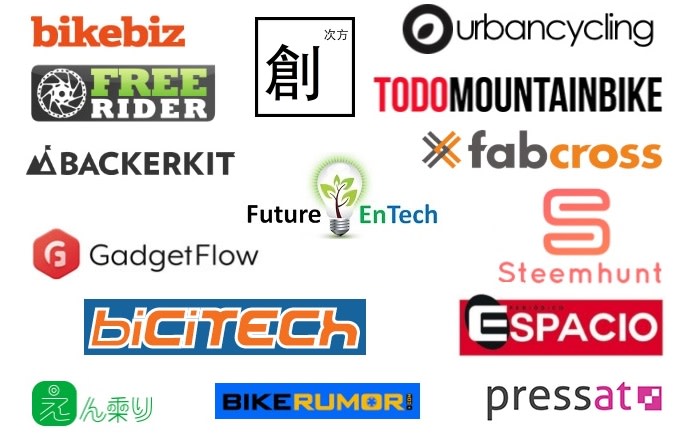 StepTwin® Bike combines running performance with driving dynamics. A new level of outdoor learning on the way to work, school, home, etc.

5 Independent speeds for each leg
You can switch the speed separately for the left and the right StepTwin® drive with the help of two switches Shimano Revo-Shifter.

Smooth load transfer to the driving wheel. This is important for safely loading your knee joint. You get the greatest torque when your leg is straightened.
Ride uphill - 1st speed
Max speed - 5th speed
Almost all of the forward energy of your legs turns into kinetic energy of the bike due to the innovative stepping drive.

No stress on the joints
Runners eventually get so injured that they can hardly walk because of the wear and tear on their joints. The impact of hard surfaces is harmful to the cartilage in the knees, ankles, and hips.

Good endurance and training
The upper part of the body remains upright, this trains the deep muscles around the spinal column that are so important for a healthy back.
StepTwin® Bike is suitable for all recommended, regardless of age or physical fitness. This is an effective and fast way to fat to burn while holding and protecting your muscles strengthen and improve your health.

Take advantage of the freedom
Casual riding, cross-training, cardio interval training, rehabilitation after trauma, chiseled perfection legs, bones of steel.

Adjustable steering column and seat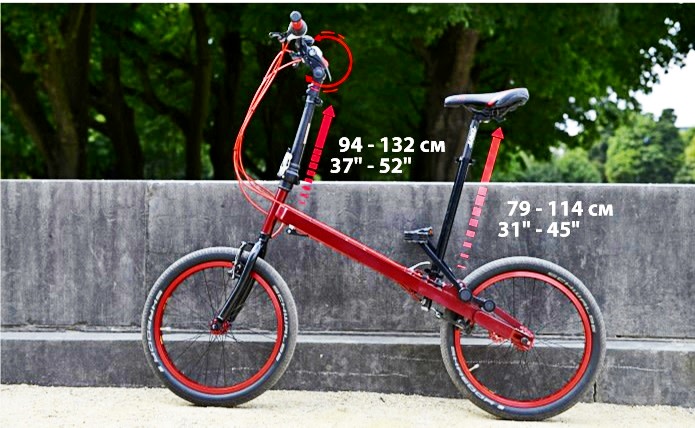 Quick adjustment with lever
Adjust your handlebar for your trip or riding style. The Promax ahead system with adjustable stem can be raised and lowered from 10 to 90 degrees instantaneously. Made from aluminum, 110 mm length.

Vertical folding technology
StepTwin® Bike is easy to fold without having to use any tools. It can be folded and unfolded in 20 seconds.

It It may easily fit into a modest space
Folding size (H x L x W): 55.0 x 58.5 x 31.0cm / 21.6 x 23.0 x 12.2in.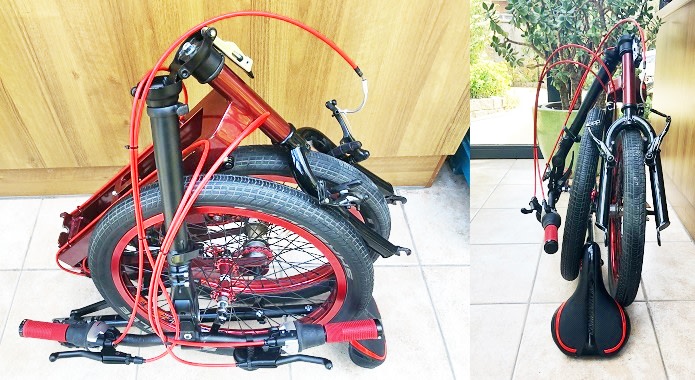 Foldable & fits in the trunk of a car
This makes it a practical means of transport fit for sports, leisure, commuting.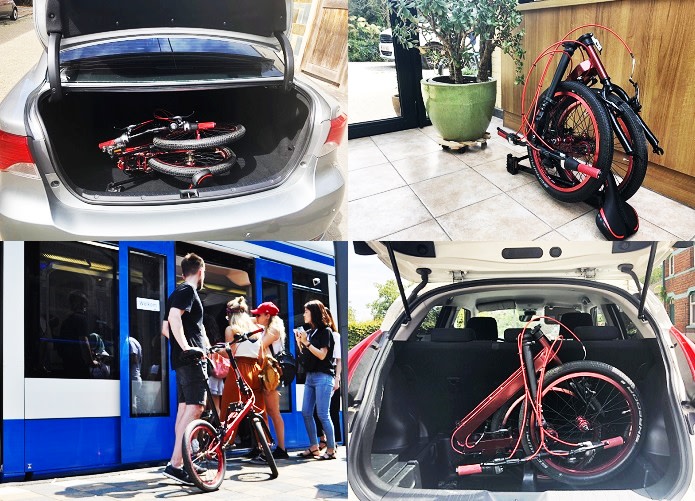 High-quality components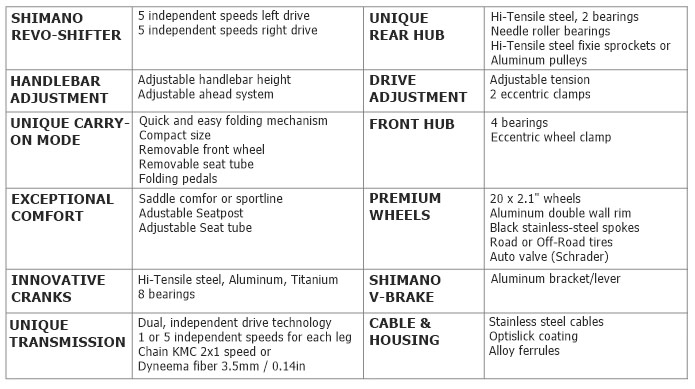 You will be able to choose the color of your StepTwin® Bike. Frame & Rims colors:
- Red, Black, Blue, Gray, lime-green, Orange, Silver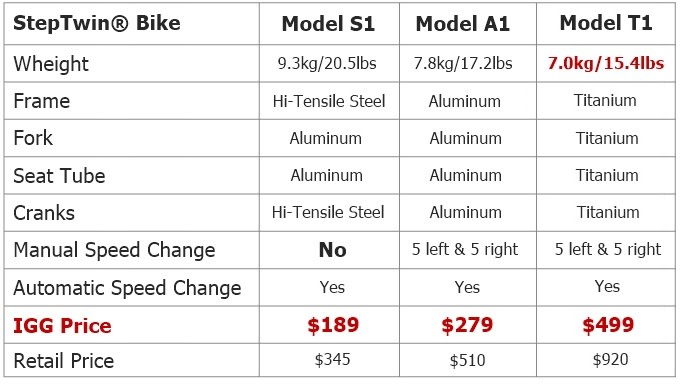 We analyzed many bicycle drives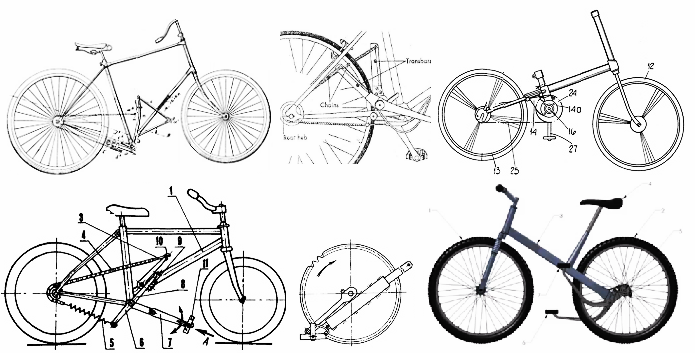 Svea Bicycle
The Sveavelocipede was Brothers Birger and Fredrik Ljungström's first patent dating from 1894. Alfred Nobel had tested the bike and then invested in marketing and manufacturing.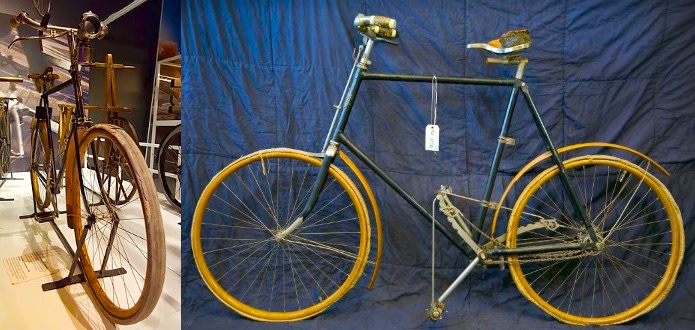 Levocyclette Terrot
This model was the first bicycle to have ten separate gears that were changed by way of a meshed gear twist grip mechanism. This costly bike was produced between 1905 and 1924.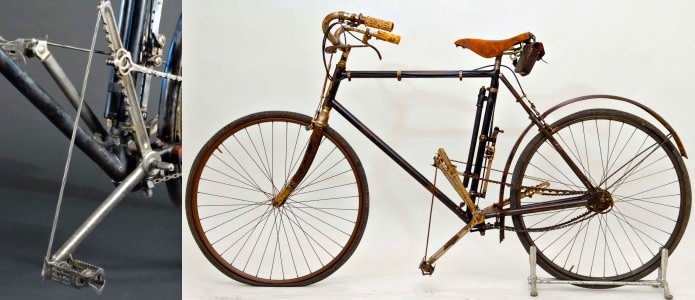 Alenax / Transbar Power BicycleThe Transbar idea was conceived by Marn T. Seol, a Korean inventor. He sold his idea to Byung D. Yim, a Korean entrepreneur, who brought it to the United States in the early '80s.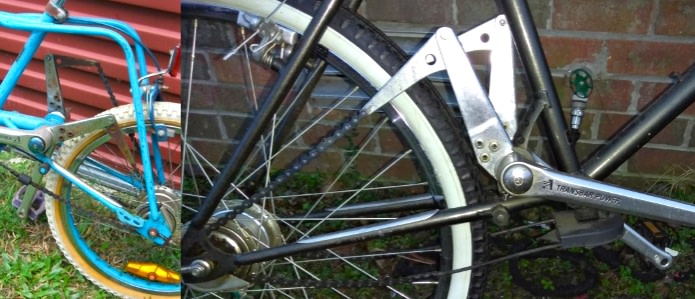 And many other bicycle drives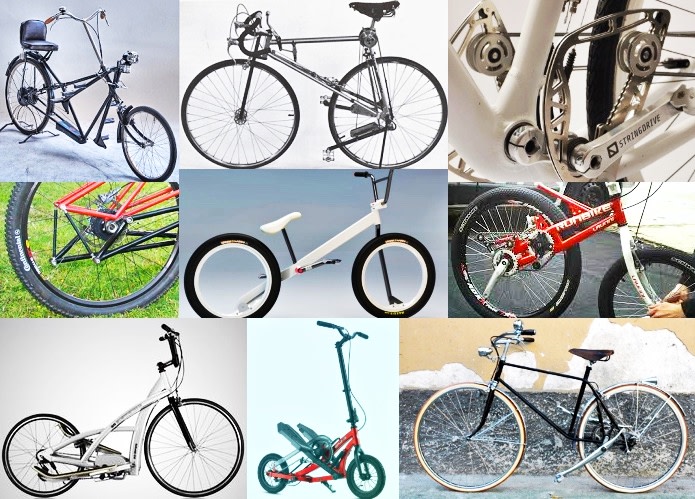 Rear hub
We have developed a Unique Hub for the rear wheel of a StepTwin® Bike. This hub allows you to rotate the wheel of the bike through the use of two completely independent chain StepTwin® Drives.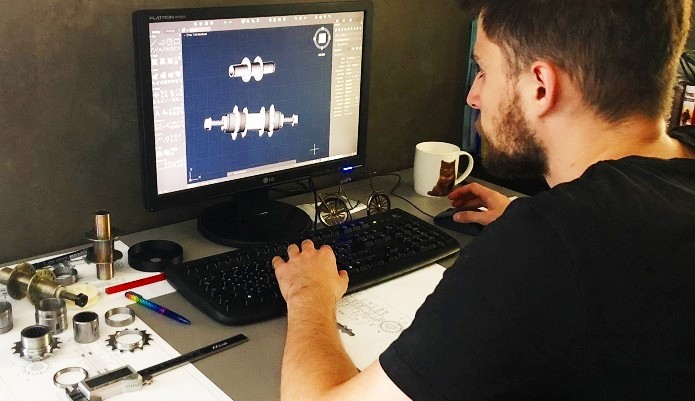 StepTwin® Prototypes
We have created more than 10 variants of the bike stepper drive.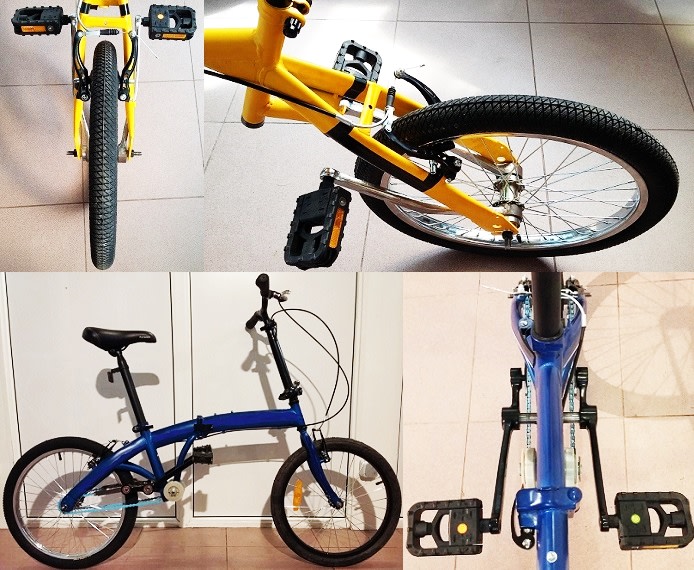 Manufacturing of frame parts.

The final prototype of the StepTwin® Bike frame.


Riders and engineers
Walking and cycling are gaining popularity to maintain good physical fitness and promote health. This trigged our imagination to create a product that would combine both walking and biking. We created the challenge to develop two independent drives for a bicycle. After 10 prototype iterations, we have finally produced a StepTwin® Bike we're proud of.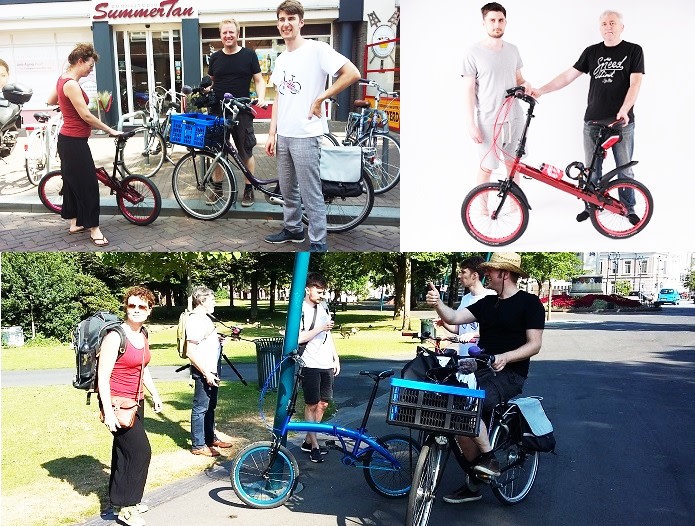 And we love it!

Next-generation mobility bikes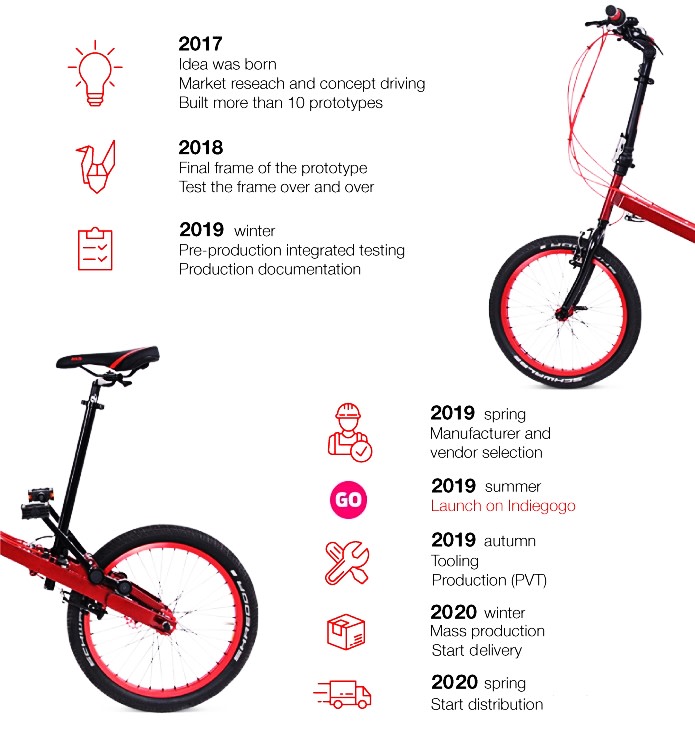 The stages of the execution order
On our website we have created a special section "Overall Progress" which you will have access to via your "CUSTOMER PANEL" and you will find the following: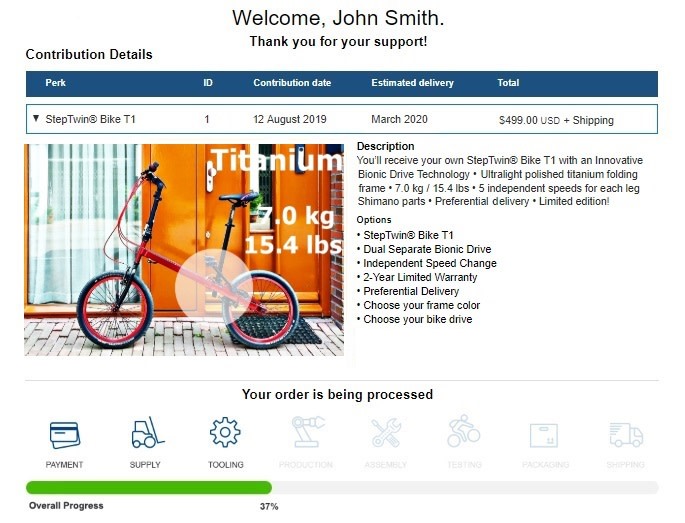 Your support will allow us to offer you a revolutionary StepTwin® Bike and you will be able to evaluate all its advantages. Please join our team and you will get innovative StepTwin® Bike at an advantageous discount and with an added benefit of being one of the first users!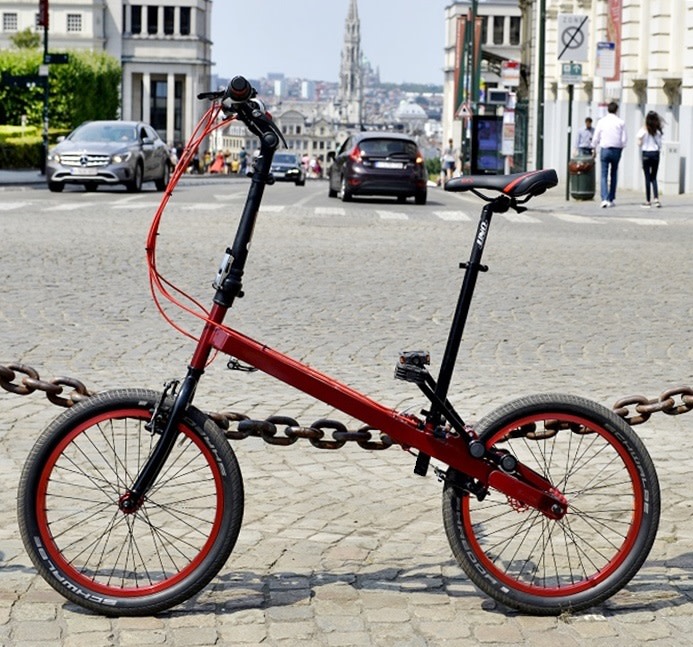 Tell a friend! The more people who know about StepTwin® Bike, the larger our community will become. Therefore, everyone will be able to enjoy additional perks and benefits for their StepTwin® Bike!





How can I use StepTwin® Bike?

StepTwin® Bike is a universal folding Bionic bike. He can be used as the regular bicycle: for trips around the city, for work, cyclings, etc. It is possible to use for various pieces of training as the cycle stepper. It is possible to use for the rehabilitation of muscles and joints.
Why the StepTwin® Bike is Separate Bionic Bike?

StepTwin® Bike has a unique dual independent rear wheel drive. Through the unique drive no circular motion, the movements of legs of the cyclist same, as well as at usual walking, natural.
What is a string drive?

StepTwin® String Drive uses fibers and aluminum pulleys drive system instead of a traditional chain.
The main difference between a string and a chain drive?

The string drive does not require maintenance and is totally silent. Chain drive has a greater resource.
What are the fibers made of?

The world's strongest fiber - Dyneema®. It is made from Ultra High Molecular Weight Polyethylene with HDPE coated, resistant to sunshine, UV-radiation, and rain.
The durability of the fibers?

2000 - 3000 km, depending on the loads in the process of cycling.
What happens if the string fiber snaps?

You can ride a StepTwin® Bike on the second separate drive. Or replace the string fiber, it takes 5 minutes. No tool required, no need to remove the rear wheel, or other parts.
Where can get a spare string fiber?

The two spare string fibers are provided and come with instruction to install.
How does StepTwin® Bike differ from the bicycle?

StepTwin® Bike has no dead points, unlike the regular bicycle, and doesn't overload joints. Two independent drives provide complete freedom of the movement by legs.
What does StepTwin® Bike differ from stepper bike?

The main difference is that you can press pedals on StepTwin® Bike any leg and in any sequence: two legs at the same time, two legs separately, only one leg. Besides, it is possible to control the effort made by each leg.
How can StepTwin® Bike help in the rehabilitation?

Two independent wheel drives allow the cyclist to control effort which he makes separately on the right leg and separately on the left leg. For example, on StepTwin® Bike it is possible to move, pressing a pedal only one leg. The second leg can be in a condition of a relax at this time or press a pedal with the minimum loading.
What is the maximum recommended rider weight?

The StepTwin® Bike is designed to carry a maximum load of 120 kg, the equivalent of 264 lbs or 18.9 UK stone.
How much does the StepTwin® Bike weight?

StepTwin® Bike S1 weight about 9.3 kg / 20.5 lbs. StepTwin® Bike A1 weight about 7.8 kg / 17.2 lbs. lbs. StepTwin® Bike T1 weight about 7.0 kg / 15.4 lbs.
Does StepTwin® Bike come in different sizes?

The StepTwin® Bike is designed to be one size fits all, because it is highly adjustable. The seat ride height and front handle can be adjusted based on your build.
What are the minimum and maximum rider height?

The StepTwin® Bike can comfortably accommodate riders from 130 сm to 210 cm (4'3" to 6'10") thanks to its adjustable seat post and front handle.
How many speeds does the StepTwin® Bike have?

StepTwin® Bike has five speeds on the left and five speeds on the right are absolutely independent of each other.
Can I order the StepTwin® Bike even though I live outside of the EU?

We ship worldwide, with the except for Saudi Arabia, Peru, Ecuador, Iran, Iraq, Lebanon, Libya, Somalia, Sudan, North Korea, Syria, Yemen. Please note that we cannot ship to military locations.
Does the price of perk include the shipping charge?

The price does not include the shipping charge. Shipping is set to $79 due to the fact that we ship worldwide directly from the factory in Asia.
Who is responsible for any additional taxes, duties or VAT?

Import duty tax or VAT may need to be paid if your country requires it.
How is the StepTwin® Bike delivered?

The StepTwin® Bike is delivered folded and almost fully assembled. An easy-to-follow assembly guide is included.
What kind of warranty does the StepTwin® Bike have?

All StepTwin® Bikes come with a 2-year international warranty. But wearable items such as brakes and tires are not covered by the warranty. Most local bike shops can repair these since the StepTwin® Bike is based on many standard bike parts.
Where can StepTwin® Bike be serviced?

The StepTwin® Bike is designed to be simple enough for anyone to replace parts on their own. We will provide documentation and video of possible replacement processes.
I want to be a distributor, where do I start?

We are open to distributors worldwide once our crowdfunding campaign ends.
Please click the style of widget you'd like to install