My lovely readers!
My name is Teodora, and I am a 26 year-old dreamer who has always been passionate about music and theater. I play piano, banjo and saxophone, and after getting experience in musicals, I finally decided to take a leap of faith and sacrifice my steady career by abandoning the years of studying economics. I was accepted at the Vienna Conservatory in Austria after passing an entrance exam in the Musical Theater department, and my studies are supposed to start in February 2019. Since I am required to pay the tuition fee of 4.690€, dorm accommodation and visa application, your financial support would mean the world to me. Only with your help, I will get the chance to thrive and leave my trace in the Viennese theater.
So let me tell you my story.


The first time I watched "Chicago" in the Belgrade theater, tears came to my eyes as I imagined myself glowing on the stage in that shiny '20s outfit, holding the last note of All That Jazz, right before the roar of a thunderous applause. I didn't quite understand why I felt that way and what made me cry, but there was something unforgettable about the scene, lights, dancers and actress who played Roxy that night that continued haunting me for years. At the time, I was studying economics. Something entirely different - something that "brings money". In a country with an average pay of 400€ and high unemployment rate, the best choice for ambitious students is, of course, either law or economics – a surefire bet that provides more or less secure job positions. I had finished music high school and played saxophone and piano, but went to a classic high school as well, and since I was always torn between two schools and two worlds - the world of art and the 'real' world, I'd never had enough courage and faith to entirely commit to arts. And suffered for it. Directed and influenced by the society which frowns upon artists and respects stable day-jobs and business titles, I ended up somewhere I didn't belong.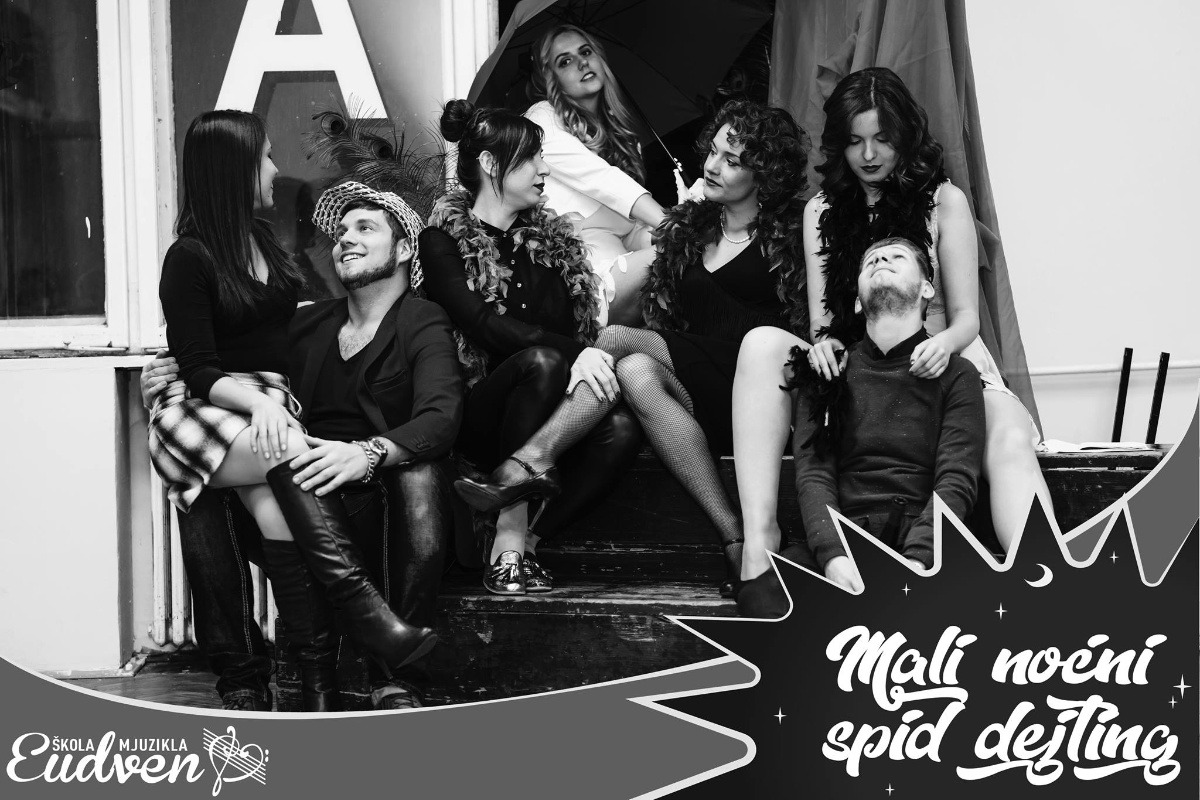 ~ Before my first performance ~
A couple of years later I spotted a Facebook ad for Eudven – a school of musicals in Belgrade made for adult amateurs offering lessons in singing, dancing and acting. I was 25, working in a large corporation with a dress code, a full-time job with unpaid overtime, a 400€ pay and not much time for myself. I remembered that night in the theater, but thought to myself – "nah, forget it, it will be too much. You have already started playing the banjo seriously, you have saxophone gigs now and then, so you couldn't possibly commit to this with a full-time job." However, that full-time job was…not it. In the corporate environment, I felt alienated, trapped, and forced to do what I didn't really want to do. I had a strong desire to create, to perform and express, and I felt alone thinking about all other things I would rather focus on during this 8-hour workday. I felt like a wild animal locked up in a cage, longing for its natural habitat. Other people didn't have this problem. They would get out of the office to go home and relax. I would go out to live.
After my first performance in Eudven which was a fantastic experience, there was a sudden twist of fate and I decided that I wanted to commit to theater and do it professionally. So I left my job and passed the entrance exam at the Vienna Conservatory. Now I am one step closer to fulfilling my dreams and becoming who I really want to become.
~ I am the blonde one :) ~


The yearly tuition fee is 4.690€, and if I had this covered, it would be possible to cover my living expenses and accommodation with the part-time job while studying. This will mean a lot of sacrifice and precise time management. But with your help - it will definitely be achievable!
This is an acceptance letter that I received for summer semester.

I am also a Twitch music streamer, so you can follow me and check out my banjo practice sessions on the following link: https://www.twitch.tv/banjogirl92

Here are some highlights and bloopers:
https://www.twitch.tv/videos/332815986
https://www.twitch.tv/banjogirl92/clip/AnnoyingCra...

https://www.twitch.tv/banjogirl92/clip/SucculentRu...

Aaaand here is me playing sax in a swing orchestra:
Please click the style of widget you'd like to install