Hello, my name is Patrik. I am 17 and I come from Trencin, a small city in a small country called Slovakia. I am a high school student where I study digital graphics.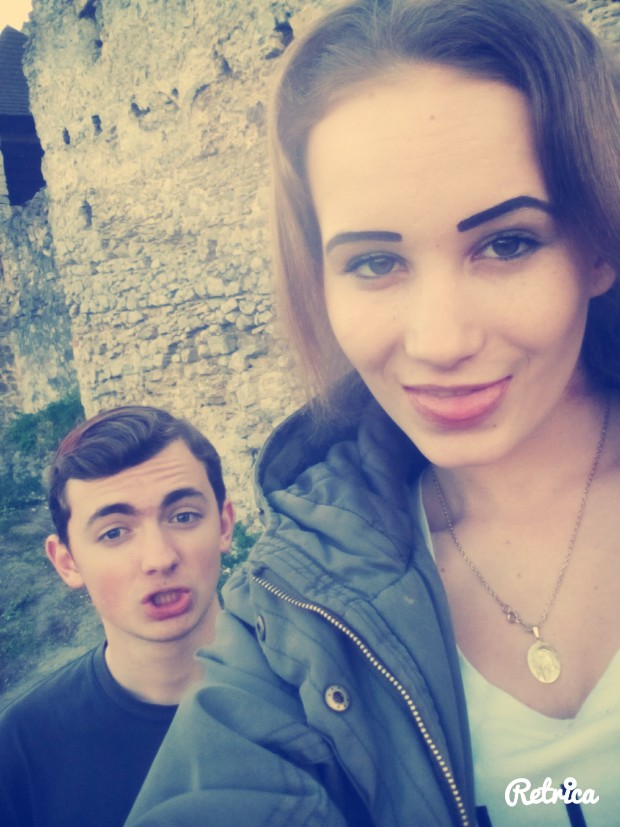 Me and my girlfriend.
I focus on PCs, programming and various design ever since 7th class of primary school when I had a serious injury and I couldn't walk properly for another 9 months. I had to end with every sport, something what I was doing quite frequently and I liked it very much. Many rehabilitations followed, various treatments and visits to healthcare facilities.
Then I found for myself an activity I started to enjoy very much. I had an old computer with monitor, mouse and a keyboard. I've always been fascinated with things like game and app development, or even hacking. Gradually, I started searching an enormous amount of information which I've been noting. I wanted to know everything, to learn every single programming language that I knew of. I wanted to create webs and dreamed of creating a PC game, I had the ideas and plans. Grand ideas and plans.
I kept being such into the 9th year when I had to choose the high school I would be attending to. Here was the problem. There is no school in my city that would contain the profile I'd like to study. I am not an artist, nor a photographer, I am nothing from what my city has to offer. However, I do like editing photos, I find myself playing with them; I like to design websites, creating vector drawings, I am trying to create animations and recently, even started trying to program a game for mobile devices.
After a long search I finally found a school where the profile of Graphic designer of digital media exists. This profile pretty much interested me, as it was the profile I wanted to study. There are many things taught here, including photo editing, vector drawings, animation, graphic design and its uses, programming of websites, 3D modeling, recording and editing of a video and so on. However there is another problem. Stara Tura, where the school is located in, is quite distant from my living place, around 50 km. I travel there and back again every day and that is basically a 100 km distance travelled every day. My daily travel is around 5 hours. I am also tired of constantly changing my ride in the city called Nove Mesto nad Vahom where I have to wait for the trains which sometimes are late for a long time and during winter, it's no good.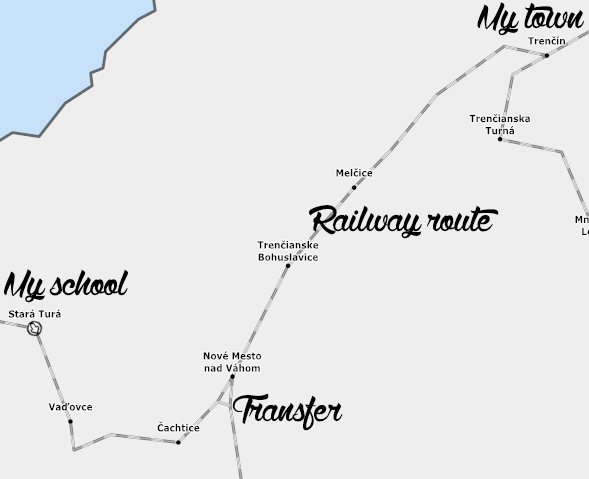 My daily route.
And here goes my plea to you, I'd like to ease my travelling as well as fulfill my dream. A motorbike. A machine that would ease my travelling and decrease the travel time to an hour and half a day. I am completely unable to get all the money to buy it, since I don't have the time to take a part-time job. In order to find myself a well-paid part-time job, I'd have to gift my doggy which I love and which I received when I got the serious injury, and after this long time I've lived with him, he is a part of me.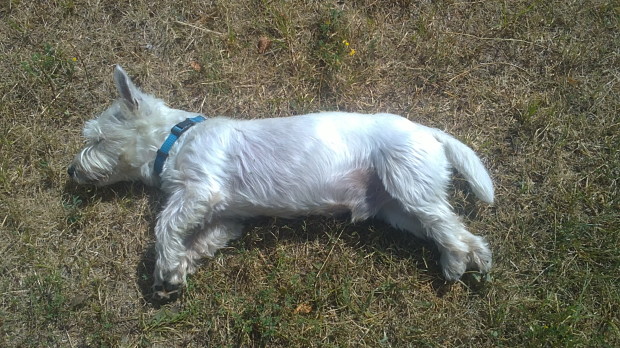 Baddy. He loves the sun.
And this is why I appeal to you, the people, the community, with a big request of 3000 Euros. With this sum of money I can ensure: a driving license, compulsory insurance, accident insurance, injury insurance, motorbike transcription to the new owner (me), technical inspection as well as the equipment for the motorbike and mainly the motorbike itself. Motorbike is my long-dreamt dream which I'd love to fulfill. I really love the Yamaha yzf r125 or Honda CBR r125 model which keys I'd like to own. And you can help me with this. I am thankful to everybody who will donate me and will help me ease the tiring travelling and fulfill my dream.
Goal: 3000 Euros
I love travelling
As I've noted before, motorbike is my dream. And with this dream I'd love to fulfill my passion, travelling. I'd love to explore the interesting places of Slovakia, because I love my nation which has a tremendous amount of monuments, castles, nature reservations, mountains and a lot of other things. From this trip I'd like to make a video record which I'd later use for my own education at the school and try to form it into a documentary movie.
I thank everybody who donated, it really helps me!
NOTE: Because I am not eighteen yet, the founder of this campaign is my father.
Please click the style of widget you'd like to install