Dear fellow online people!
My name is Anna, I am currently living in Berlin, and here's my story:
In the middle of February my laptop gave me the error code of a malfunctioning system fan. Looking at the age of my device, I thought it might have been the thermal compound and/or the dust. Having some experience with disassembling computers, I took it apart, cleaned the fan, put new thermal compound on and put it back together.

Instead of the error code for the system fan, I now received an error code for my hard drive. It wasn't recognized any more. I tried everything possible with the BIOS, and lastly I send the laptop to my stepdad, who has an even better knowledge of hardware.


(Photo: my stepdad trying to fix my laptop)

He put my hard drive into his device and found out that it is dead.
I ordered a new hard drive, which cost me a small fortune.

The little savings I made are a foundation in case there are circumstances endangering my health critically and my health insurance won't cover.
However, my stepdad built in the new hard drive, which my laptop sometimes recognized and other times not. This led to the conclusion that the connection between the hard drive and the mother board was malfunctioning, too. I ordered a new part for that as well, but it didn't help.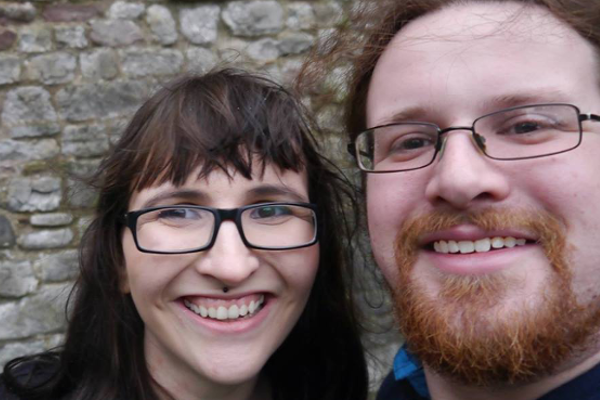 (Photo: My boyfriend, who lives in England and me celebrating our first year of being a couple in Cardiff, Wales)
As a student I am dependent on the laptop for essays, writing job applications, but also to maintain my long-distance relationship. With my laptop we used to Skype daily, watch series together on rabb.it and play games together.

I am only receiving so called "Berufsausbildungsförderungsgeld (German Federal Law on Support in Education )", which is benefit for students, in my case living alone, doing full-time education and child benefit.
Most of this money is used for paying for rent, electricity and the land line. Since I am diagnosed with an invisible disorder after long-term therapy there is no way that I can pick up a side job.

I am not looking to get a better laptop, I just would like to have the same model (Compaq CQ58-D65SG), with which I was very satisfied, again.

The money would go into buying the laptop and have it send to me. 4% of every donation go to the website, 2.9% to the money service.

Therefore I would be extremely grateful for your donation!

Yours sincerely,
Anna
Please click the style of widget you'd like to install