Hello, my friends!
I'm Ramzi Salem, from Gaza, Palestine. I am 22 years old and have lived all my life in Gaza.
Growing up in Gaza was very difficult. I expected to die during the last 3 deadly wars in Gaza, and most Gazans feel hopeless with no dreams, other than peace.


But I have dreams, and have never let the violence and hopelessness around me stop me from pursuing them. I earned an associate degree in business with a GPA of 93.89% (the best student in the faculty). In the last Generosity campaign, many generous people helped me raise $2,000 to attend Nisanatsi University in Turkey. Thanks to them, I am now in Istanbul, and have begun a 2-year bachelor degree program. After I complete my studies and earn my degree, I plan to return to Gaza to work and help my family. The unemployment rate in Gaza is 43%, so it is my wish to help improve the Gaza economy. During my time in Turkey, I discovered a world that I did not know existed outside of Gaza. Most of what I discovered was wonderful, but I also discovered that it cost so much more to live than I had anticipated. You see, in Gaza, people somehow get by on close to nothing, but mostly thanks to foreign aid. I found out that this is not the reality everywhere else: everything costs money.
Given the fact that I came from a poor Gaza family, and because I showed the University admissions office that I am a hard worker, I got an acceptance letter with a 75% discounted tuition scholarship to earn a business administration degree in Turkey. Unfortunately, the funds raised in my last campaign barely covered my travel and the balance of the tuition. To give you an idea how difficult it is to even travel outside of Gaza, imagine a place - not even a country - where you are surrounded by fences and soldiers from not one, but two countries. Gaza has no airport, and travel abroad can only be accomplished through Egypt by bus. The Rafah Crossing, which connects Gaza and Egypt, is closed all year, and is opened by the Egyptian army for just 3 days every 2 or 3 months. As a result, a huge number of people who want to travel, but not everyone gets the chance. In the meantime, travel visas expire, and you have to pay penalties for missing your flight from Cairo. Despite suffering several delays and closures, I never stopped trying, and in the end made it to Cairo.
After arriving in Turkey, I first had to learn the Turkish language before beginning my university studies. I studied hard, and recently earned the Turkish language certificate with a grade of B2, which qualifies me to complete my studies in Nisanatsi University. During this time I worked part time just to cover my language class and living expenses, but now and after finishing my first semester in the university with a GPA 3.86 from 4 which is excellent, I'm not able to work anymore, because there is a committing to the lectures and heavy classes. So If I remain focused on my studies now and continue to improve my language skills, at the end I will speak Turkish naturally and then I will be able to find paying work and study less.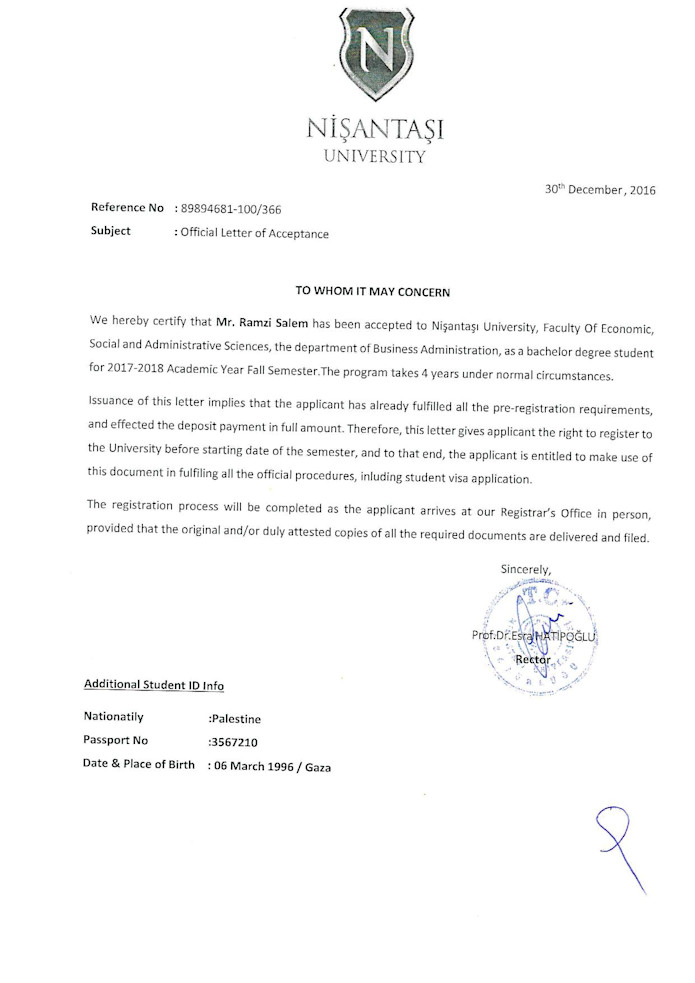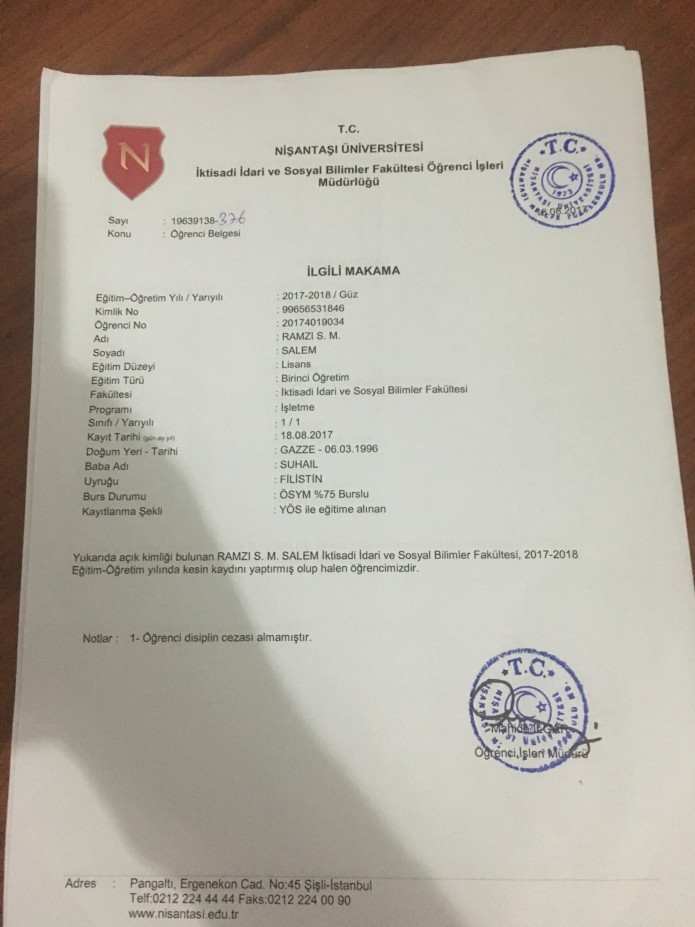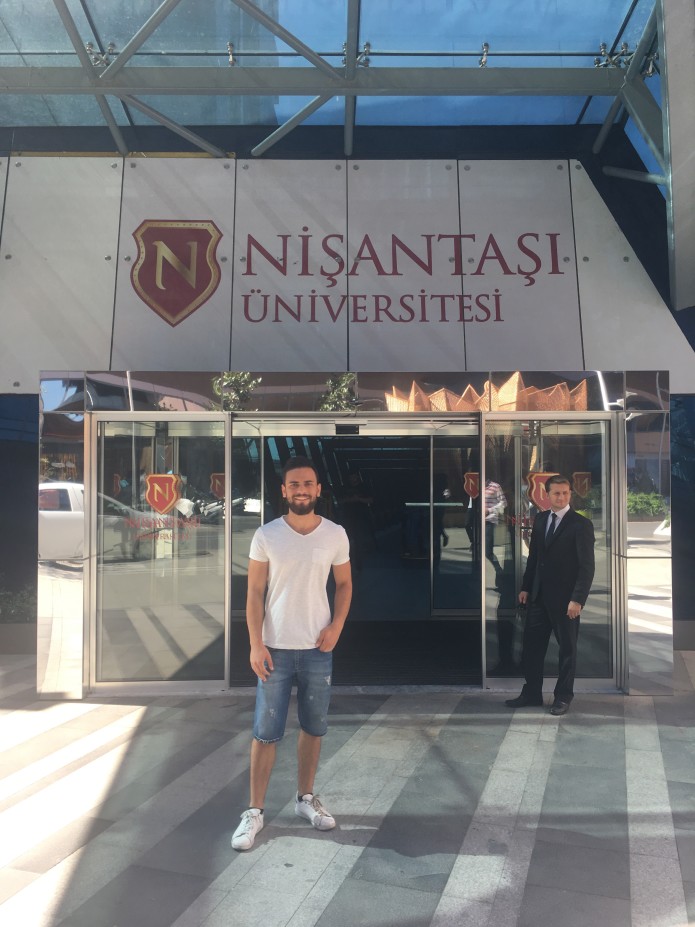 Your support will make me stronger and more determined to face all the challenges and barriers I must overcome to become a successful businessman and help my family and my community. If the campaign is successful, I will share my academic progress in regular updates, and invite my supporters to correspond privately as friends.
I expect that I will need to raise USD $5,600 which it will cover all my needs for one year:
$2000 for the university fees after the 75% discount which I got it. ( If I didn't pay this amount before 31, May 2018, it's going to be $2250 so I'm trying to get this opportunity)
$1,200 for rent of shared room ($100 monthly)
$2,400 which is for the living expenses, studying materials, bills, food, and transportation costs (I will need $200 per month to cover all the mentioned items)
$5,600 may seem a lot, but life here in Istanbul very expensive compared to other cities in Turkey.
There are many people who initially helped me to achieve my dream, and I can never forget them. They changed my life, and I am forever grateful. But now I can't burden them anymore - they helped me enough, despite their own financial hardships, so I started this campaign to appeal to your generosity. I pray that you will wish to share in my success and my dreams to make Gaza a better place for all its residents, not just myself, and that children and other young adults will learn from my example:
NEVER GIVE UP ON YOUR DREAMS!
Thank you from the bottom of my heart.
Ramzi Salem
Please click the style of widget you'd like to install