We believe that the decision to partner up was made for us before we could even understand its purpose. There was nothing to really think too much about because the calling to this project was so strong. It seemed the harder we worked individually on making sure that we are truly following our soul calling the more the essence of Suntara became clearer.
Who are we? We are a team of like-minded people who share the same dream. Our dream is to create healing spaces for children and adults all around the world.

Following the objective of Suntara which is to build spaces, schools and retreat centres in different parts of the world is the vision of Suntara which is to obtain more knowledge and understanding in the art of healing and create healing spaces while travelling.
Meet Oleg, 1/3 of the team. Oleg has been travelling with his Tibetan
singing bowls for over 5yrs and has conducted practices, sessions, vibro-acoustic massage ceremonies in Nepal, India, Hungary, Kazakhstan, Bali, Cambodia, Vietnam Singapore, Malaysia, Kyrgyzstan, many places in Russia (Caucasus Mountains, Siberia, Moscow, St. Petersburg, Ural Mountains, etc.)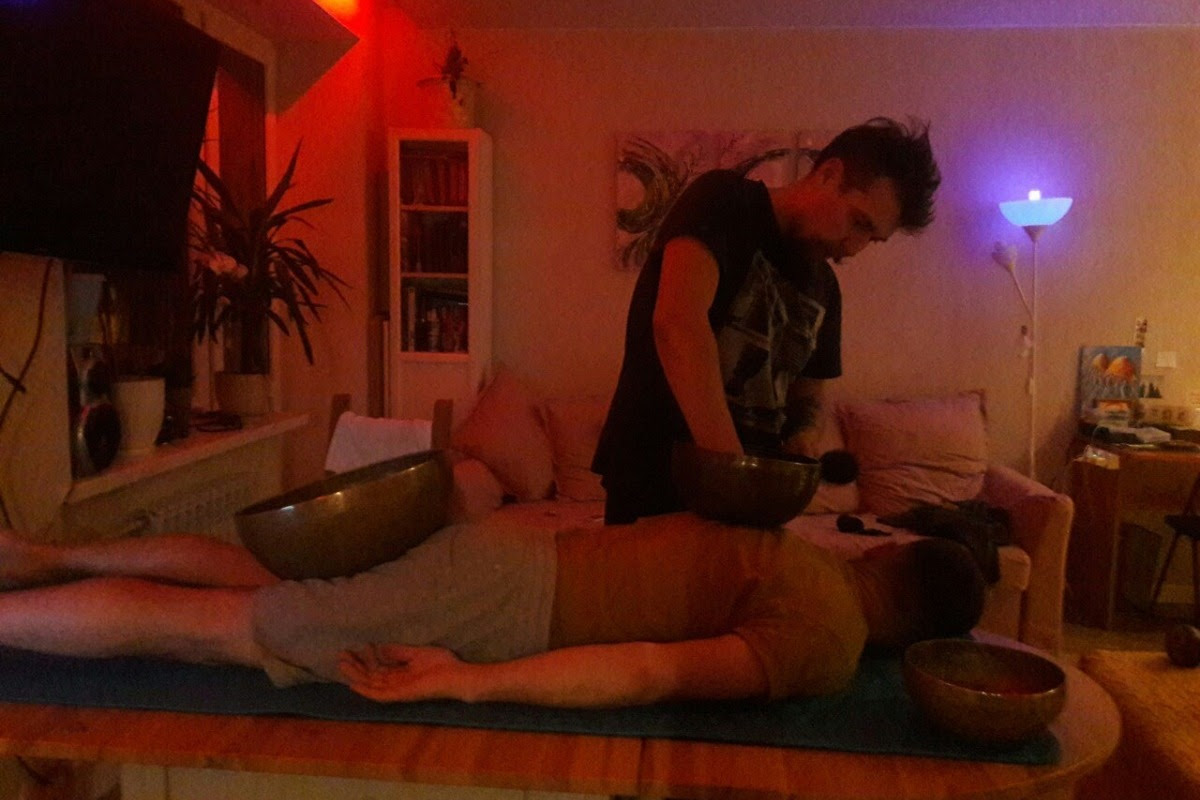 His experience has sparked a keen interest and revealed to him his soul purpose. The thing about Oleg is, he was never the guy who bothered
himself about anything related to health or wellness, he weighed close to 300 pounds. He used to work in one of the biggest oil companies in Russia. In 2014 something pulled him to leave his job and travel to India. It was after his return from India that Oleg was introduced to the healing sound of the Tibetan singing bowls. It wasn't long after that he made his way back to India and was sure to buy his first bowls and start his very own healing journey and yes, he shed 200 pounds.

Tibetan singing bowls are a powerful tool for meditation and healing. The energy fields produced by singing bowls have a special nature: the sound arises in them, moving in a spiral outwardly by expanding circles emanating from the bowl, and at the same time it spins in a spiral inside the bowl.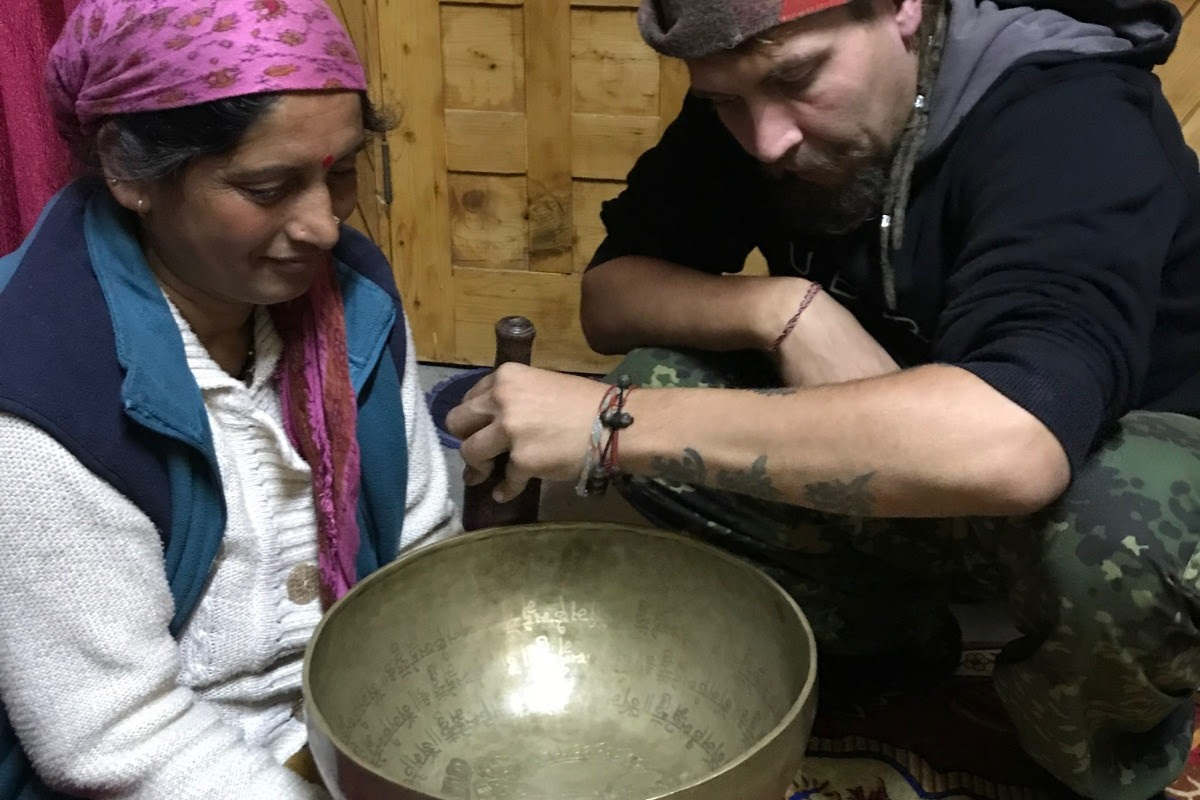 At the physical level, they relieve various spasms, dizziness, muscle blocks, inflammatory conditions, improve the body's defenses. In addition, there are hard-to-reach places where it is not easy to perform a high-quality massage. For example, when acting on the spine, the sound of singing bowls produces a soft vibratory massage of inter-vertebral disks (when used for massage purposes). Vibration occurs, movement,swelling is removed, micro-circulation and tissue nutrition are restored. Vibration therapy is good for relaxing the muscles of the collar, cervical zone, it helps with osteoporosis.
At the emotional level, relaxation takes place, emotions start to come out, bad and good, peace comes, harmonization is an excellent anti-stress remedy. And of course, Tibetan bowls are used for a complex effect, which gives a stunning health effect. The energy that such tools emit creates a sacred spiral that can attract the flow of cosmic energy into your home. The negative and stagnant energy is carried away in spirals, more and more expanding, while the center of the bowl
"calls in" the ethereal luminous energy to your home. Singing bowls are one of those tools that can cleanse and invoke energy into a home.
We see fit to break up Suntara into sub parts which we'll call 'Phases'. We would like to launch as soon March 1st 2019. Here is a brief explanation of Phase 1 and its vision.

Phase 1
The opening phase includes visiting places like Thailand, India and Georgia.
In Koh Samui, Phuket and Koh Phanghan, the focus is giving massages and therefore we want to be able to create spaces for this to take place.
In India we are looking at Himachal Pradesh, Jammu and Kashmir, Leh and Uttarakhand. India has always been a teacher,
we often refer to India as "Mamma India" because she shows you your soul journey with love. The places in India listed above are what we believe to be powerful places for gaining more knowledge. This includes attending open Vipassana workshops,
relevant talks and finding quality instruments.
In Georgia, we plan to apply the knowledge gained in India and do our part of giving back by creating spaces for workshops and massage sessions. We understand that there are many places that work on a donation basis and we would like to be able to help where we can.
4 Months Cost breakdown
Travel and living expenses- 4000$
Purchasing of sound healing equipment - 8000$
Workshops and masterclasses- 2000$
Ayurvedic medicine for massage session gifts- 1000$
This project is only the beginning of something big, a vision shared by many. Something that is going to reveal to people their own greatness and potential.
We would like to greatly thank you in advance, all donations and help are highly appreciated. We will be sharing our journey on this site through campaign updates and instagram. Once we have launched the project, documentation of all processes will be shared with all of you so that you can feel the important role you play in making all of this a reality.
*for those of you who would like to donate but do not have Paypal, please don't hesitate to send us a message and I will gladly forward you our bank details*
Please click the style of widget you'd like to install