Our school's Virtual Cycle around Ireland has been an enormous success.

We started in Skerries at 8.30 am yesterday (Thursday 26th May), virtually working our way anti-clockwise around the coast of Ireland. Junior school students played their part by scooting, cycling, walking, skating and skipping laps of the school car park, while senior school students started clocking up the kilometres on exercise bikes in the hálla.

After school finished, members of staff took over the hálla and did their bit for the fundraising effort. And from 5 until 9pm, parents came in to cycle. More parents and staff members came in early, between 7.30 and 9am, and by that time, we had already completed our lap of Ireland (a 2,048 km target distance), with extra clocked up kilometres to spare.

The kids in both the junior and senior school will continue the effort throughout the day today, so we're hoping to make it back around as far as Galway, at which point it will be time to put our feet up, and get the virtual train back home!! You can see the route we took in the attached photo. We visited every city, town and village named in the map.

Please do spread the word about our achievement, and encourage your friends and family members to spare us a few euros, using our GoFundMe weblink. Every donation, no matter how big or small, gets us a step closer to our €15,000 goal, which would enable us to buy two new interactive whiteboard/projector packages for the benefit of our students.

Many thanks.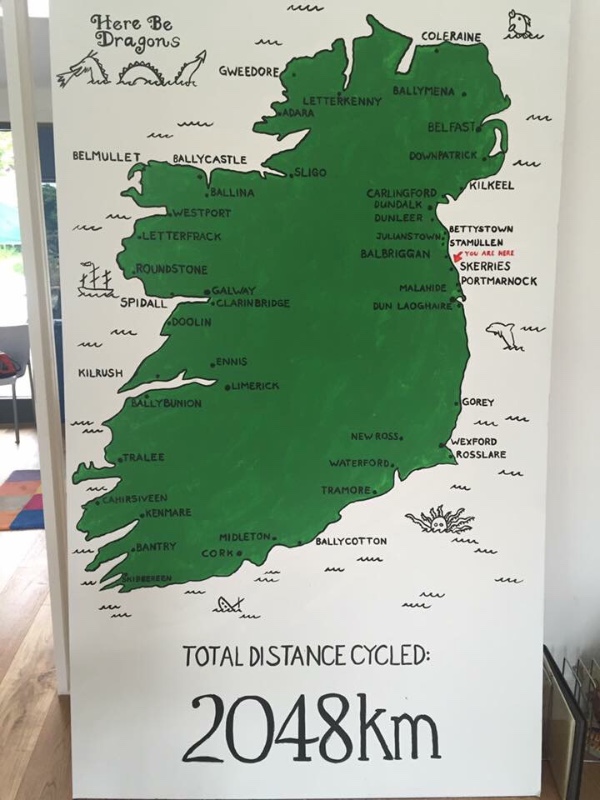 Please click the style of widget you'd like to install