In 2014, Ayham Sibai founded an LLC, Talent Generation, in Dubai, United Arab Emirates. He had worked for years saving money so that he could open the business of his dreams. The company showed great promise in the beginning, but economic downturn soon hit. In 2015, Ayham's company was unable to pay off a previous business loan of $129,527.92 (457,781.94 AED) they had received from Abu Dhabi First Bank.
In 2016, despite founding his business as a Limited Liability Company, Abu Dhabi First Bank was able to file a formal criminal complaint against Ayham personally for his company's inability to repay the business loan. In the majority of countries, such situations merit bankruptcy proceedings. In Dubai, they still use debtors' prisons. Ayham's business partner, knowing how harsh Dubai law is regarding unpaid debt, fled the country to avoid the same fate as Ayham.
Initially, Ayham was allowed to travel outside of Dubai to visit his wife and daughter in Ukraine pending a final judgment in his court case. During his absence visiting his wife and daughter, the court entered a judgement against Ayham without his knowledge ordering him to pay the $129,527.92 (457,781.94 AED) to Abu Dhabi First Bank within 30 days. On November 13, 2017, while visiting his mother in Dubai, Ayham was arrested at Dubai International Airport and his passport was confiscated on court order.
Ayham has appealed the lower court's decision to the Supreme Court of the United Arab Emirates, but is unable to travel or work due to his passport being in court custody (a passport is required to work in Dubai). If they rule against him, he will be sentenced to 3 years in a Dubai prison or until he repays his former company's business loan.
Ayham cannot fly anywhere and misses his family and daughter Emily back in Ukraine, who cannot afford to come visit him in Dubai due to Ayham's dire economic situation.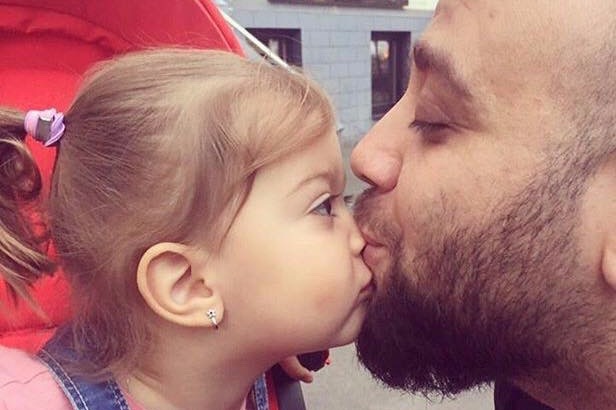 Ayham & his daughter Emily
Ayham needs your help!
The sooner Ayham pays off his loan, the sooner he can avoid a jail sentence. If he is sentenced before we reach the target amount of his loan, he will remain there until we make our target. Most importantly, the sooner he pays off his loan, the sooner he is reunited with his family and daughter Emily in Ukraine.
Please donate what you can to save Ayham from a sentence of 3 years in debtors' prison by helping to repay his business loan with Abu Dhabi First Bank. He has no other recourse, should his Supreme Court appeal fail.
The funds will be paid directly to Abu Dhabi First Bank on Ayham's behalf so that they can drop the case against Ayham.
Please click the style of widget you'd like to install