Project Sent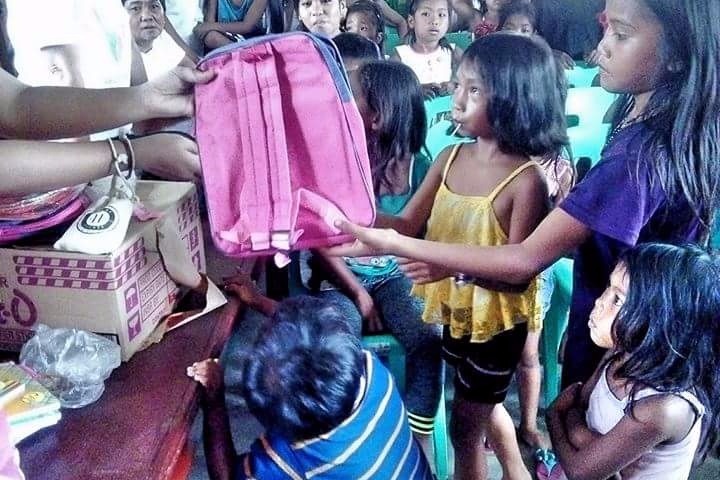 The aim of Project Sent is to send help to children living in remote communities, hence the name.
I and my sister have always wanted to hold a simple gift-giving program for children as our way of giving-back. Originally, our plan was to go to an orphanage and to have the orphans as our project's beneficiary. However, this project kept on getting postponed due to my busy schedule as a teacher. Then one day, an opportunity came along when I became one of the officers of the alumni organization of our university, CAS-SLSU-Lucban.
CAS-SLSU alumni organization chose an indigenous community (a.k.a. Dumagat) in General, Nakar as the recipient of its annual community outreach that happened in December 2017. The main goal of the program was to give grocery items to the Dumagat families. That time, I had already collected children's books and some school supplies intended for my planned gift-giving program in an orphanage. I thought I might instead give those to the children in Gen. Nakar. I was told by one of my co-officers that there were lots of children in the community. I wanted to be fair as much as possible to all the children by making sure that each one will receive a gift. Thinking that the current items that I had wouldn't be enough, I then decided to post requests for donations on my facebook page so my friends would be aware of my need of help. I also sent personal messages to close friends, relatives and students. Right there, help started coming. I was able to gather 70 bags of school supplies, activity books, toys and story books.
Unfortunately, due to bad weather, only about 30-40 children were able to attend in our gift-giving in Gen. Nakar. Some bags were distributed to the parents while the rest were left to one of the residents in the village who serves as the pre-school teacher in the area.
After my visit to that place in Gen. Nakar, I realized that there are more concerns that need to be addressed. Aside from the need of an easy access to education, the children also need to be taught about the importance of proper hygiene. Hence for my next project, I decided to collect items for hygiene.
Though the alumni organization project was already done, there were still some people who approached me, asking if I still need school supplies. I couldn't say turn down their desire to support and donate. So, in April 2018, since the beginning of the school year was approaching, I thought it would be nice to give children something to start their school year with.
I contacted some friends to volunteer for my project but unfortunately, due to their work schedules and other concerns, they cannot join the endeavor yet. Not wanting to postpone another plan again, I coordinated with people who could help me in making the project possible and I was not disappointed. After researching, I found out that there is also another settlement for the Dumagat Community in Polillo, Quezon (it is even farther than Nakar). I have a former student who lives in the island so I sent him a message regarding my plan. He was interested and was willing to give a hand in making the project possible. He even offered to recruit other youth volunteers in the island so I could have a group of people to help me in handling the gifts.
Last May 19, 2018, we handed over a hundred school bags to the elementary students of Brgy. Taluong, Polillo Island. We were told that there are only 71 kids in the community that belong to the ethnic Dumagat group, our chosen indigent group. I decided to prepare for more than 71 just in case more kids would show up. In the beginning of our program, there were only about 40-50 kids who registered in our list but as we were having the fun and games activity, more kids from the place came; some are non-indigenous kids but they belong to less fortunate families, hoping that they would receive something for themselves too during the gift giving.
We prioritized the Dumagat kids and gave them bags with a complete set of school supplies and hygiene items. We brought other school supplies and hygiene items aside from those already packed inside the bags. Some of the non-indigent children got to receive complete sets too but others only received partial gifts such as padpapers, notebooks and pens but fortunately we got to give something for everyone and I was certain that none of the kids went home empty handed.
One thing we noticed lacking though was decent footwear. Some kids even arrived barefooted. Good thing, we brought a few pairs of shoes and slippers (some are toms one for one, the charity shoes of the toms brand) but not all kids got to receive a pair.
For our next project, our main priority is to give the children decent white shirts and footwear(slippers or shoes) that they can wear to school and rain boots, handkerchiefs, and hygiene items such as soap and alcohol to keep them tidy. We are accepting donations of any kind. Although we have already delivered school supplies last month, school supplies are still very much welcome.

Please click the style of widget you'd like to install