For Ma. Nanette G. Martinez's recovery 🙏🏻❤️

~~~~~~~~~~~~~~~~~~~~~~~~~~~~~~~~~~~~~~~~~~~~~~~

Current update: October 28,2018 9:30am The doctor went to see us and announced that the brain surgery (aneurysm clipping) was successful and that they didn't encounter any further complications during the operation. She's currently back in the ICU for close monitoring. —she is really a fighter, with a big God backing her up! ❤️
We would like to express our deepest gratitude to our family, friends, relatives, and even those who we do not personally know, for helping us in any way possible (prayers, financial support, emotional encouragement, etc). GOD BLESS YOU ALL!!!! 🙏🏻
Please help by continually praying, giving, and sharing this as my mother is under more strict medications and therapy from the professionals, thus the need for more fund. We are humbly knocking on your hearts to help us provide her the BEST CARE THAT SHE DESERVES. Please note that no amount is too small to this kind of situation.
Thank you so much and may God bring back to you hundredfolds in return.
~~~~~~~~~~~~~~~~~~~~~~~~~~~~~~~~~~~~~~~~~~~~~~~

At around 1:30am of October 25, when everyone's asleep, my dad and my brothers heard a loud thud. They were all shocked to see my mom's body lying on our floorboard stiffened and rapidly breathing. They rushed her to the nearest hospital and was attended first aid. After the CT-Scan, she was diagnosed with Ruptured Brain Aneurysm. Her frontal lobe was found with blood (30cc). The only neurologist available in our region asked us to rush the Angiogram test and so we did but we had to wait for her for more than 6 hours just to get back to us and read the result (because at that time, she was operating someone from other hospital)! 😣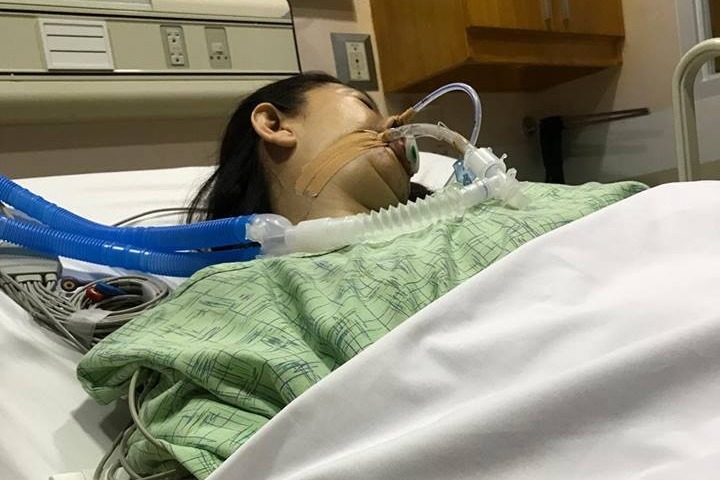 With the first hospital's lack of facility and neurologist (UST Hospital - Legazpi), we decided to airlift her to St. Luke's Hospital. She was transported at 8:25am of October 26. She was stable all throughout the flight (Thank you Lord!). She is scheduled to undergo Cerebral Angiogram tomorrow, October 27 to further discuss the best procedure for the Aneurysm.
Her current situation: She can move her hands and feet slightly, but she can't respond to commands. Her eyes are shut (but just now Oct 26 8:12pm) her left eye shot open for 3secs -- Lord you are so good! 😭).
Truth be told, we are financially challenged. We need at least 2M to cover her operations and partial hospital bills and expenses.
We believe that God will touch the hearts of His people and nothing is impossible for Him.
If you wish to give, any amount would be much appreciated!
Additional facts: We were supposed to be in Cebu this coming October 27. She was so excited because she rarely get to see all her 5 children gathered and complete.
We will NOT give up on her.
"You don't give up on the people you love. - Chuck Bass"
You can contact me on my facebook account (www.facebook.com/MeeLovesYou) for other means of donating. ♥

Local bank account numbers for Fund Transfers/Deposits:
BPI Savings: Abigael G. Martinez // 0459 2432 67
BDO Savings: Adrian Christopher Martinez // 004550168571
Metrobank: Aileen G. Martinez // 0663803684155
PSBank: Abigael G. Martinez // 150400000367

WE PREFER BANK TRANSFER OR DEPOSIT (because GoGetFunding charges 4% of the total amount donated + Paypal do also have service charges)
THANK YOU FOR ALL YOUR HELP!!! GOD WILL BLESS YOU A HUNDREDFOLD
~
Verses:
He said: This is what the LORD says to you: "Do not be afraid or discouraged because of this vast army. For the battle is not yours, but God's." -- 2 Chronicles 20:15b
The LORD will fight for you, you only need to be still. -- Exodus 14:14
Please click the style of widget you'd like to install