I am Jackylou Estopin,a 3rd year BS in Computer Engineering student in University of Science and Technology of Southern Philippines CdO campus.I grow up without a father and my mother is only a janitor in our province and she is already 58 years old.Her income is only enough to buy our food in a daily basis,in short we are very poor.I tried having part-time job like cleaning the house of my neighbor and teaching her to use a computer but still it is not enough,that is why it is impossible for me to save money in a short period of time and buy a laptop to sustain my online class during this pademic.But I never take that as a hindrance for me to continue and pursue my dreams.I still have this huge hope for my future.

Today, I am humbly knocking in your kind hearts to please help me buy a laptop for our online class.Our loads are more on computer-base and programming related subjects.And there is no computer shop available in our area and if there is any,still I will not be able to sustain my daily rental for a computer.Please,I am really asking for your help.Any amount will be much appreciated.I promise to payback by helping people who are in need when I will become a successful person someday.


Thank you,take care always and God bless everyone.


Proverbs 19:17
Whoever is kind to the poor lends to the LORD, and he will reward them for what they have done.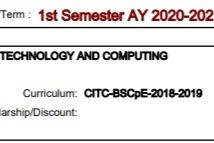 Please click the style of widget you'd like to install