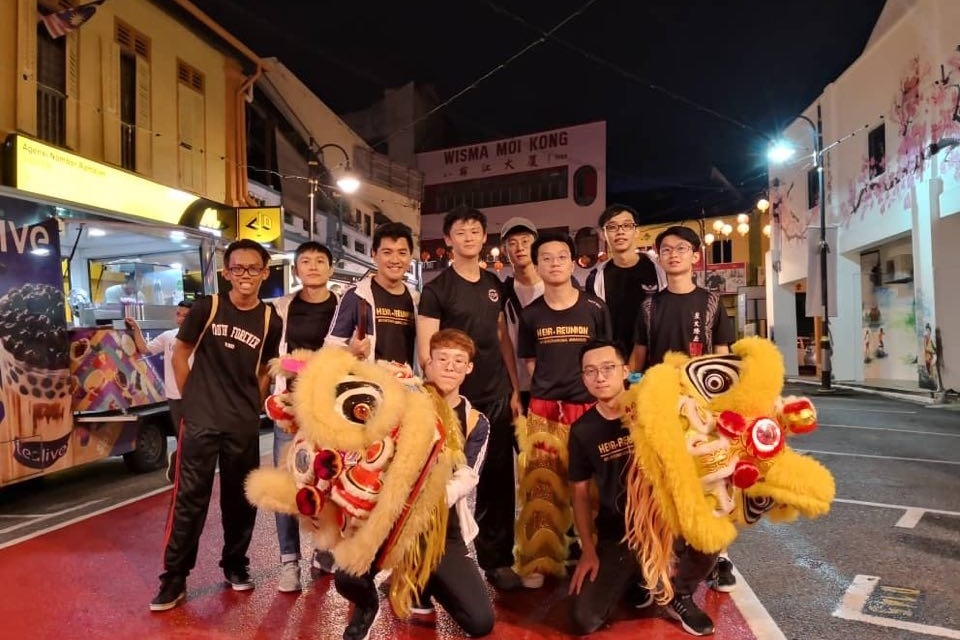 You might asking why am I showing this picture right? Not going to lie, I am a lion dance expert and I accepted a lot of performance because it is best way to earn money for my education.
I stopped dancing as a lion after my high school. In fact, the paid as a helper in school or being a waiter at the nearby bubble tea shop can only earn RM5/hour. If you don't trust me, you can ask student who are studying in Inti International University in Nilai and the nearby shop. The wage is really low. Consequently, I got no choice but retake the lion head and continue performing around different places to gain money for physiotherapy workshops.

As a student physiotherapist we would try our best to help people with the skill we have learnt in school and hope it may boost their quality of life. However, the physiotherapy course in Malaysia can't guarantee you to become a qualified physiotherapist and reaching the international level like Australia, the United Kingdom and other countries. Thus, many of us will choose to take extra workshops such as Sports Injury massage, Chiropractic physiotherapy to fill the level gap to fill the gap as we are only taught briefly in school.

On the other hand, a standard workshop in Malaysia is costing a fortune due to speakers from developed countries. By converting currency and including the experience the speakers have, a one-to-two days workshop can cost around RM500 to RM2000. As an example, I attended this Basic Kinesio Taping workshop for two days and it costed me RM500. In order to become a professional in sports therapist, I still need to attend to Level 3 & 4 in Kinesio Taping. That's really a lot for student like me.

Now you might be wondering if there are any alternative ways. Yes, I did try to look for placement in physiotherapy clinics and hospitals. Nonetheless, most of the clinics and hospitals require you to have supporting letter from your university. That's not the end yet, then they will contact your university and discuss about collaborating, if your university and the clinics couldn't have an agreement. You gotta look for the next clinics. Luckily, I did manage to go to NASAM (National Stroke Association Malaysia) as a volunteer and have clinical observation for a month after being rejected by 10+ physiotherapy clinics.


Help me only if you had extra money.
FYI: I am looking forward to take an intensive sports injury course last for 5 weeks long and it is really helpful for my physiotherapist journey.


Leave a comment below if you got any question or anything you want me to know.
Big thanks for those who spent their precious time reading this.
Hope you have a nice day.
Please click the style of widget you'd like to install