From Philips comes a premium, portable, cinematic experience. Revolutionary new DLP technology that provides a sharper, more crisp image in native Full HD, PicoPix Max delivers a stunning viewing experience with superior brightness that you can enjoy at home or on the go. - Native Full HD - Cast up to 120" - Up to 3 Hrs of Battery Life - 16GB Memory - Built-In Speakers - USB-C (video+power), MicroSD, HDMI - Wi-Fi / Bluetooth - Supports Netflix, Youtube, Kodi, and 4000+ Android Apps

The smart & completely wireless native Full HD pico projector
with ultra-vivid picture made for use anywhere.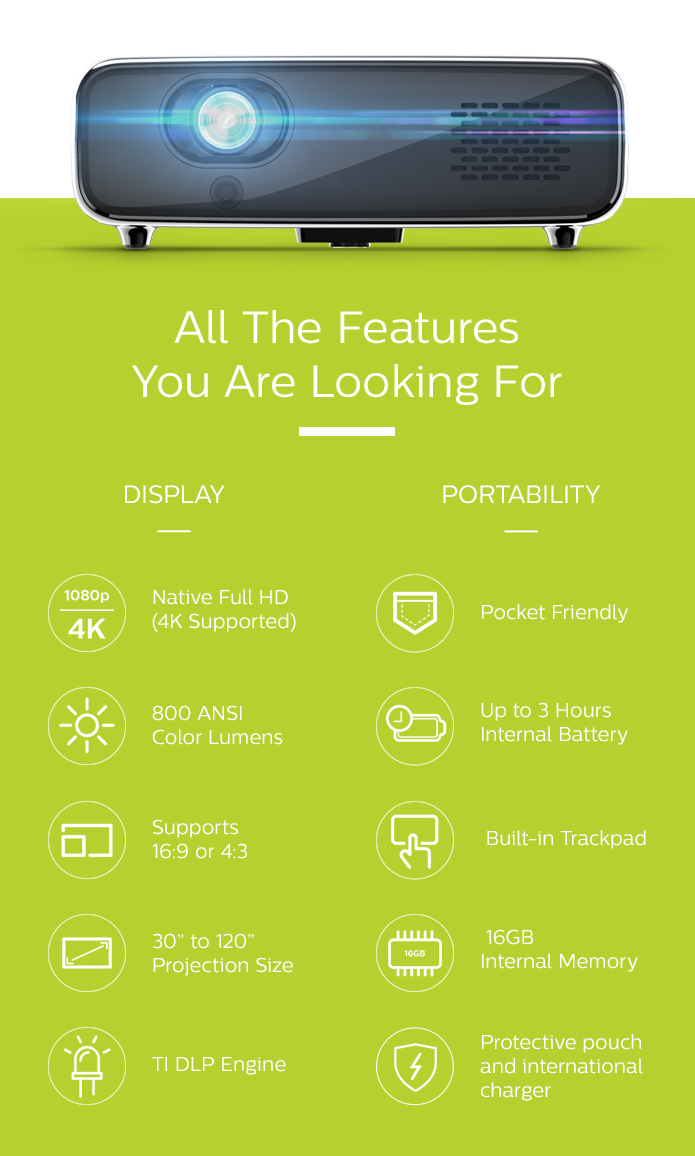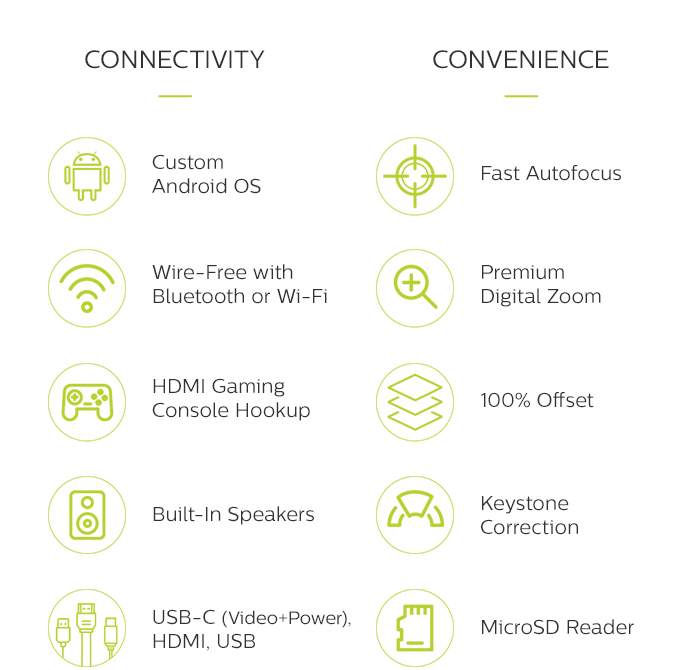 Expand your favorite film, or even just your favorite cat video, to epic proportions with crisp picture, smooth motion and vivid colors tuned by cinema experts.

Rated to last 30,000 hours at up to 800 ANSI Color Lumens, the PicoPix Max LED light source will display amazing, vivid picture for years to come.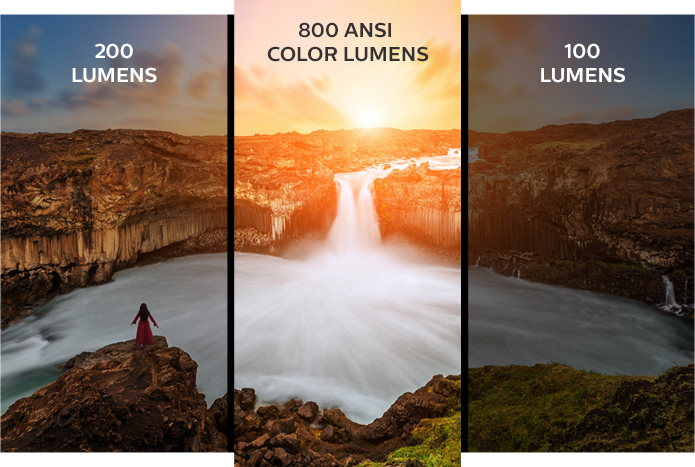 With 16GB of internal memory and a battery that lasts for up to 3 hours, all you need is your Philips PicoPix Max. No phone or laptop needed.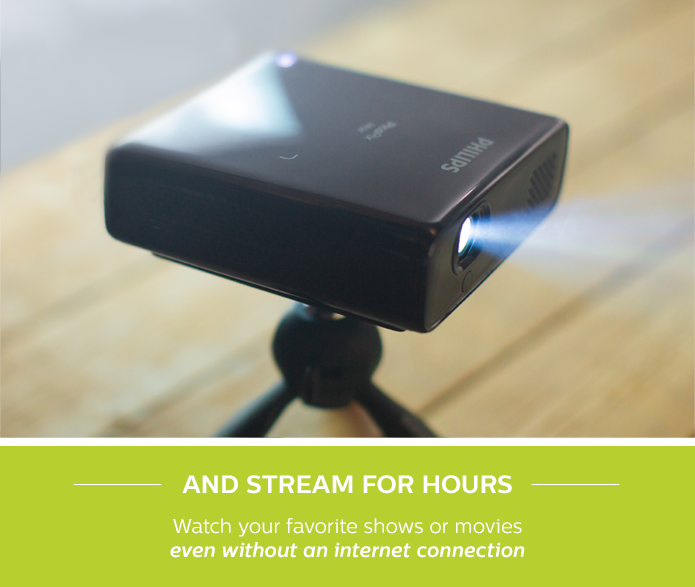 Easily throw the Philips PicoPix Max into your bag or a pocket for every adventure.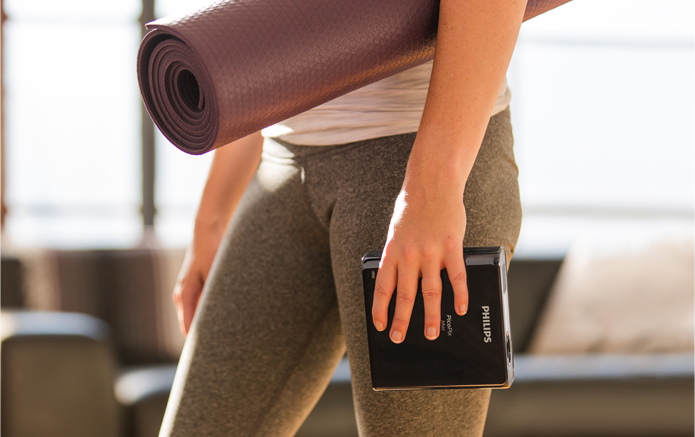 Easily control apps and games with the built-in
touchpad for a perfect on-the-go experience.

Download your favorite apps directly from the Philips Store for on the go use.
Easily navigate in the brand new PHILIPS user interface.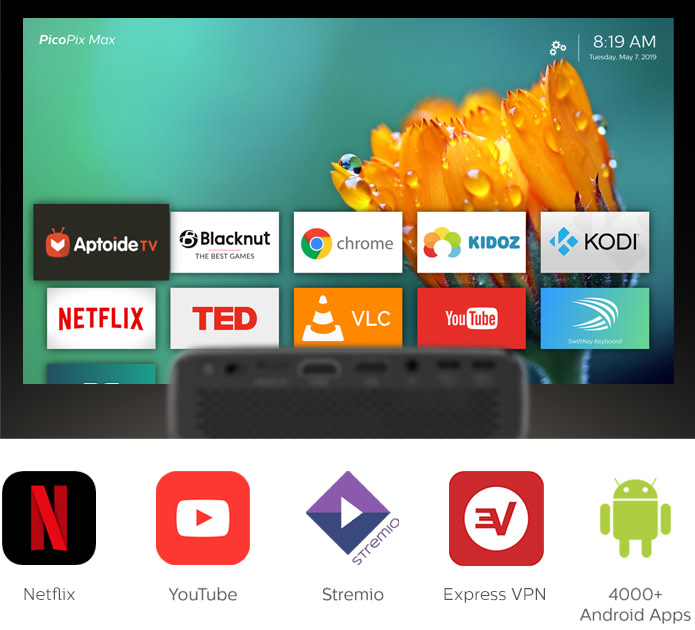 The ExpressVPN app will be preloaded on your PicoPix Max so you can navigate safely and connect seamlessly, even when traveling abroad or using public WiFi. See more about this in our FAQ!

There's no fuss, no muss, just the perfect picture.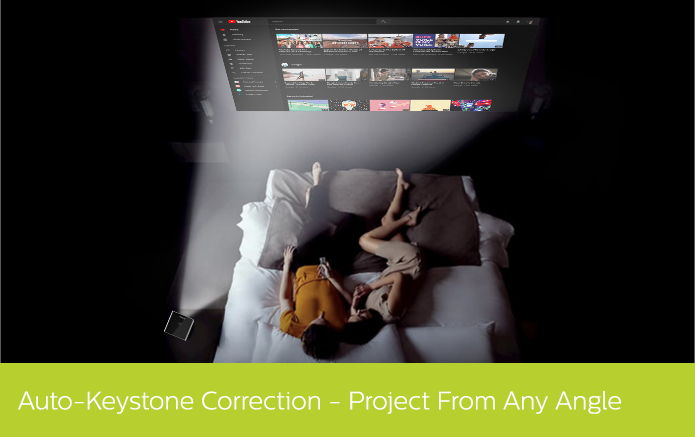 The PicoPix Max automatically straightens for a clear, perfectly-angled
project no matter the surface it's on.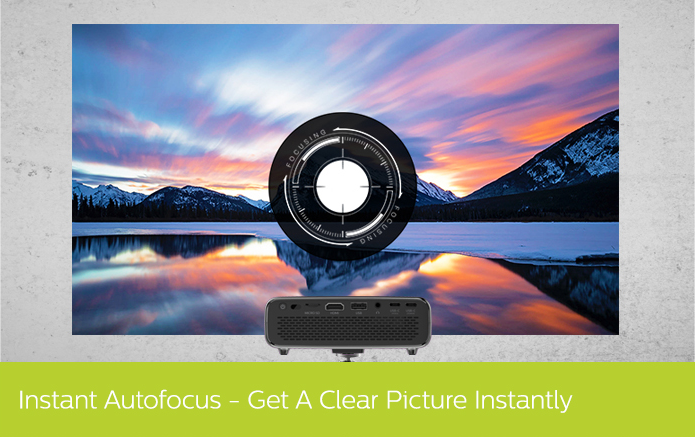 Using an internal camera just below the projector's lens, PicoPix Max adjusts the projection instantly for that perfectly-clear picture every time.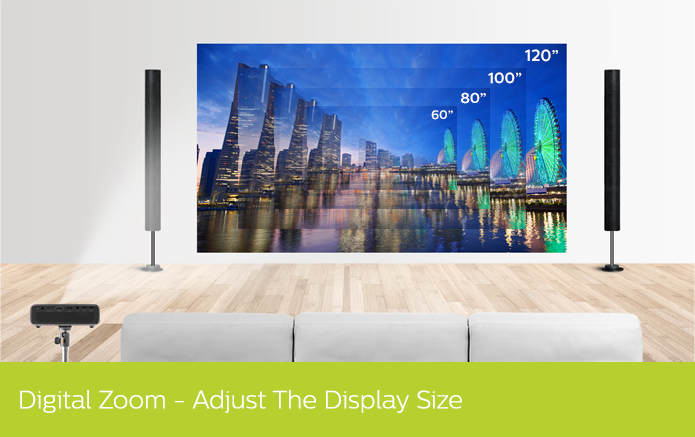 Easily shrink your projection without moving the PicoPix Max.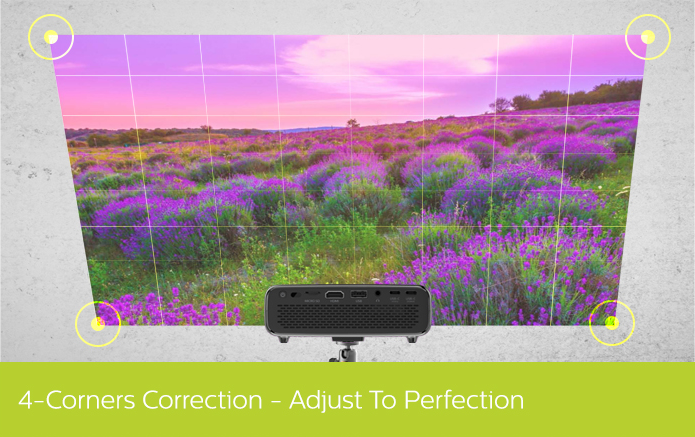 Modify the aspect ratio of each of the projection's four corners for a perfectly straight image, or adjust it to your viewing pleasure!

The USB Type-C ports deliver fast data, audio, video and quick charging!
Extend the built-in sound through Bluetooth speakers, or mirror
your laptop for an amazing second screen.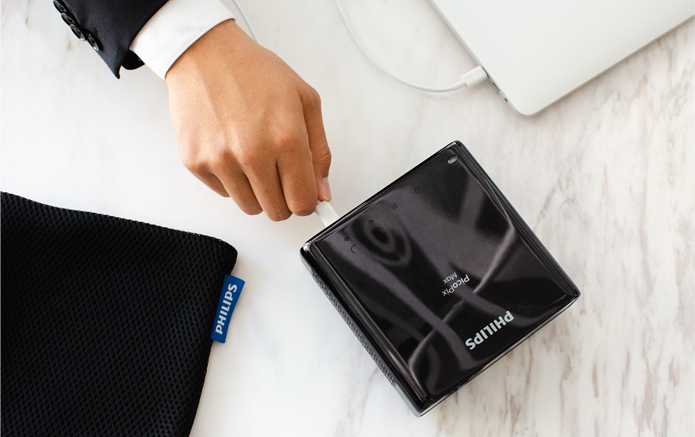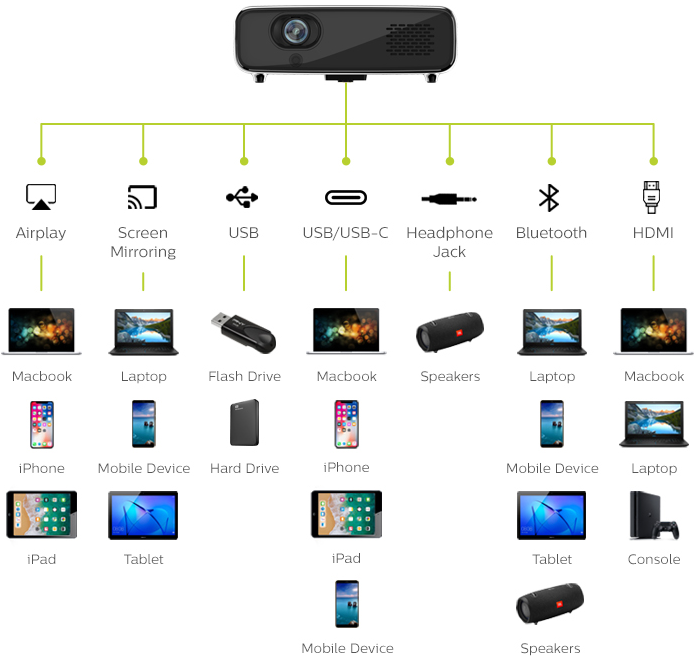 The PicoPix Max may have an Android OS operating system, but that doesn't limit its compatibility. Connect any and all of your favorite Apple devices via USB-C.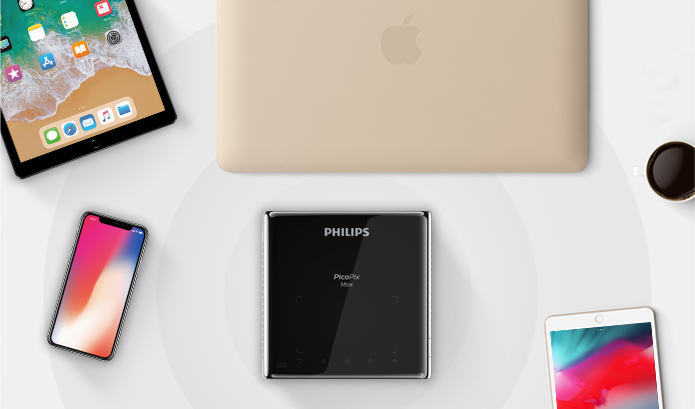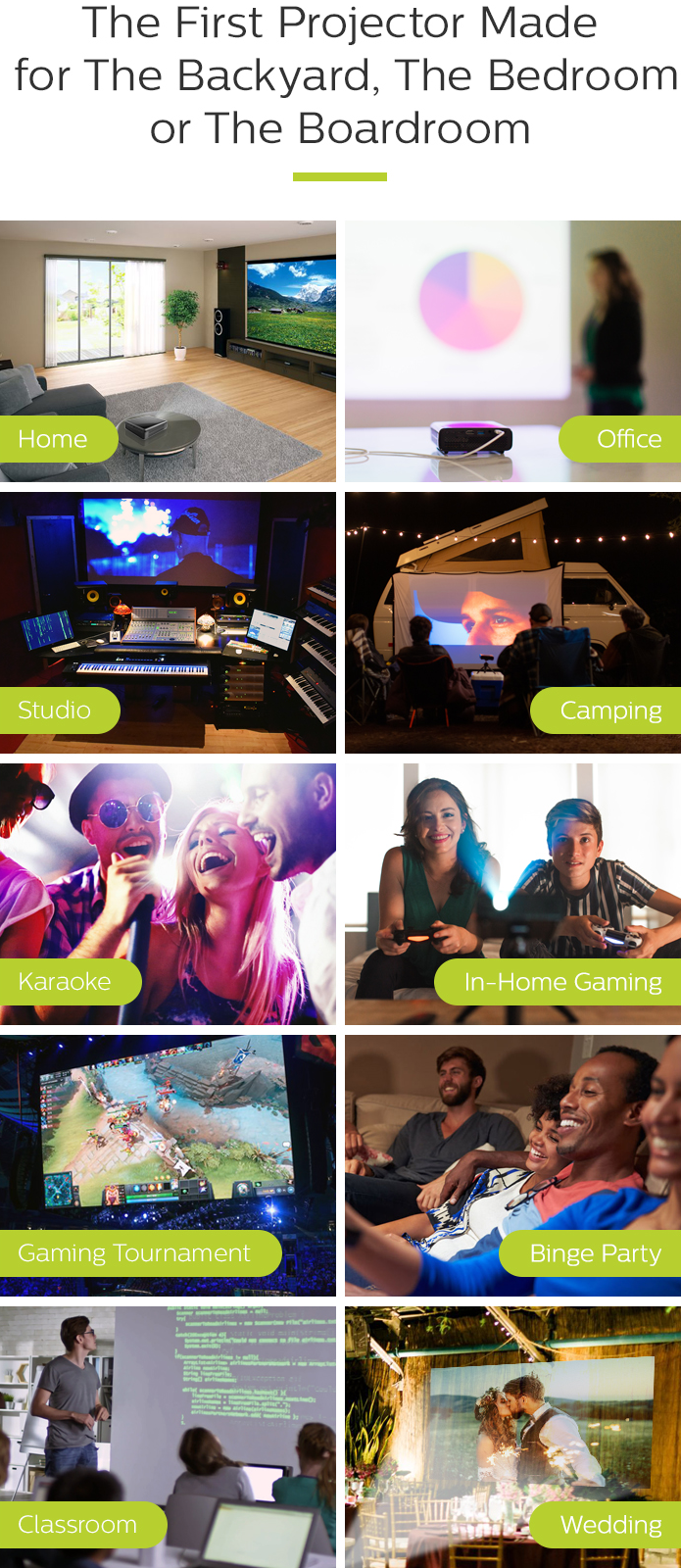 For an immersive, on-the-go gaming experience, plug in your favorite console via HDMI. Use a Bluetooth gamepad to elevate your gaming experience.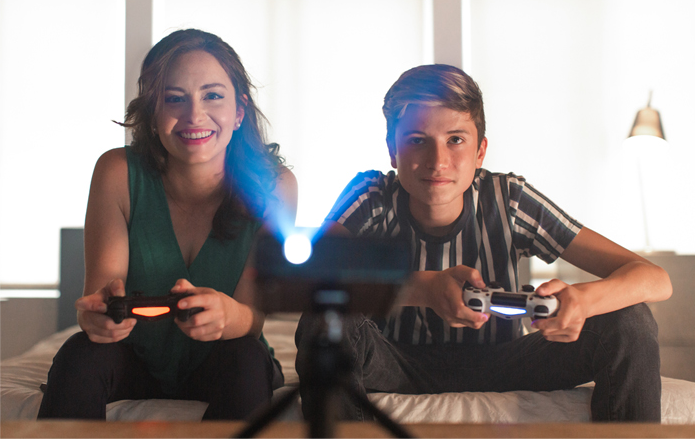 PicoPix Max comes equipped with built-in dual stereo speakers
to help put you in the center of your cinematic experience.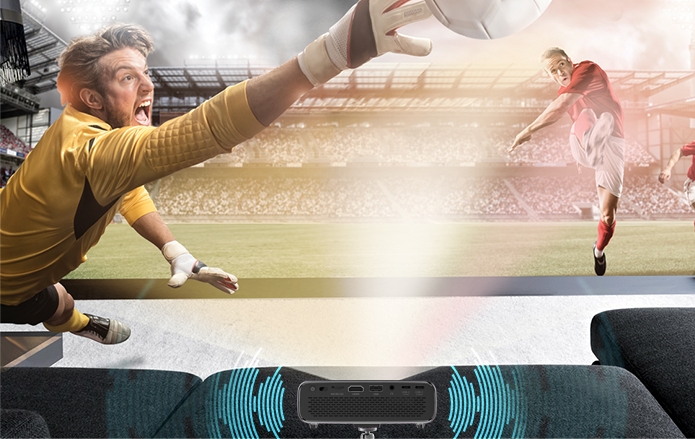 Go big and wirelessly casts your screen directly from any Android,
iOS, Windows or MacOS device!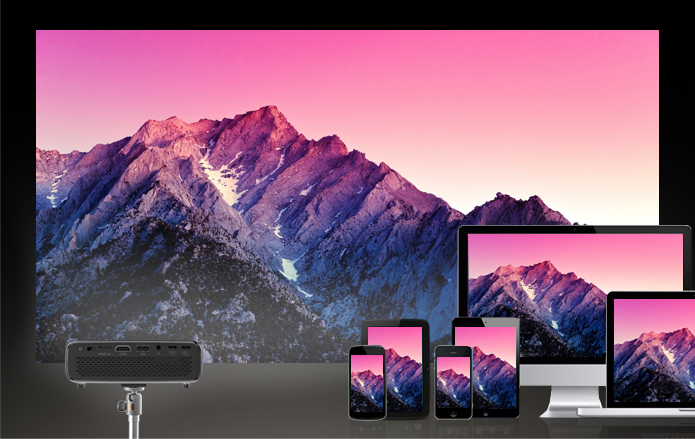 Our LED bulbs are rated to last 30,000 hours⁠ - that's over 40 years
of usage if you watched one movie per day.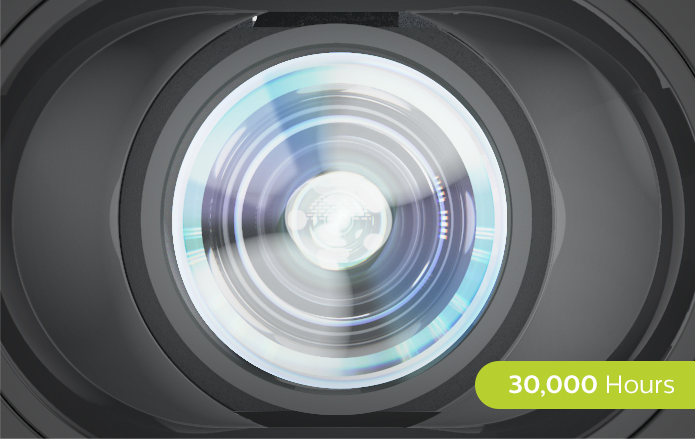 If you don't want to leave your seat to use the touchscreen navigation,
just grab the PicoPix Max AirMote for distant control.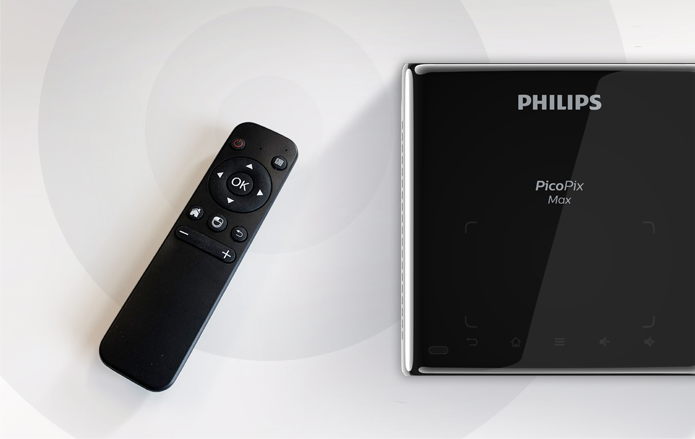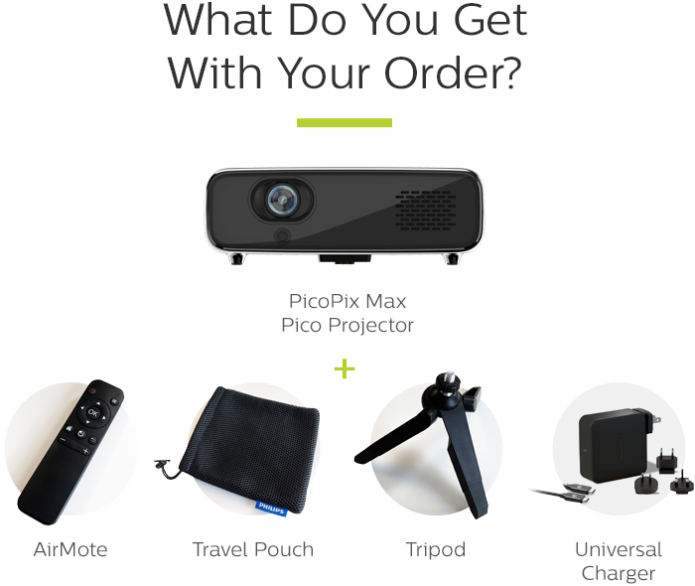 Get all the specs you're looking for at a price that won't break the bank.
That's right - A picture the size of your wall from a projector the size of
your pocket for a price the size of your wallet.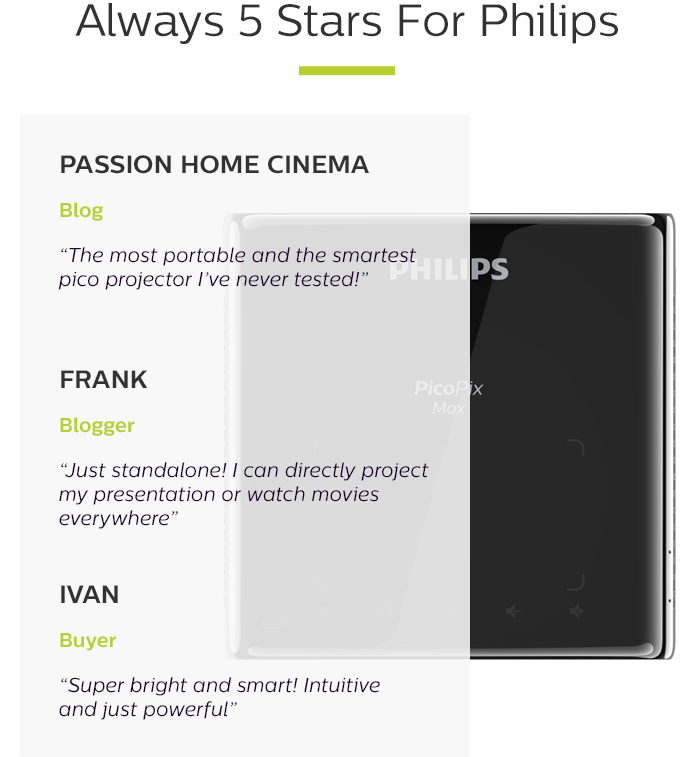 We are Philips and for over 125 years, we have been improving people's lives with a steady flow of ground-breaking innovations.
We build products for those who believe that what makes technology smart is what you can do with it rather than what it can do. We do this by combining our design expertise and innovative Philips heritage as well as democratizing innovation that makes sense to consumers giving access to technologies that enables people to do more, watch more, and enjoy more. With these combined strengths, we bring to the market: caring, innovative, easy to use, and impactful.
Whether you are a value seeker, a freedom lover or a cinema addict, we bring you the real emotions to emphasis, enlighten and supersize your content to bring you the best experience you deserve.
#EXPERIENCEMATTERS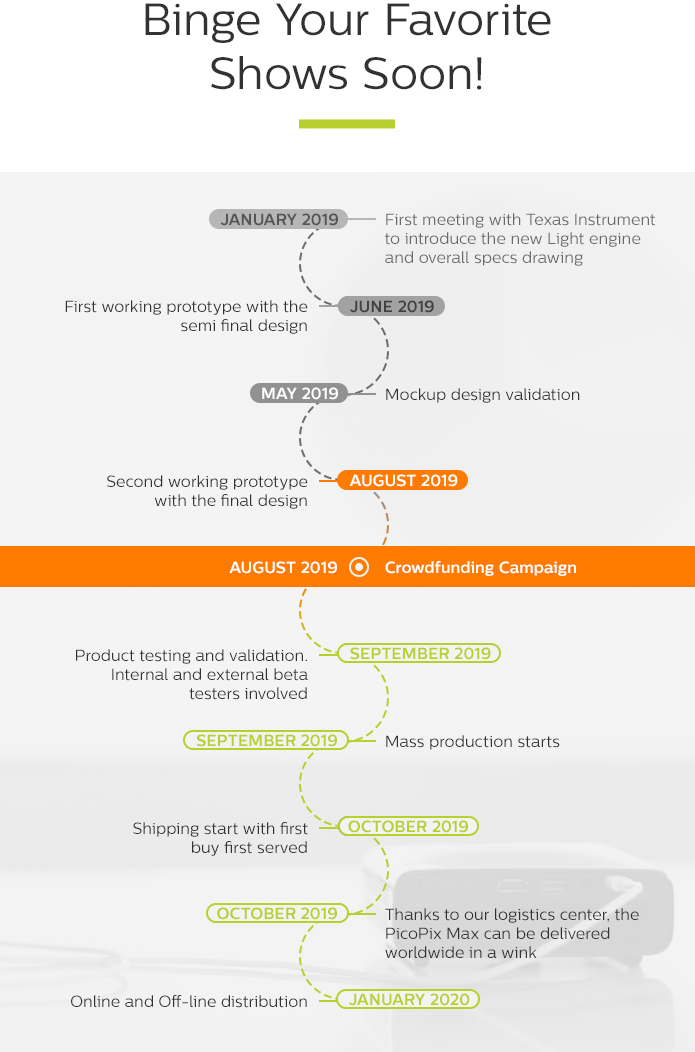 We are able to ship worldwide! VAT and GST not included in perk pre-order price and will be determined by country on delivery. Backers are responsible for these costs (VAT, GST, duties, taxes, etc) on delivery. Shipping costs vary by country; please see reward for details on the shipping cost that applies to you.

We plan to ship starting in October 2019*. We will keep you up to date on our progress and the expected delivery date of your order.
*Actual ship dates may vary. We will keep you notified of your product ship date.

By backing now, you'll get to own one of the very first products off of the line, plus exclusive access to provide valuable feedback that will shape future generations of the product.
Please click the style of widget you'd like to install