Who we are?
A group of friends from Chile who share the love for outdoor life . We strongly believe that, in the midst of nature, we find one of the best complements for human development.
This is why we created AulAndes Foundation... but what does it mean?
Two words: AULA + ANDES. In Spanish, "Aula" means "classroom" and "Andes" is the mountain range that borders our entire country.
So, we would like to take advantage of the natural scenery we have thanks to the Andes and use it as a classroom.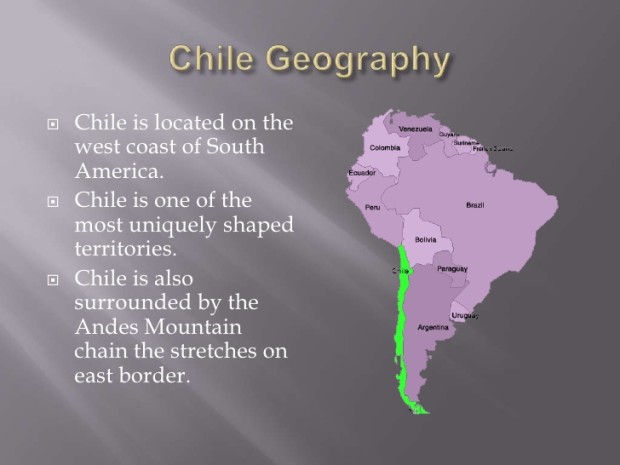 Our Dream?
That people have the space and opportunity to be in contact with nature as a mean to achieve integral development.
We want to share what we have experienced while being in contact with nature!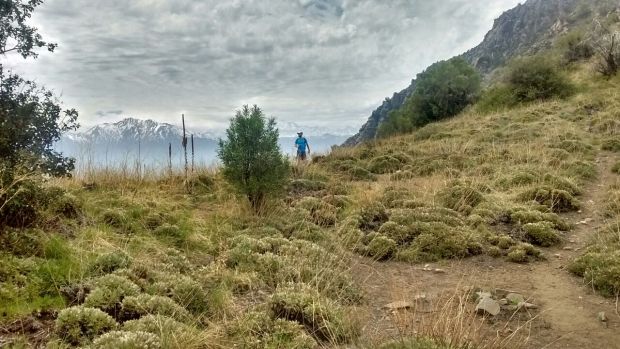 The Problem
Something's going wrong...
On average, 91% of the time in school is spent in the classroom (N°1 in OCDE).
11.5% of the Chilean population has depression and other common mental disorders (World Health Organization (WHO), 2017).
Together with South Korea, we are the country where the rate of teenage suicide increases instead of diminishing (WHO, 2016).
There are strong problems of coexistence in schools (bullying)... more than 11.000 cases in Chile during 2016 (6% more than 2015).
Students do not have proper knowledge of Environmental Education nor self-care in the wilderness (Chile, is a mountainous country and Global Warming is real; i'ts urgent we do something while we have time!).
Each day, there are more children with overweight problems (sedentary and eating bad habits)... According to the latest national test of physical performance, 45% of the students of 8th grade (14 years old), have overweight or obesity problems.
No teaching about socio-emotional skills (effective communication, teambuilding, positive leadership, resilience, empathy, trust, perseverance, among others).

The link between families and schools is very weak.
We feel sad about this... Something needs to be done!
Our Proposal
We've always heard that kids are the future of humanity. And this is right... but, are we doing something powerful? The answer is NO.
We want to make a positive contribution to society!
So, through outdoor activities, we want to generate positive impacts in four major areas: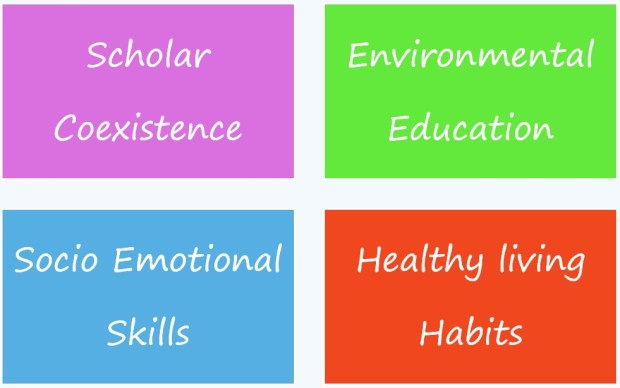 Benefits of Outdoor Activities
Contact with nature contributes to the development of children: improves concentration, improves motor skills, self-esteem and regulation of emotions (Faber Taylor and Kuo, 2009).

Outdoor exercise not only improves physical fitness, but also mental health (Thompson et al., 2011).

Helps to reduce "stress" (Tyrväinen et al., 2014).

Outdoor exercise reduces physical inactivity and improves physical fitness (Gray et al., 2015).

Improves cohesion between people and reduces social tension (Keniger et al., 2013).

It helps strengthen social relations, develop new friends, build community and learn new skills (Environment Agency and Forest Research, 2015).

Five minutes of "green exercise" outside in nature was as effective in treating mild-to-moderate depression in people of all ages as taking anti-depression medication, with young people and the mentally ill benefiting most (University of Essex, England, 2010).

"Forest therapy," or walking through treed landscapes, has a calming effect on people—lowering levels of the stress hormone cortisol by 16 percent, as well as heart rate and blood pressure (Journal of Physiological Anthropology, 2006).

Physical exercise spurs the creation of neurons and stimulates growth in the hippocampus, the part of the brain that regulates anxiety (Princeton University, 2013).
Source for (1), (2), (3), (4), (5) and (6): http://www.europarc.org/wp-content/uploads/2016/02/Health-and-Social-Benefits-Workshop-Background-Report.pdf
Source for (7), (8) and (9): https://www.outsideonline.com/2037911/daily-dose-ecotherapy-eases-stress-kids
The Program
This program, framed in the curricula proposed by MINEDUC (Chilean Education Department), seeks to contribute to the integral development of students, healthy school life, significant learning of children and adolescents, specially in environmental issues, as well as the practice of physical activities, through educational and recreational activities in contact with nature.
We're focused in vulnerable students. Those who don't have the opportunity to go outdoors. This is a great chance they have to learn how to care nature and respect between themselves. We want them to be amazed! After this, we will have sowed hope for the future.
Some outdoor learning activities we offer for school levels: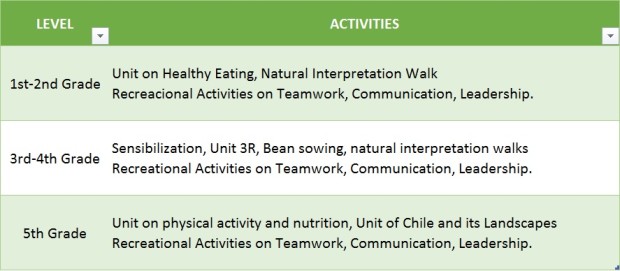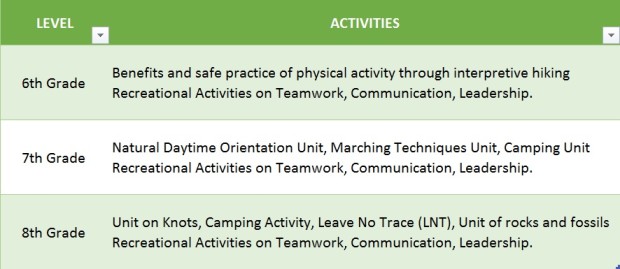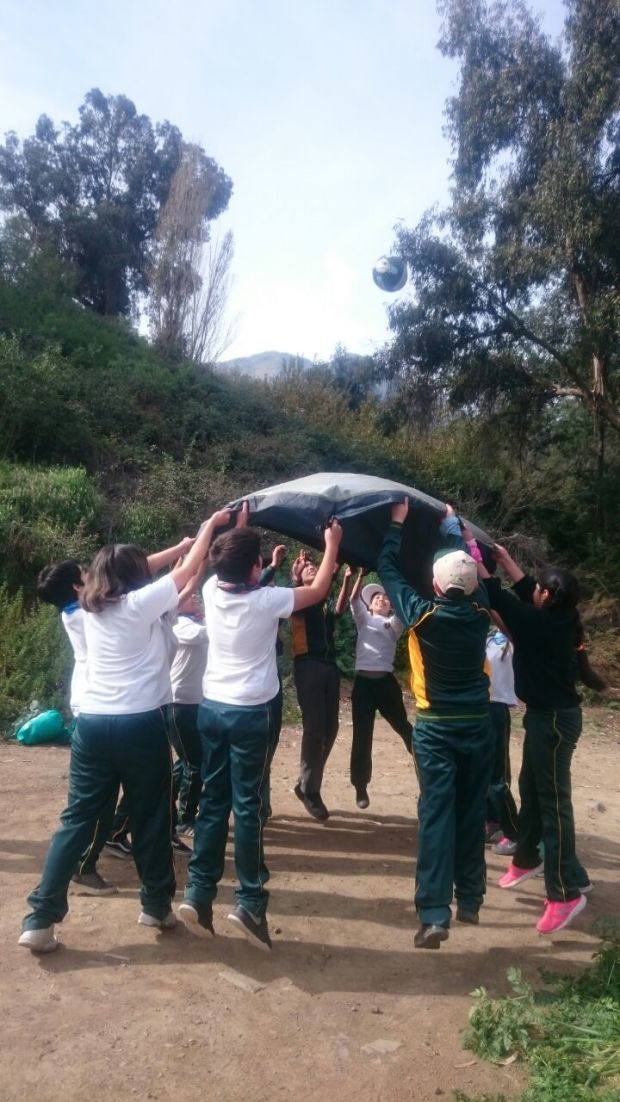 In addition, we offer Focused School outdoor learning activities, with the purpose for students to know more deeply on a certain subject, on the field. This creates a space to expand knowledge and critical thinking, incorporating the "Hands-on experience", as a hallmark of educational programs. Some of these outings are:
Astronomical excursions.

Bird Watching.

Elaboration of edible Oil.

Sowing and Harvesting.

Water and its vital importance.

Arqueological routes.
Some of the games we play...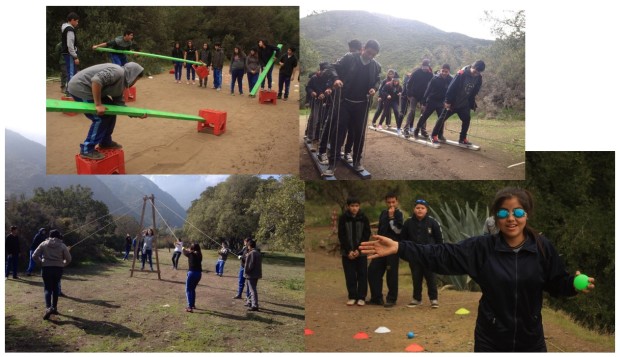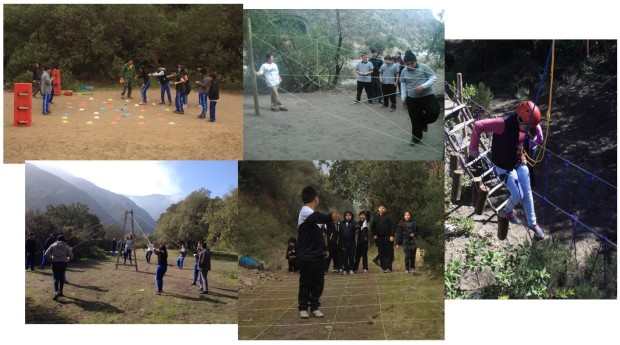 Schedule Type Activities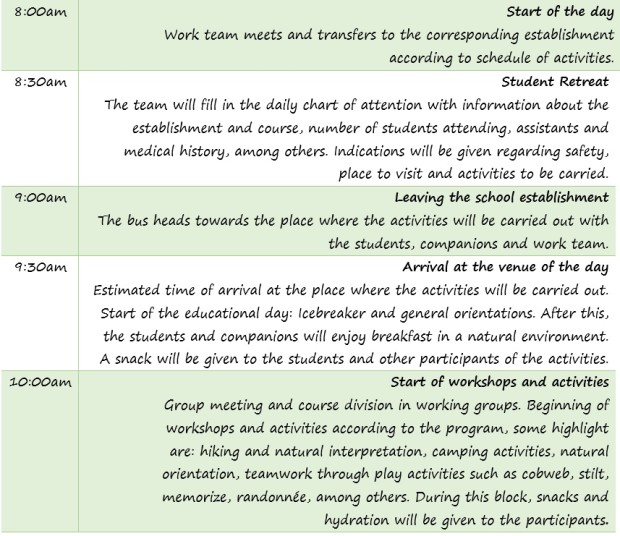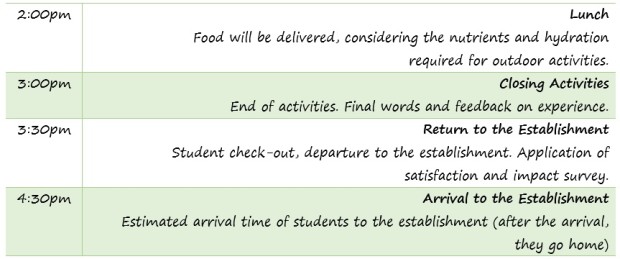 Finally, after every outdoor activity we complete, we leave some school-tasks to the kids:
Making compost, using the organic waste that is generated in the school.

Recycling (papers, cans, plastics, glasses).
Why? Because we want students to practice what they have learned, helping to solve an actual environmental problem. A good starting point!
Note: we will provide the containers to schools.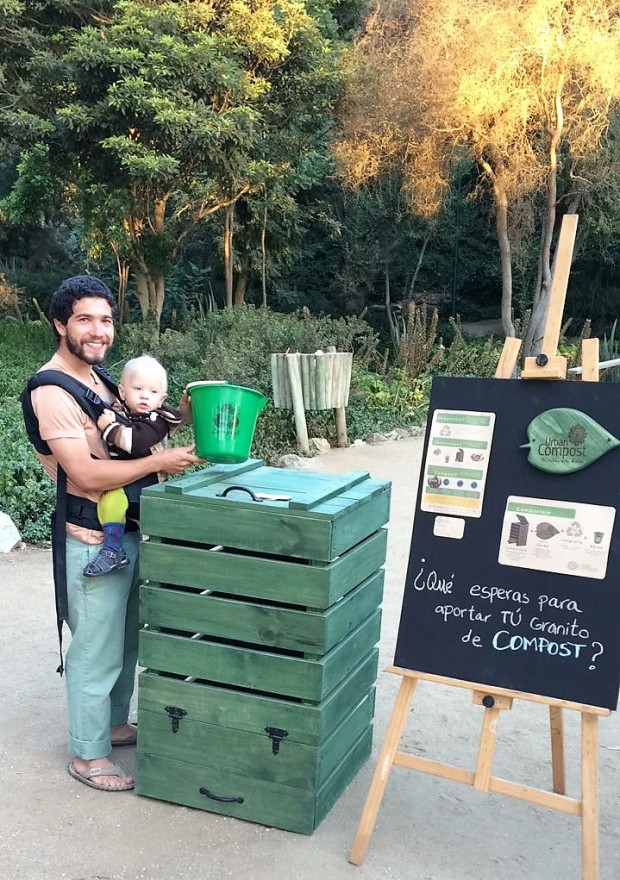 Every activity includes:
Professional guides (2 every 10 students; with WAFA/WFR Certification).

Healthy food (breakfast, snacks and lunch).

Working material.

Transportation.

Accident insurance.
And the cost? U$ 50 per student.
What do we expect?
At the end of the program, students are expected to be able to:
Contribute positively to healthy school relationships: no more bullying!

Apply basic knowledge on environmental education in their daily life: let's start taking care of nature!

Adopt a healthy lifestyle: healthy food + physical activities, a great partnership!

Develop interest in doing safely outdoor activities.

Value natural heritage areas.

Strengthening social-emotional skills in students.
GET INVOLVED AND LET CHILDREN TAKE AN ACTIVE ROLE IN THE CARE OF NATURE AND PERSONAL DEVELOPMENT!
In gratitude, every donor will receive a beautiful drawing from artist Claude Gay, a famous French naturalist who draw Chilean flora and wildlife in the 19th century (1832-1837). A unique piece of history!

If you have any doubt, feel free to contact us by e-mail: [email protected]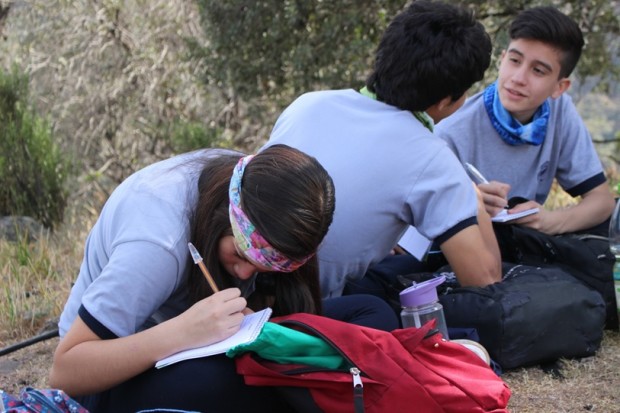 Learning outdoors...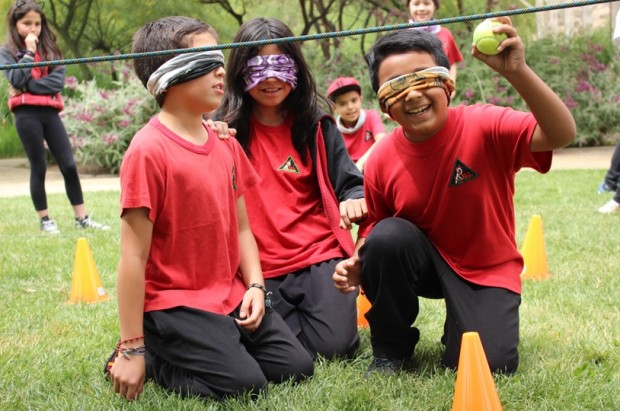 Playing is an important part of learning...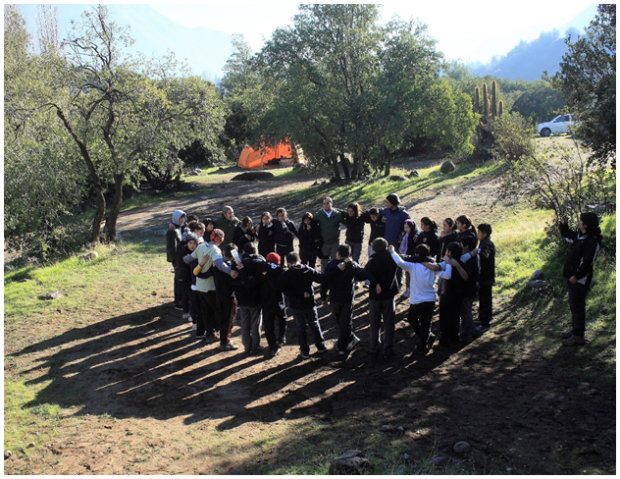 The protagonists: the TEAM!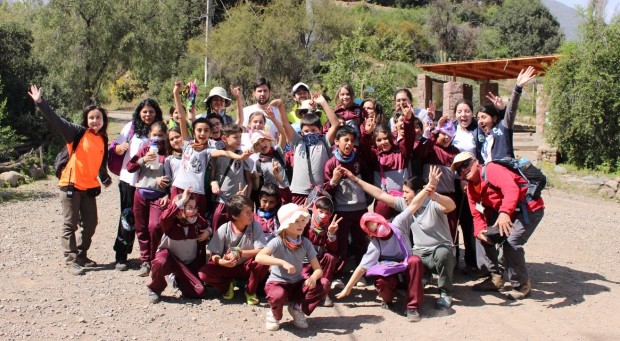 THANK YOU VERY MUCH!!!
Please click the style of widget you'd like to install