I whisper in her ear every time she cries. I tell her stories and sing her songs. I do everything to comfort my 1-year-old baby girl, but her pain is just too immense. Her eyes have turned deep yellow, her stomach is painfully swollen and it tears me apart to see her in such a state.

I pray to Allah to shower His grace on our sweet daughter and cure her liver disease.
However, when the doctors show me her reports and describe to me how her condition is worsening with each passing day, all my hopes and dreams are shattered.
I had always dreamt of raising my baby to be an independent girl. When I had first held her in my arms, I had promised her that I would do everything in my power to protect her and give her a happy life. But now, I am not even sure if I'll be able to see her grow up.

My little Elina is suffering from end-stage liver disease and needs an urgent transplant to survive.
Since birth, she has been going in and out of the hospital. She had to undergo treatment for jaundice and had to spend the first few days of her life, lying critical in the NICU.
After struggling for 11 days, she was only recovering from jaundice, when her condition started worsening. That's when the doctors performed multiple medical tests and found out about her grave disease. They prescribed medication but nothing seemed to work. After months of monitoring, the doctors concluded that only a liver transplant can cure her. We were devastated.

Her transplant will cost
USD 26,923.00

, an amount far beyond our reach.

For months, we had been paying our little one's medical bills by taking loans and borrowing from family. We had even sold off the little valuables that we owned. But, now we have exhausted everything.

The thought of not being able to afford her surgery, for not being able to save her life haunts me every single minute. Her liver is failing and even her jaundice is becoming severe. If we can't arrange the money needed for her surgery, we'll never be able to forgive ourselves.

Your generous support can rescue our little Elina from the unimaginable pain she is enduring. Please contribute to give our baby girl a chance at life.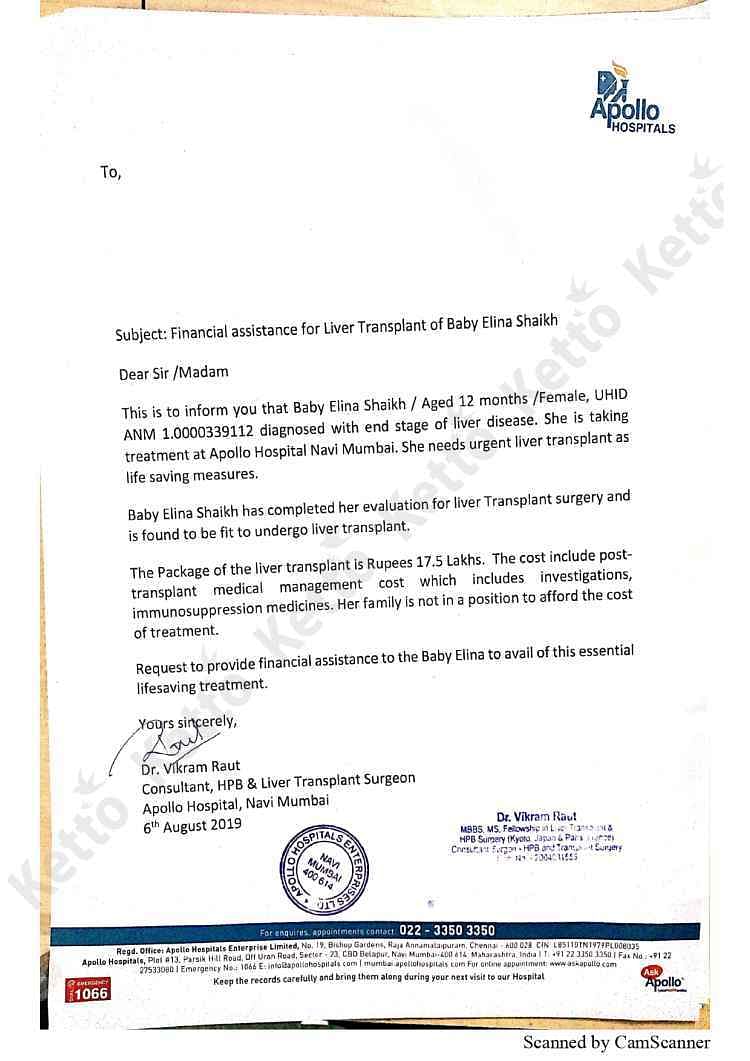 The specifics of this case have been verified by the medical team at the concerned hospital. For any clarification on the treatment or associated costs, contact the campaign organizer or the medical team.
Please click the style of widget you'd like to install