The Dooks family are running this campaign to help fund an ultra-lightweight, small wheelchair for our little daughter, Oona, who was born in March 2014.

Oona has an undiagnosed neurological condition which has severely restricted her use of her legs, and has affected the bones of her hips and feet. She has spent over a year with both legs in plaster, and wears corrective braces at night. She is very petite, but full of potential.

The first year of Oona's life was difficult. For months she struggled to breathe and swallow, she lost weight, and she could barely move any part of her body. At first we were told to fear the worst, and then we didn't know if her condition would ever improve. But Oona has always had a strong presence. We could see from her earliest days that she paid great attention, that she loved singing, and that she wanted to participate in the world. She continues to be calm, brave and determined, and what she has already achieved makes us very proud.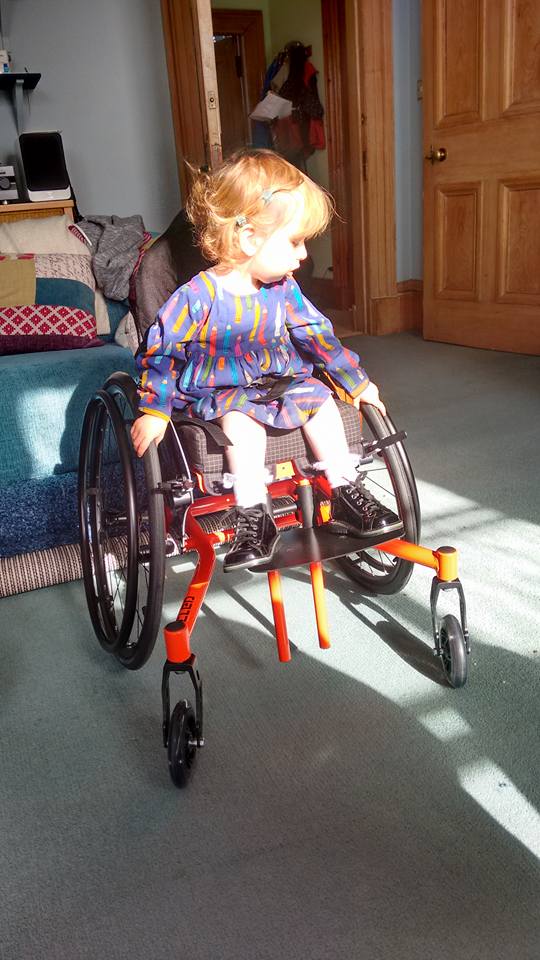 Oona's condition has not stopped her wanting to make friends with other children. She wants to play, learn, explore, and make her own choices. At the moment, her only way to get around is to drag herself along the ground, which is exhausting and painstaking. Oona's peers are now much bigger and more able-bodied than she is, walking, running and climbing. Oona has long been missing out on the interaction she craves. Having a wheelchair will help her participate. Having a wheelchair does not mean she will never learn to walk. We will keep working very hard with her physiotherapist in the hope that one day she can master the skill, but this is a long term goal.

Oona has already learned how to move and manouvre a wheelchair. She is raring to go. In the photograph above she is trying out a demonstration chair for the first time, and she was being measured up. At the end of the hour with the wheelchair rep she was using her sign language to say "more!" "more!" So now we just want to order her own super wheelchair, and she'll be able to enjoy this freedom every day, at home, at nursery, and outside in the world. The chair will grow with her, for several years to come.

This month Oona is moving from the baby room at nursery into the toddler room, so we want to urgently fund her wheelchair. With it she will be able to move between the tables where toys are set out, and explore outside with the other children. At home she will be able to chase her big brother and discover everything. We are planning lots of walks in the park and along the sea front so she will have plenty opportunity to build her confidence, improve her upper body strength, and become a true wheelie expert.

Oona is such a beautiful girl, full of surprises and so affectionate. When you meet her she offers cuddles and she will have a chat with you in her own way. She has a cheeky streak and perfect comic timing, so she makes everyone laugh. We are sure that with the right support, she can do anything. One day perhaps you could even see Oona in the Paralympic Games. Here she is trying to drag herself up Arthur's Seat!



Thank you so much for visiting our page and for supporting Oona. The wheelchair is going to allow her to flourish and be herself, and that is a priceless gift. The happiness that this will give her and her whole family is just huge.
Please click the style of widget you'd like to install