1. Introduction
Hello, thank you for your interests for this project. This is to accelerate the development project of non-invasive blood sugar measurement devices using high frequency radio wave to ease the pain of 425 million's diabetes patients (International Diabetes Federation, 2017) living all over the world.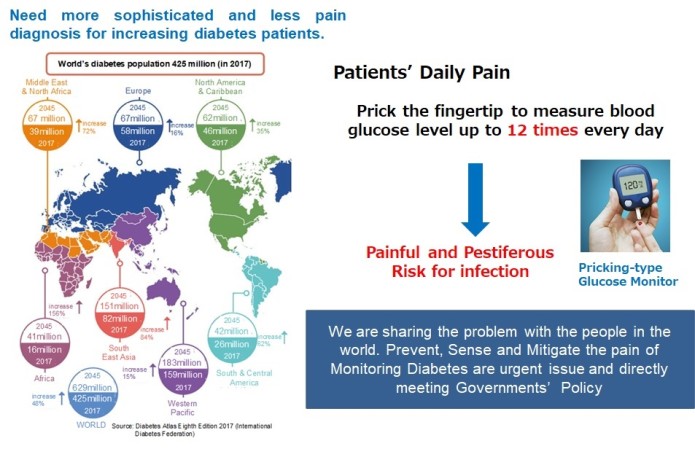 This project was launched in 2018 and base technical research has been continuing, and this time we has come to a confidence not only of realization of small size transmitter/receiver of the device, but also of the confidence of financial backup after the long struggling of the negotiation.
But as you know, this kind of biosensing research is urgent, and for the patients, it's better to accelerate the prototyping/commercializing to avoid the pricking test many times very day. We, as the persons who has been working in healthcare industry, decided to collect more capital to shorten more the development of share the benefit with the patients, and investors.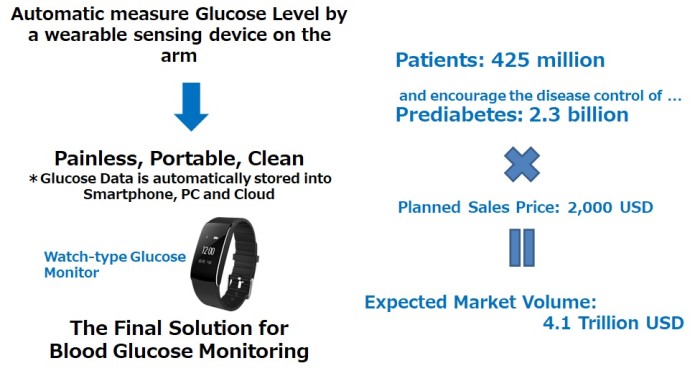 This fundraising is conducted, and the collected fund is managed the investment by a young and small medical-dedicated investment company, Williams Medical Incubation B.V.(WMI) in Rotterdam, the Netherlands. The president of WMI, Haruki Ito has been working as IT/Security consultant, project manager and regulatory/security officer in this industry for nearly 20 years after IT engineering experiences in several industries, telecommunication, financial and civil work. There are many connections with doctors especially specialized to Adult Diseases and Radiology, which the Medical IT suits very well.
The actual research & development project is lead by Tamotsu Endo, the president of Lukes Technology Inc. founded in 2018. Lukes is composed by the engineers and sales professionals from a Japanese major measuring equipment company. We believe our experiences and network with the national institution for telecommunication and universities should finally make the success to revolutionary Med-Tec that impacts the disease prediction, prevention and control for the people all over the world.

Tamotsu Endo President, Lukes Technology Inc.

Haruki Ito President, Williams Medical Incubation, B.V.
The watches' pictures you can see in this page show our existing product, capable to measure blood pressure, heartbeat, SpO2 and mental stress. It should be the base of our blood sugar monitor watch.

We had a meet up about the launch of this project in Singapore, September 2018. Most of the images you can see in this page were taken at the meeting, and we've been making progress especially in measurement technology, the circuit design and domestic fund raising. Please join and let's make progress further and earlier together !

2. About the Research and Funding Scheme
(1) About Lukes Technology Inc.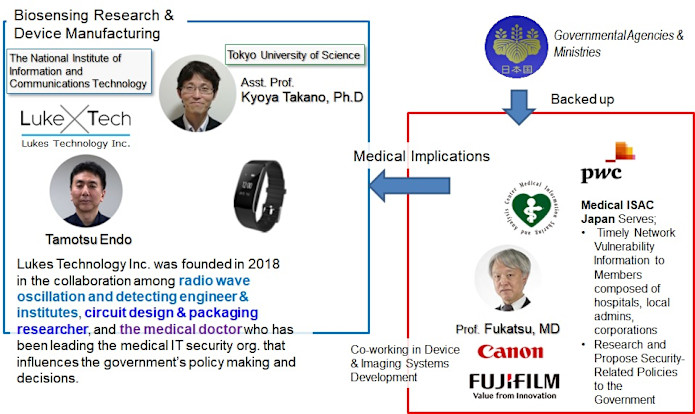 (2) Coupling with WMI and Funding Scheme
The raised fund is managed by WMI and will be invested to Lukes Technology in harmonized timing with their domestic fund collection (up to 200M JPY ) and capital increase to most accelerate their project.
3. Development
(1) Our Goal
As it has been stated above, our goal is to package the Terahertz range Transmitter and Receiver into a small chip of 1 cm square size, and realize the noninvasive glucose real time monitor. When it has come true, not only the patients of diabetes type 1 and type 2, but also the predisease people, and self-encouraged health practitioners with huge population can monitor the blood sugar level to know their health condition and the rising/falling level specification of own body should cause people's disease prevention with entertainment and economic benefit in corporation of each software vendors. Don't you think this is also the good material for Machine Learning ? Thais is our motivation considering publicness of future of healthcare.
(2) Our Strength
At time time, we are afraid to say many challenges of real time glucose monitoring has been made using light wave (LED) and lower frequency radio wave but every effort would not have been successful.
Our project's frequency range of up to 300 GHz will allow measurement in micron scale to detect molecular level resolution.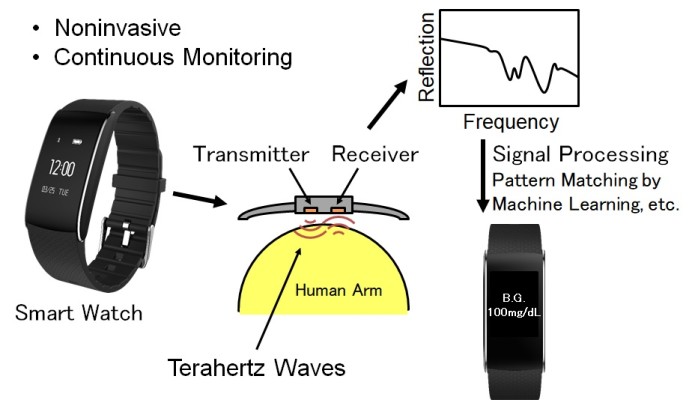 Tera Hertz wave is known to be capable to detect each material's "Spectral Fingerprints" measured in the reflection of the sensing waves. We have already identified the optimal frequency band to detect glucose's fingerprint at our labo with the NICT imaged below.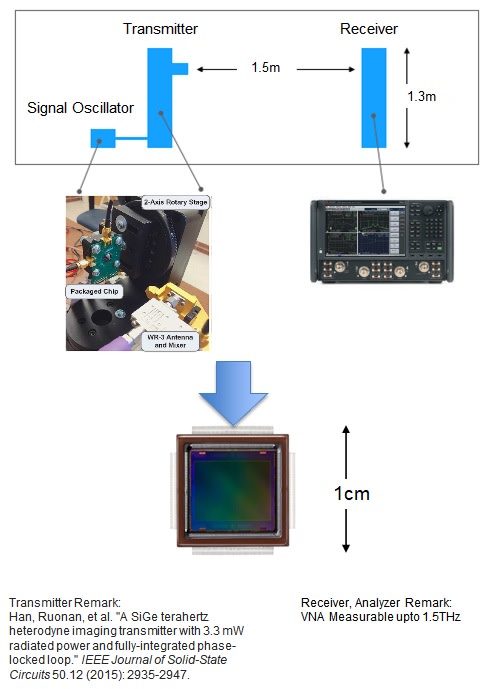 Packaging this testbed into the one chip, with the size is 1 cm square, it will be portable and built into wearable device after elaborating the sensing accuracy and measurement to prevent the affect to human body.
We have an university professor member, capable of creating a monitoring device with a frequency as high as 300 GHz. He is one of the pioneers of terahertz integrated circuits, thus we are the only company capable of developing and productizing this technology.
4. Spending Plan
(1) Development Strategy
As this is not an equity collection, but for the people who kindly understand the promisingness of the technology and are athirst for the product, we hereby concentrate into the spending plan.
Our principle is to outsource the technical research to National Institute and Universities, and manufacturing operation to partner factories to avoid the assets and fined expense being piled up.
After securing the IP for chipping, we will focus on the core medical sensing application, and other industrial use will be opened by SDK supply to concentrate disease therapies and prevention as medical device company.
We believe this would accelerate the progress of the project, and your investment and/or donation would boost it.
(2) Spending & Growth Plan
We will use your precious donation according to the strategy described above.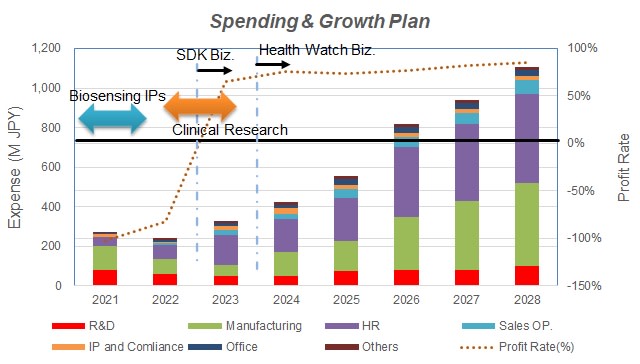 Major milestones can be realized by your donation are shown here.
2021 - Jump start of the project. Invest to prototype chip and Securing IP are accelerated.
Early 2023 - Chip and SDK are in a commercial package to apply th esensor product for non-medical purpose to create early business benefits.
2023 - After minimum Clinical research, prototyped sensor watch is built and delivered
2024 - After Full Clinical Clearance, the commercializing the sensor watch is maunched.
2025 - IPO is aimed to 2026 at latest.
5. Our Next Target
The THz sensing technology is being expanded to amino acids, DNA Level.
These research are being done by "Room Size" test beds. Our small chipping would expand the possibility broadly the sensing bio and disease cause detection and therapies.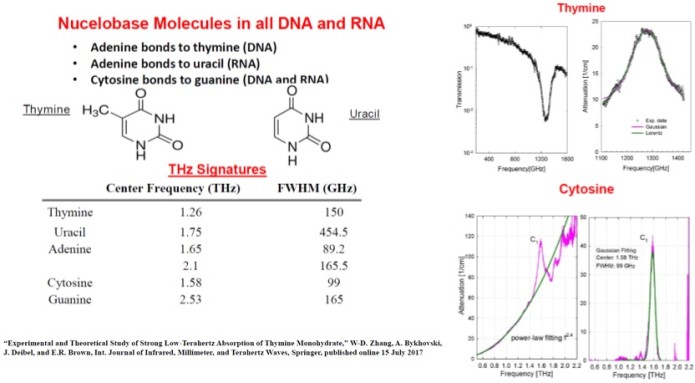 These research will be done in parallel with the blood sugar sensing after launching SDK business. We wish you also kindly pay attention to our trial !
Again, Thank you for your interests in our research !
We are looking forward to receiving your inquiries, and warm supports.
Please click the style of widget you'd like to install