We are almost there--please help us get the $2200 to get the TPLO surgery for his torn ACL that will help this big boy walk again and romp as all 1 year olds should do!
!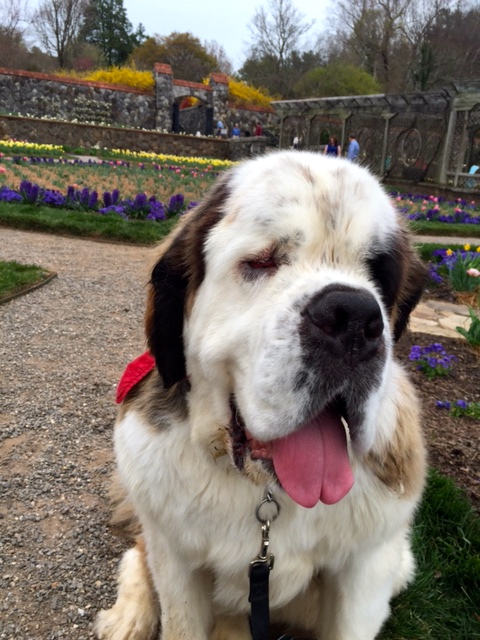 About 6 weeks ago, we adopted two Saint Bernards who needed a good home. Newman, the 1 year old Saint, had something wrong with his leg. As he joined our family and hobbled around trying to get up and down our house stairs, we knew we needed to get answers as to why he was limping. We traveled to UT vet school for diagnosis. He was diagnosed with cranial cruciate ligament rupture in his back left leg. This is a problem that causes him pain and the inability to use the leg much. When they said the only procedure to fix him due to his size, a TibialPlateauLevelingOsteotomy(TPLO) surgery, was going to be $3800 minimum, I almost fainted. We can't afford that! This poor pooch is in pain and having to take daily pain meds. With such a large body to support, action must be taken and this is the only option. We would be so grateful if you would contribute to help us get this big, goofy Saint Bernard's leg fixed so he can go romp on our property, climb up on our bed and be a normal Saint Bernard. Truly, any amount is appreciated and gets Newman that much closer to the surgery.
He won't be able to say thank you, but I know he will be so happy to no longer be in pain and to live a normal life as he continues to grow. We, as his family, will be so immensely appreciative as we just cannot afford to give Newman the surgery that he needs. Update: We found a vet in Alabama who will do this surgery for much cheaper. God bless him! Please help us with this much more reasonable surgery cost to get our Saint Bernard back on his feet, or should I say leg. And if you can't contribute money, please send prayers that this surgery will be a success!
Thank you for your consideration. From the bottom of my heart, Newman's new mom!

Please click the style of widget you'd like to install