Our campaign is focus on providing a better living quality to the Malaysian Transgender Community. The entire fund that has been collected will go to the development and placement of Transgender toilet around Kuala Lumpur City Center. In our modern and developing city, we tend forget and neglect a small part of our community which is the Transgender, that also plays a significant role in our society.

In Malaysia people tend to close their eye's to the Transgender Community basic needs as simple as having proper restroom/toilet for their gender and until now there is no public restroom/toilet to accommodate the Transgender Community and unlike some European and Western countries, in Malaysia there is no such thing as Unisex Toilet.
The article and the video clearly shows how serious the issue is in Malaysia and until now, there is still no valid solution in resolving the current situation.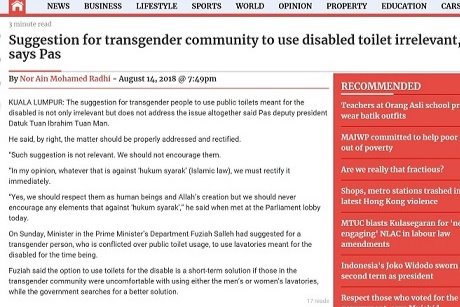 (The suggestion for the Transgender Community to use the disable public toilet is unacceptable and degrading them)
With the exsisting government policy, there is very little help to resolve the issues that the Transgerder Community are facing, and to give a better standard of living quality, we feel that it is important for the people to symphathise and volunteer something so that the transgender community will not feel neglected.

This project will bring a better solution for this particular issue. With a proper toilet facilities, they will feel safe from discrimination and from any gender inequality and These will not only benefit the transgenders but also benefit all gender for having a safer and a more comfortable environment.
(Our standard public restroom/toilet in city center)
For our pilot project we plan to aquire a 100 unit of new portable toilet with sink to be placed around city center, we are very greatful for any support and contribution gain and the success of our project will not only benefit the Transgender Community but also will improve the well being of the whole community.
The portable toilet with sink will be placed in concentrated area and some major business district with a proper maintenance team to ensure the toilet is working properly and to maintain the cleanliness

Our gold is to start allocating these toilets by 2nd quarter of 2020.
Your concern and help will bring a hope for a better living standard and reduce the stereotyping among the Malaysian toward the Transgender Community. With this action, we help the transgender to move freely with day to day public activity and giving them the courage to go out and live their life like a normal people..

Please click the style of widget you'd like to install