My Name is Andreas Koller, 47 Years young, born and brought up in Switzerland, leaving in Kenya now since six good Years.

I learnt to love this beautiful Country and the very welcoming Citizens.

Lesson to learn - Water is life!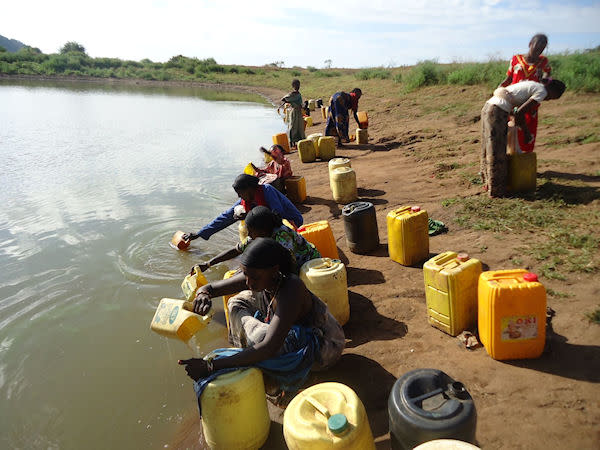 By traveling around, i had to learn that clean Water is still not accessible or affordable for most of the Kenyans. The low and medium income population has to use what is available, bottled Water is too expensive for most of the People.

In the past, the only available Water came from wells and rivers, in some areas even salty water is the only source! People are getting sick with typhoid, cholera and other water born diseases.
A dream was born - Maji Yangu (my water)
In November 2015 we decided to help solving this problem.

We designed a business model that will fill a cap between (NOT affordable) bottled water and dirty Water to reach a big part of the population with a new type of service and we called it MAJI YANGU (My Water).

Water Kiosk Business Opportunities
We found a way to even solve a second problem. Maji Yangu offers Business Opportunities to the local Community.

Maji Yangu is sold using a network of Water Kiosks that are run by local small business owners.
Our business model allows a great income to the business owners by solving the water issue in his/her village or town.

7 times cheaper than bottled water

Maji Yangu is ment for drinking only. The People will still use river water or other sources for cooking. Our main aim is to give clean quality drinking water to an affordable price. Maji Yangu is around 7 times cheaper than the only option, bottled Water.
How far have we reached?

Production Centre
From February 2016 until May 2016 we built the production plant for Maji Yangu in Kapsoit / Kericho County with a capacity in Phase 1 of 24'000 Lt. per Day.
We are able to store 20'000 Lt. for the supply on the following Day in the available two big storage tanks.
Purification Technology
We purchased a local purification technology to produce excellent water quality. In May we did tests in the laboratory and we got excellent results for Maji Yangu.
Maji Yangu can be compared with even the high quality bottled water avialable here in Kenya.
Water Tanker with 6'000 Lt. capacity
To deliver Maji Yangu to our Water Kiosk network, we needed a way of transport. We build a Water Tanker with a capacity of 6'000 Lt. that can deliver our product using a tractor to our Water Kiosk Partners.
The water is filled by grafity to the Water Tanker and later on the site of the Water Kiosk with a pump to the Water Kiosk tank.
We produced to first 11 Water Kiosks
Our plans prospected that we need a number of Water Kiosks to break even by serving the first delivery line from the production centre in Kapsoit, down to Kipsitet, Awasi, Ahero and finally to Kisumu Town.
We produced the first 11 Water Kiosks with different sizes of tanks of 750Lt., 1000 Lt., 1500Lt. and 2500Lt.
TWO Water Kiosks have started!
After several delays caused by the local licensing entity, we were able to start oparation of Maji Yangu in the middle of September 2016.
During August 2016, we started advertising Maji Yangu, using a Facebook campaign. We have at the moment a list of 287 prospects, that are interested to run a Maji Yangu Water Kiosk, unfortunately much more than we can handle at this point.
I'm Stuck on the last mile! At least a bit.
We came from very far, many road blocks on our way, we invested quite a lot of Money to reach here with the help of my Family, Friends and other great hearted people from Switzerland and all over the World.
As we now reach the critical phase of the project, we got a bit stuck and low on funds to move forward in the speed we should to reach break even for Maji Yangu and our patiently waiting partners.
We need Your HELP at this point! PLEASE!
Our challenges for the next step
Our Water Kiosk partners having a hard time to come up with the deposit for the Kiosk even when they really like the business and have the other requirements
It was our plan from the beginning on to subsidize the Water Kiosk infrastructure, but we don't have the Money to do that at the moment.
The costs for one Water Kiosk is higher than we expected. Mainly costs for transport, training and additional equipment like Water Meters have spoiled our budget in this position a bit.
We have to drive longer distances then expected in the first round to create awarness and get enough Water Kiosks in position to reach our break even point.
We learned, that the stability of the project depends on the Market in Kisumu town. During rainy season, the super low income areas will not be able to sustain the project.
There is a high demand, but we can not go the right pase. When we can't move fast, we risk to loose the trust in our project.
An awarness campaign is needed to teach the people on the importancy of healthy Water.
Please HELP us with a donation to finish our Job!
With love and thanks for your support!
Andreas Koller and the Maji Yangu Team
Please click the style of widget you'd like to install