The Short Version
MAGNAR-MAXA is a cloud-based application that blends all your everyday Collaboration & Productivity apps for Business and Personal Use into one.
You will no longer have to switch back and forth between software for a consistent flow and focus in your work.
MAGNAR-MAXA consolidates key features of Airtable, Asana, Atlaz, Basecamp, Clarizen, Evernote, Flow, Hive, Jira, MindMeister, MeisterTask, Monday.com, Notion, Pivotal Tracker, Plutio, Podio, Producteev, Smartsheet, Sprintly, Teamwork, Todoist, Trello, When I Work, Wrike, Wunderlist, Wrike and other existing apps in an All-in-One practical, intuitive, and outright fun to use Platform.
MAGNAR-MAXA is designed for both collaborative teams and individuals.
---
What is MAGNAR-MAXA?
MAGNAR-MAXA packs a lot of best in breed technologies into a single productivity app.
Key features:
To-do lists: Create to-do lists for individuals or teams and group them into folders for larger tasks or projects.
Project/Task management: Set deadlines, assign tasks, set reminders and add comments or notes.
Documents: Add notes, images, links and files, organize them visually and share them.
Voice Recorder: Innovative in-built Voice Recorder to record conversations inside documents to take more efficient meeting minutes and effortless notes-taking during talks and lectures.
Spreadsheets: Create Tables
Agenda: Plan tasks, Schedule your team, and Sync in real-time
Kanban Boards: Organize your ideas and projects into visual boards.
Prioritize tasks: Get the most important things done first by prioritizing tasks.
Mind map: Create online mind maps, brainstorm ideas and collaborate with your team.
Goal and Time Tracking: Set goals and Track your progress in real-time
Reports: Keep track of your progress with measurement and reporting features.
Whether your teams are co-located, distributed, or fully remote, MAGNAR-MAXA provides an engaging, intuitive, in-person collaboration experience with multiple options for real-time or asynchronous teamwork.
---
What You See Is What You Get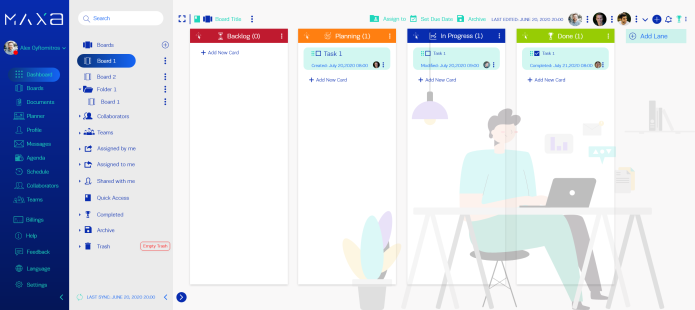 Kanban Board on MAGNAR-MAXA Platform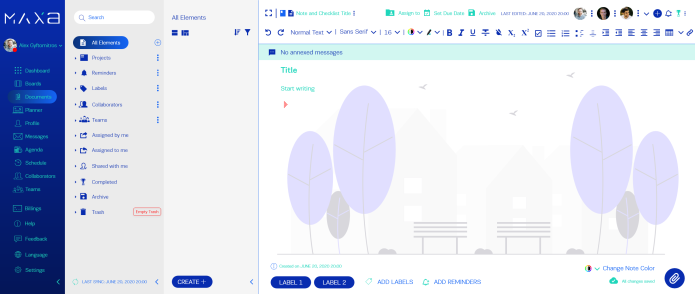 Note taking App on MAGNAR-MAXA Platform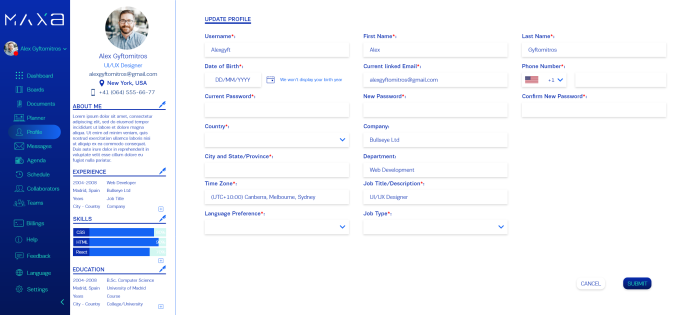 User Profile on MAGNAR-MAXA Platform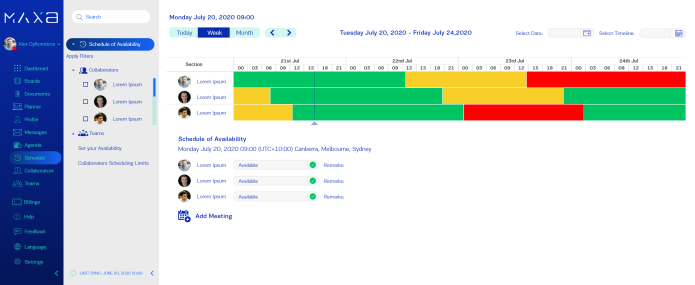 Collaborators Schedule Map on MAGNAR-MAXA Platform to set up Meetings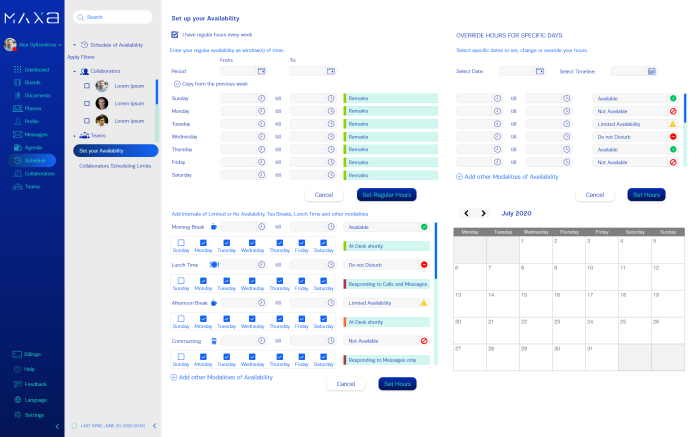 User - Set your Availability Page on on MAGNAR-MAXA Platform

Collaborators Management Page

Teams Management Page
---
Agile and Design Thinking Frameworks
MAGNAR-MAXA allows people to enjoy whiteboarding while remaining in one app. MAGNAR-MAXA allows innovative teams to get work done remotely using popular design thinking and agile frameworks as well as freeform drawing while leveraging MAGNAR-MAXA's real-time Coediting.
Affinity Diagram
The affinity diagram is a tool used to organize ideas and data. The tool allows large numbers of brainstormed ideas to be sorted into groups and then prioritized through voting.

Editable Affinity Diagrams on MAGNAR-MAXA Platform

Business Model Canvas
One of the most accessible and straightforward approaches to developing, analyzing and understanding a business model.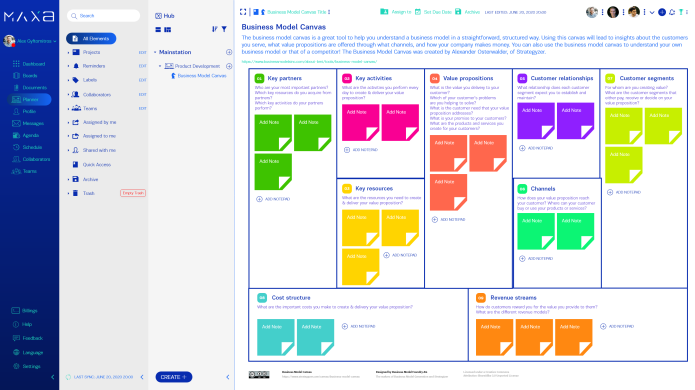 Editable Business Model Canvas on MAGNAR-MAXA Platform
Customer Journey Map
Understanding your customer's expectations, objectives, and interactions with your company is essential for creating a flawless customer experience.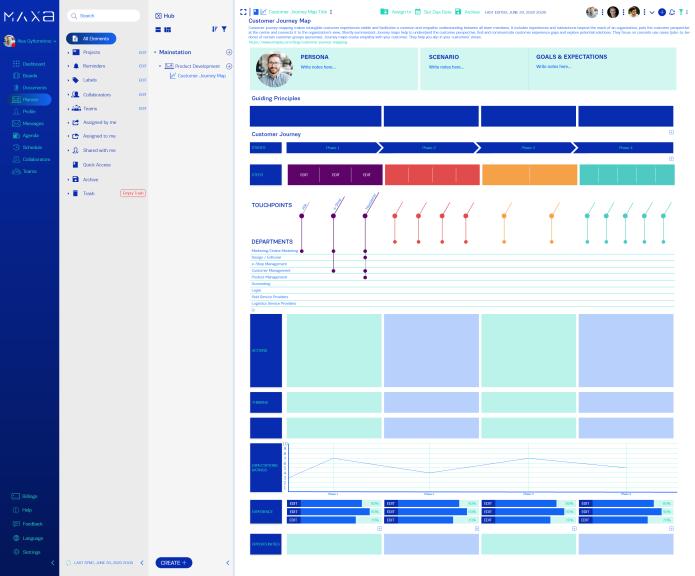 Editable Customer Journey Map on MAGNAR-MAXA Platform
Design Thinking Canvas
A structured approach to planning design-led strategy and innovation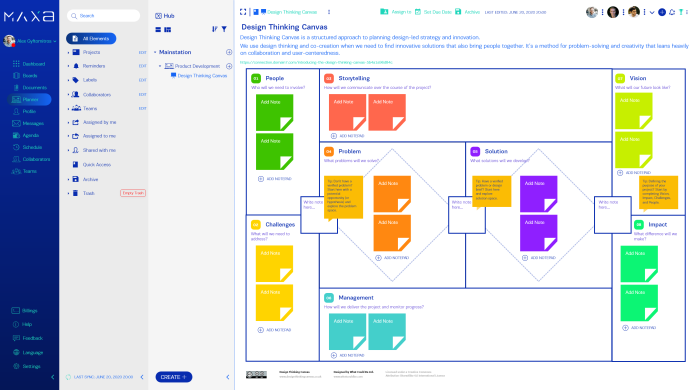 Editable Design Thinking Canvas on MAGNAR-MAXA Platform
Empathy Map
An empathy map is a collaborative tool teams can use to gain a deeper empathy for other people and help them improve the design of customer experiences.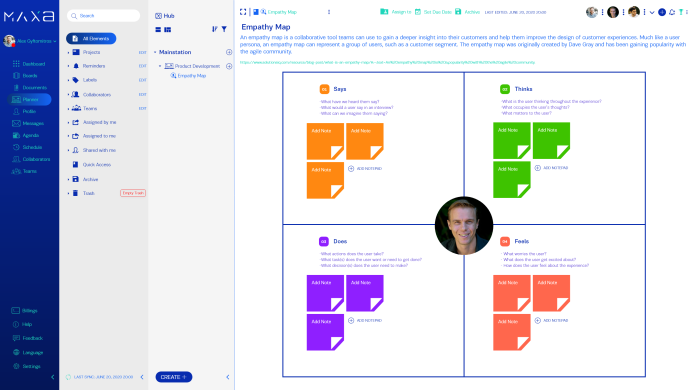 Editable Empathy Map on MAGNAR-MAXA Platform
How-Might-We
How-Might-We questions are a way to frame your ideation, and often used for launching brainstorms. This worksheet gives some strategies to use your current perspective on the
challenge to create different How-Might-We questions that may prompt an array of fruitful ideas. The goal is to create questions that provoke meaningful and relevant ideas; do so
by keeping the questions insightful and nuanced.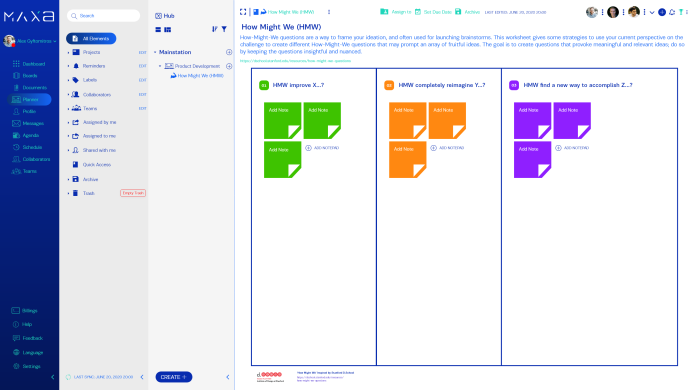 Editable How-Might-We Map on MAGNAR-MAXA Platform
Impact and Effort Matrix
An impact effort matrix is a decision-making tool that assists people to manage their time more efficiently. An organization, team, or individual assesses activities based on the level
of effort required and the potential impact or benefits they will have.

The result is a visual representation of where best to assign time and resources. Activities fall into one of four categories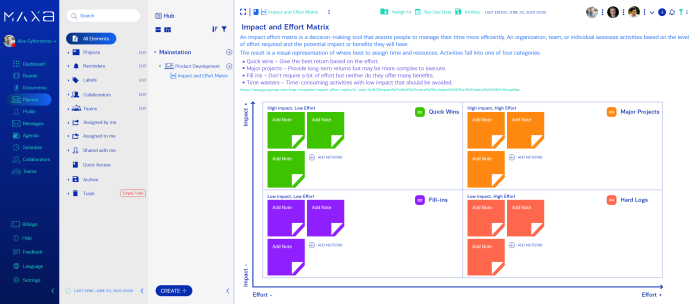 Editable Impact and Effort Matrix on MAGNAR-MAXA Platform
Lotus Blossom
The Lotus Blossom Technique is a structured brainstorming exercise used to expand on a central idea or problem.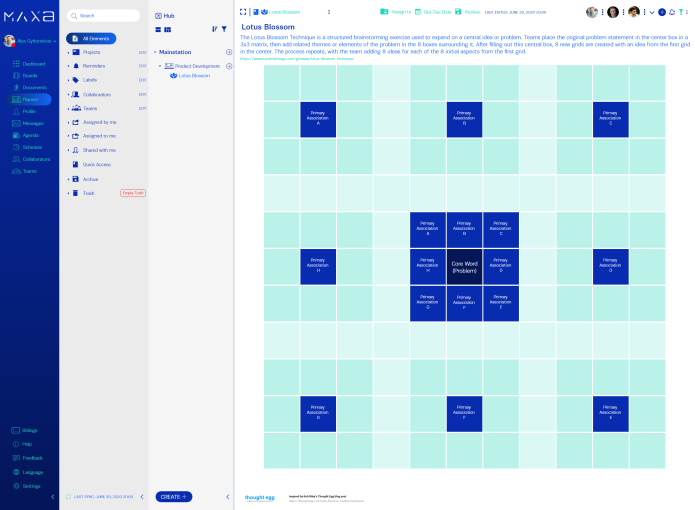 Editable Lotus Blossom Canvas on MAGNAR-MAXA Platform
RICE Score
The RICE scoring model is a framework designed to help product managers determine which products, features, and other initiatives to prioritize on their roadmaps by scoring these
items according to four factors. These factors, which form the acronym RICE, are: Reach, Impact, Confidence and Effort.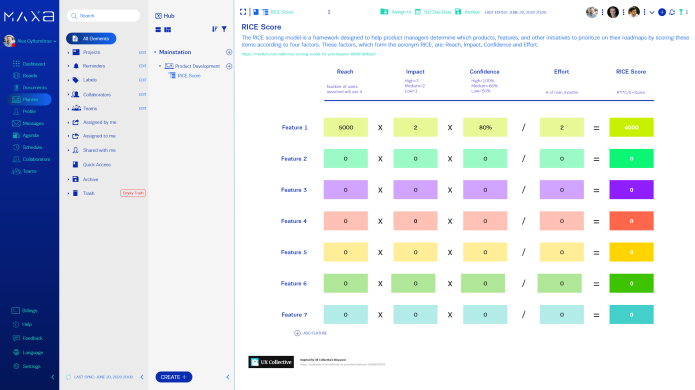 Editable RICE Scoring Model on MAGNAR-MAXA Platform
SWOT Analysis
SWOT (strengths, weaknesses, opportunities, and threats) analysis is a framework used to evaluate a company's competitive position and to develop strategic planning. SWOT
analysis assesses internal and external factors, as well as current and future potential.
A SWOT analysis is designed to facilitate a realistic, fact-based, data-driven look at the strengths and weaknesses of an organization, its initiatives, or an industry. The organization
needs to keep the analysis accurate by avoiding pre-conceived beliefs or gray areas and instead focusing on real-life contexts.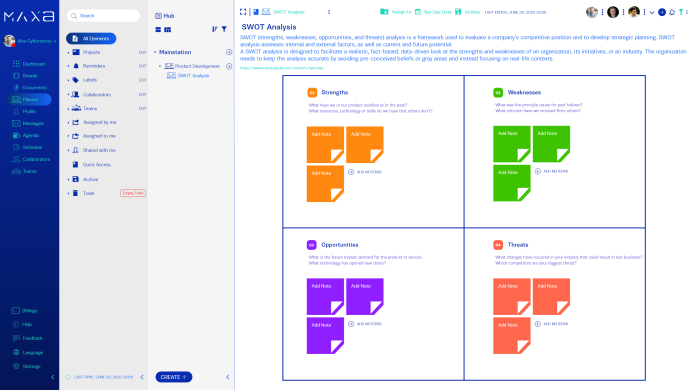 Editable SWOT Analysis Canvas on MAGNAR-MAXA Platform
Retrospective
Retrospectives allow design teams to reflect on their work process and discuss what went well and what needs to be improved. These learnings can be translated into an action plan
for future work.

Editable Retrospective Canvas on MAGNAR-MAXA Platform
---
Use Coediting mode
Coediting allows you and other collaborators to work together in real time. You can work on the same board, canvas, document and/or brainstorming activity by inviting other people on your team to the document. To invite another designer, simply click the Add Collaborators icon in the top-right.
---
Prototype
For an overview of MAGNAR-MAXA at its early stage of development, kindly follow the following link: https://mynotes.baotran.de/dashboard
Sign up for a free account!
---
Why a crowdfunding?
The goal is to fairly compensate the people that work on the project, enlarge the team and dedicate the right amount of time and resources on it. Since we want to keep key features of MAGNAR-MAXA open and free for everyone, we need your support to bring MAGNAR-MAXA to life.
Your contribution can make that happen. By contributing, you are not only supporting the MAGNAR-MAXA team but you are also helping thousands of other people like students, individuals, young professionals, startups, small businesses to to leverage the power of MAGNAR-MAXA.
---
What happens if we exceed our funding goal?
We already have many more features in mind to integrate to MAGNAR-MAXA. If your contributions exceed our funding goal, we will integrate more functionalities to MAGNAR-MAXA.
---
Risks & Challenges

What if we don't succeed? The campaign will be anyway flexible, meaning that even if we do not reach our funding goal, we will work according to the funding we manage to collect.
---
Other Ways You Can Help
We understand that some might not have the means to contribute, but that doesn't mean they can't help:
Share our campaign online on social media and Indiegogo share tools.
Spread the word about our project
Share your feedback and suggestions with us
Please click the style of widget you'd like to install