The proposed action will address the energy poverty situation in 10 provinces in Mindanao, Philippines. It will target 5,120 marginalized households in Mindanao .
For a typical household, energy mainly comes in the form of kerosene gas placed inside a bottle with a wick, or in the form of "petromax" (which they normally use for household lighting at night), and firewood (which they normally use for cooking). Over the years, these sources of energy have become increasingly expensive, biting deeply into the family budget (not to mention the health hazards of having to constantly inhale carbon dioxide from the burning lamps), while the cutting of trees for firewood has placed increasing pressure on the remaining forest. Coupled with the problem of illegal logging this trend could eventually lead to diminishing water supply unless a more scientific approach to reforestation and watershed management is actively pursued soon. With a projected increase in the population in the next five to ten years, these financial, economic, social, and environmental costs would definitely increase as well.
Yamog works in Christian, Muslim and Lumad communities in Mindanao. Its renewable energy projects and other related activities are community-demand driven characterized by strong community participation all throughout the project cycle. Cognizant of the importance of multi-stakeholders partnership, Yamog works with local people's organizations, local government units (usually from the Barangay, Municipal and Provincial levels), government agencies and other social formations within a specific geographical area.
The types of water-driven energy systems that Yamog is capable of establishing in off-grid communities are categorized as follows: a). Micro-hydropower, which can produce energy outputs of 6 -100 kilowatts, and b). Pico-hydropower, which can deliver energy outputs of 1 to 5 kilowatts. These renewable energy systems are designed in such a way that they can be managed by well-organized off-grid communities themselves.
Yamog has already constructed 24 hydropower systems (23 micro-hydros and one pico-hydro) mostly in Mindanao. In addition, Yamog has also established solar energy systems in 19 off-grid communities in Mindanao. Yamog is also engaged in designing and establishing community-managed potable water systems (some of which are solar and ramp pump-driven) and helping communities come up with watershed management plans as well as actual community-driven forest protection and conservation initiatives.
The project is good for 3 years of construction. The funds are still needed as soon as possible since the construction will start this year, 2019.
Overall Objectives
1). To provide clean, sufficient and sustainable energy for fifty-eight (58) off-grid communities in Mindanao.
2).To improve the quality of life of 5,120 marginalized households in Mindanao.
Specific Objectives:
1. . To establish micro-hydropower, solar power, and pico-hydropower systems that would energize 58 off-grid communities in Mindanao.
2. To develop local capacities and establish appropriate social formations that would optimize the benefits and ensure the sustainability of renewable energy systems.
3. To protect and conserve the watersheds in communities energized by micro and pico-hydropower systems.
4. To promote greater multi-stakeholders partnership involving the community, local government units (LGUs) and other key players in the energy and community development sectors.
The relevance of the Action
-Clean, renewable energy has a very important role to play in Mindanao's sustainable development, and now is the time to intervene before the ravages of climate change, socio-economic exclusion, and violent competition for constantly diminishing natural resources take their irreversible toll. At present, most of the inhabitants in the target areas earn monthly incomes estimated at an average of PhP 5,000 per household, which are below the national poverty line of PhP 8,022. The proposed action is the most viable way of eradicating energy and economic poverty in depressed communities in Mindanao. It is relevant in relation to the Renewable Energy Act of the National Government. Access to energy almost always leads to economic opportunities. The proposed action has a tremendous potential to increase household incomes and economic equity at the community level.
- The action will lead to the provision of electricity to community schools (mostly elementary schools). As experienced by Yamog in its other projects, schools ultimately acquire computers making it possible for teachers and students to use multi-media methods towards greater learning. Hence, renewable, sustainable, clean energy can help improve literacy in off-grid, rural areas in Mindanao.
- To expand the meaning of literacy or education at the wider spectrum of poor communities, the social infrastructure & capability building features of this action shall lead to the collective accumulation of knowledge & skills which shall be documented in the local dialect, and which would serve as future references and learning materials for second-liners and next-generation community leaders. In essence, the entire three-year project cycle shall be a unique learning experience for the various communities. From the construction of the sustainable energy systems up to the handover and O & M stage, the community leaders and second-liners shall be working hand-in-hand with Yamog engineers and community development facilitators so they will be able to witness how things are done. Home-grown "engineers" shall be developed in the process, especially with the implementation of training pertaining to the fabrication and repair of parts of renewable energy systems and accessories (Component 3). The formation of a federation of all the 58 energy users associations would further facilitate greater cross learning and sharing of actual experiences that would boost wider awareness and appreciation of the importance of renewable and sustainable energy development.
Photo Documentation of previous projects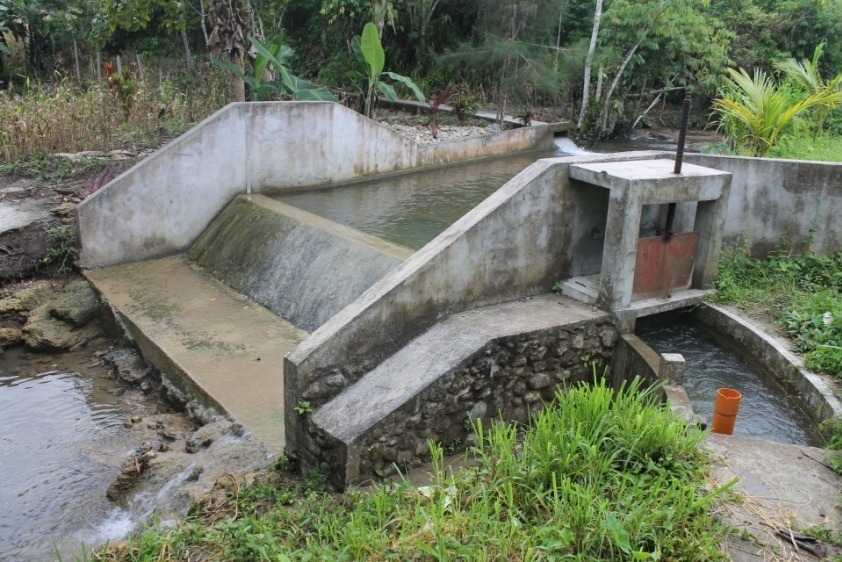 Lubo Weir Intake
Timodos Forebay Construction
Seedling Nursery
Malumpine Fore-bay Tank
Hyrdopower 101 by Student Energy (YouTube)
Turbulent Vortex sample project from Chile published by Turbulent Hydro (YouTube)


Please Visit us at www.yamog.org
Please click the style of widget you'd like to install