Hello! I'm Yesu from the Philippines, and my tatay (dad) Noni, a Pastor and teacher, is battling Multiple Myeloma, or a cancer of the plasma cells. Zaida Alojado, the campaign owner, is my aunt based in Canada who is helping me manage this account.
Let me first talk to you about my Dad. When he's not teaching me how to drive, or cooking us Filipino shrimp soup sinigang, Pastor Benoni "Noni" Hernandez, 57, has lives a life of service, dedicating his time and energy to our family and to his commitments. He is a pastor by vocation, a teacher by profession, and a father at heart. He spent his life faithful to God's word and in the ministry God has called him into. At one point in his life, he became a civil servant too (like I am now) working at the Commission on Higher Education. He might not have become rich with tireless work he does (and believe me he didn't--me and my brother got to college on scholarships, dad raised us well!), but nonetheless, he loved and gave without ever expecting anything in return.
Help tatay (dad) sing more songs to nanay (mom)
Everything started with back and joint pains late August this 2016 - but it was quickly followed by a spike in the creatinine levels of his kidney, high calcium level in his blood, diagnosed anemia, and a high vulnerability to infection. Currently, water has entered into his lungs as well. The excessive level of creatinine in his kidney required him to undergo emergency dialysis that started in early October. Protein is now present in his urine. Everything happened so fast, too fast, perhaps. In the same timeframe, the doctor announced to us the painful news that the multiple complications in his body were all symptoms of something more severe. She told us my father has cancer. He was finally diagnosed with malignancy of the plasma cells or multiple myeloma. You can learn more about multiple myeloma here: https://www.youtube.com/watch?v=jdytgW5wKa4
Daddy having his first dialysis session. One of his bestfriends visited him
He has been in the hospital for weeks now and his hospital bill has skyrocketed to hundreds of thousands of pesos in just two weeks and we're expecting it to grow even bigger. Mostly because of all the tests, dialysis sessions, and cancer treatments he will undergo, such as chemotherapy and even bone marrow transplant. We're trying to manage his hospital expenses but the treatments and specialists he'll need would mean greater expenses in the following days, weeks, months, and even years. We have already used up his HMO coverage and unfortunately, medical insurance in the Philippines isn't really the best.
Daddy is our family's breadwinner. My mother is a housewife, my older sister is a nurse with her own family already, and my younger brother is still in college under full scholarship. I just graduated from college, and am working as a government employee/ development worker at the Philippine Department of Finance. Despite our simple means, daddy supported me in this career, not knowing that we would face such a financial challenge. Civil service doesn't pay as much and with tatay Noni hospitalized, we now rely on the help of family members and friends in trying to make ends meet and trying to get as much help for daddy's hospital expenses.
This was from last Christmas with the whole family. We were so happy back then

We're expecting more treatments to come, more tests to be made, and a long-term treatment to help him live for plenty more years and even decades perhaps. This is where your funding will go. Our family savings have been depleted in his first few weeks of hospitalization, and we've been borrowing money from different people here and there. We need all your help to make his healing and recovery possible. God is our healer, and many times, he uses people like you to heal people like my dad. We are sure that the Lord's blessings will return to you and your family sevenfold as you help one of his good servants in need.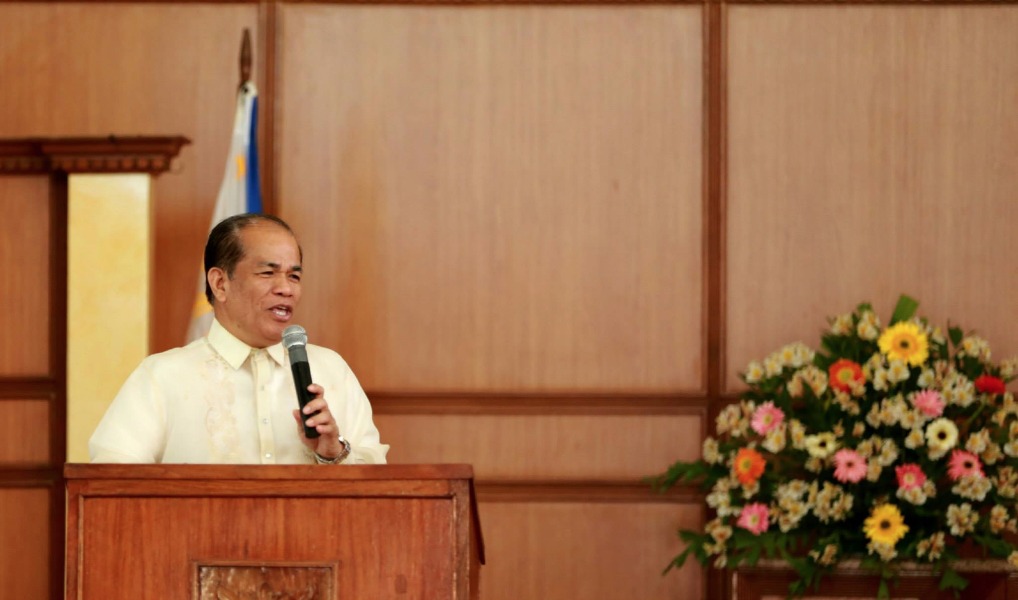 Help make a difference in the life of this preacher/teacher/nation-builder/servant of God/very good homecook

He has loved so much, and helped changed so many lives. He's too young to go and I know he still has so much more of himself to give. He can't wait to go back to ministry work and spend quality time with Bella, his first grandchild. I hope you can show him some love and change his life this time around by helping him get through this life challenge and helping us with his treatment by generously being a channel of God's blessing. This will be a long battle, and I hope you can partner with us in overcoming this challenge we're going through right now. #LabanPastor! (Laban means fight. Fight, pastor, fight!)
Maraming salamat, at pagpalain kayo ng Panginoon! (Thank you and may God bless you!)
That's me with dad. :)
If you are in the US/Canada/EU, you can donate by clicking "Donate Now" above. For donations in the Philippines, you can also give through:
IESOUS JIREH N. HERNANDEZ
BPI: 9609 0254 49 (easily give through https://bpiexpressonline.com)
ISABEL RACHEL HERNANDEZ-MULINGBAYAN (my sister)
BDO: 007650107164 (easily give through https://online.bdo.com.ph/)
IESOUS JIREH N. HERNANDEZ
LANDBANK: 4417 7002 0829 (easily give through https://www.lbpiaccess.com/)
Do feel free to leave a message to know more ways to contact me.
Please click the style of widget you'd like to install