KATiE Cast Iron Skillet – The Ultimate Pan
US$71.00

raised of $30,000.00 goal goal
No more donations are being accepted at this time. Please contact the campaign owner if you would like to discuss further funding opportunities
Campaign Story
KATiE Cast Iron Skillet
The cast-iron skillet is the cornerstone of any serious kitchen. With it, you can sear, bake, or fry with unbeatable results. No other type of pan even comes close. But out of convenience, cast-iron is often overlooked in favor of coated non-stick pans.

We set out to change that — introducing our KATiE Skillet.
The Ultimate Pan
KATiE Skillet combines non-stick convenience with the performance, versatility, and durability of cast-iron, to create the ultimate pan.

With a beautiful minimal aesthetic and polished smooth cooking surface, our skillet is unlike any cast-iron you've ever seen.
It can handle any challenge you throw at it and will take your cooking to the next level. It's the only pan you will ever need.
A Well Polished, Seasoned Performer
The cast-iron skillet is a durable and versatile workhorse, but the typically rough cooking surface means it's not always a smooth operator, and food will occasionally stick. Through precision machining, we completely transform the cooking surface into one that's perfectly smooth, making it naturally non-stick.

The key to high performing cast-iron is a quality seasoning. With KATiE Skillet, we've done the hard work so you don't have to. After polishing, we apply multiple coatings of grape seed oil and extensive heat treatment so that it will outperform any other skillet, right out of the box.
Naturally Non-Stick
The extra hours of polishing and seasoning result in an incredibly smooth, non-stick finish - so smooth that you can fry an egg on it, without it sticking to the pan.

KATiE Skillet rivals even the most high end coated non-stick pans - without any of the synthetic chemicals, so you can cook at high heat without any worries.
Most Versatile Pan
KATiE Skillet designed to be the most versatile pan you have ever used. It gives the best results, whether you're cooking on gas, oven, electric or induction cooktops -- you can even use it on the campfire!

Unlike other types of pans, cast-iron cooks food evenly -- not just on the surface. Cast-iron has far superior heat retention and volumetric heat capacity, emitting heat beyond the surface of the pan. This results in unbeatable sears, juicy roasts, and perfectly golden bakes that no other pan can offer.
KATiE Skillet does the job of a roasting pan, a stainless steel skillet, and a non-stick all in one.
Made to Last

Our skillets are made with care, attention to detail and to the highest quality. It is an investment that will last many generations, and better yet, it will only improve with age. Every use adds to the layers of seasoning, so your skillet will become even more non-stick the longer you use it.
A Recipe for Success
Our skillet alone will dramatically improve how you cook. But we didn't stop there... We have created a resource of our favorite cast-iron dishes so that you'll be able to find awesome new recipes to cook for breakfast, lunch or dinner. From simple one-pan meals to fancy dishes that will impress your friends, there's a recipe for every occasion.
KATiE Prepared for Every Situation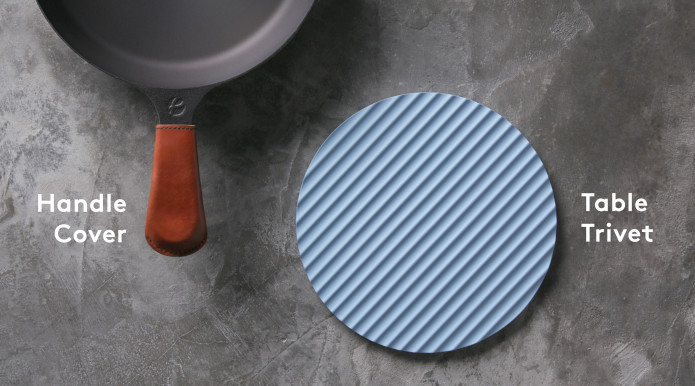 We've also designed an innovative set of accessories to complement your cast iron Skillet.

Made from high-grade leather, the Handle Cover protects you when the pan gets hot. The cover is perfectly contoured to fit your Skillet handle while still allowing you to easily slide the cover on and off.
The Table Trivet protects your dining table or kitchen surface so you can take your meal directly from the oven to the table. It's perfect for entertaining. Made from premium silicone and with a unique ventilated design, the trivet is also easy to clean.
You can add either of these accessories to your order at checkout after you've selected your pan or bundle. Both of these accessories will later retail for $25 each.
Features


Product Specs


Design Process
Although the product looks very simple it has taken multiple iterations and prototypes of design and we have visited the facilities of dozens of manufacturers to get to this stage.

We have already created and refined the tooling for the product and we are very confident in our ability to deliver on time and at scale.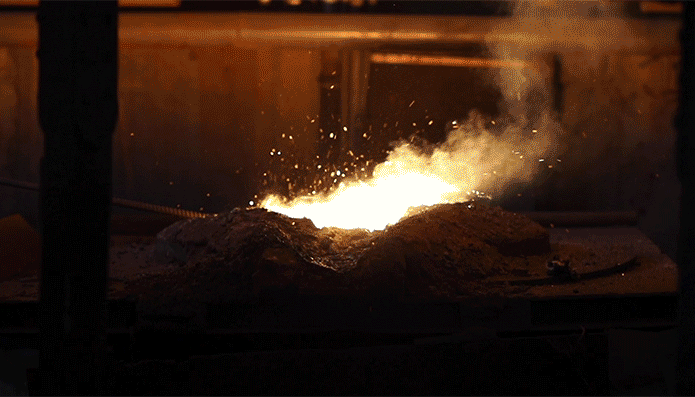 Over the month-long lock-down/MCO during the COVID-19 outbreak, have changed the way we live our lives. Every family has been staying at home to cook their own meals. cooking has become one of the most important parts of our lives. Some of the most enjoyable moments have been sharing a home-cooked meal with our families, with a cast-iron skillet often taking center stage.
We became obsessed by cast iron skillets, not only for the results they give in the kitchen but by the way that they are made, we couldn't help ourselves, we had to challenge convention and take this classic staple in the kitchen and respectfully modernized it, improving performance for everyday excellent cooking whilst retaining the heirloom quality of a 100-year-old skillet.
It's our goal to make eating well, fun and enjoyable through good design.
Rewards


Timeline
We've already completed our first round of tooling, trialed the machining process, made first full samples and put them through their paces. We are truly blown away with the performance of these Skillets.

At KATiE Kitchen Solution it's our goal to make eating well, fun and enjoyable through good design.
The Founder
The founder is an Interior Designer based in Glasgow, UK.
This project was created in memory of her late grandmother Katie. She has been a versatile and exceptionally good cook. Cooking has been an important part of her life. There was always food on her dining table - literally 24/7! Some of the most enjoyable moments have been sharing her home-cooked meal with friends and family.
Her love for cooking and entertaining has always inspired us to want to go into the kitchen and create something just as delicious and beautiful at the same time.
The creation of KATiE Kitchen Solution brand will keep her legacy alive forever.


Contribution to the Coronavirus Relief Fund
We are directing one-third of our net sales to the COVID-19 Global GivingFund. This fund support long-time giving partners on the front-lines of the global health crisis.

How it works
For every $3 we collect, we'll donate $1 to the COVID-19 Global Giving Fund.* That means that your support for the KATiE Kitchen Solution brand's creation will directly support Giving Partners that are responding to COVID-19 - both at home and abroad.

Who we're giving to
COVID-19 Global Giving Fund currently supports Americares, Crisis Text Line, International Medical Corps, Partners In Health and WaterAid. Together, these organizations are working to combat the negative effects of COVID-19 through mental health support, handwashing, and medical supplies.
8" KATiE Cast Iron Skillet
10" KATiE Cast Iron Skillet
12" KATiE Cast Iron Skillet
10" 12" KATiE Cast Iron Skillet
8" 10" 12" KATiE Cast Iron Skillet
8" 10" 12" KATiE Cast Iron Skillet x sets
No updates for this campaign just yet
Create a support campaign in seconds!
Support campaigns allow you to get your own fundraising page dedicated to 'KATiE Cast Iron Skillet – The Ultimate Pan'
You'll have your own unique link that you can share, and all funds raised will go directly to 'KATiE Cast Iron Skillet – The Ultimate Pan'. It's the ultimate way to show your support!
Create support campaign