JUDAH: No one can stop him now
kr2,355.00

raised of kr25,000.00 goal goal
No more donations are being accepted at this time. Please contact the campaign owner if you would like to discuss further funding opportunities
Campaign Story
MY SON'S INSURANCE IS NOW STOPPING THERAPEUTIC TREATMENTS WHICH HELP THE DEBILITATING CHRONIC PAIN THROUGHOUT HIS BODY, ALL EFFECTING HIS QUALITY OF LIFE.
MY SON JUDAH, age 49, worked for 30 years as a dedicated Arborist in the North of Israel. Acclaimed
for his specialised techniques, his methods were so unique, that documentary films were made about his methods. Yet, sadly, none of these techniques could have prevented the devastating fall he took.
ON OCTOBER 18TH, 2017, due to faulty equipment, Judah plunged down ten meters, landing directly on his spine. A loving father to four young children, his dream is to be well again. To walk again.

DIAGNOSED WITH A C4 SPINAL CORD INJURY, paralysing him from the chest down, Judah was hospitalised for six months under intensive rehabilitation.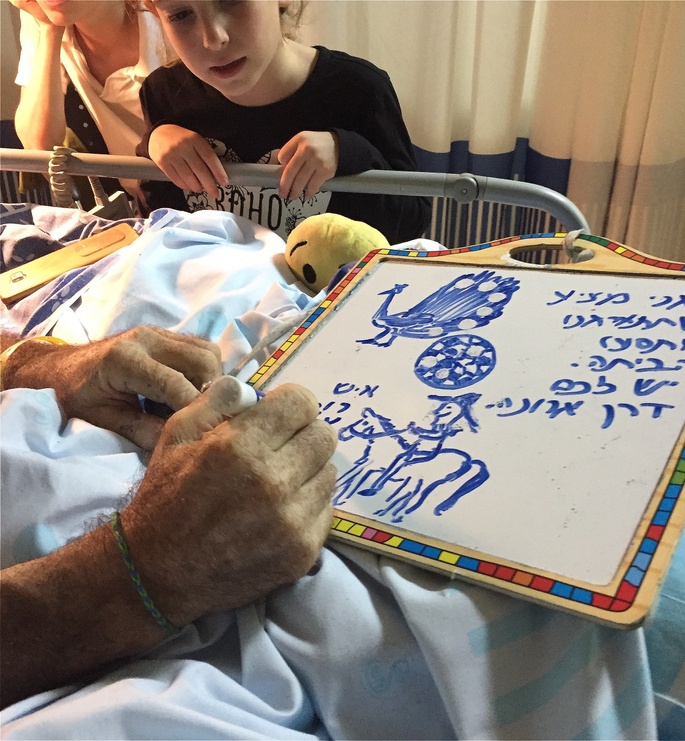 When he couldn't speak, he drew pictures.
Judah has since returned to his village, trying his best to cope at home alone; not an easy task. The family could not find a responsible caregiver during the day, while his wife is away on a full-time job, trying to make ends meet... and while their four children, aged 8, 10, 12 and 14 are in school.
THERE HAVE BEEN NUMEROUS SETBACKS; respiratory problems, bouts of pneumonia, bed sores that refused to heal, as well as excruciating dentist visits from his crushed jaw. He still suffers from spasms in his legs, which can toss him from his wheelchair . . . all while trying to wean himself off painkillers.
Until now, his insurance has provided, only now all therapies will be stopped.

WITHOUT THESE LIFE-GIVING TREATMENTS, my son's present mental & physical condition will diminish. WE CANNOT LET THIS HAPPEN!
These are his treatments:
::::::::::::::::::::::::::::::::::::::::::::::::::::::::::::::::::::::::::::::::::::::::::::::::::::
1) Physiotherapy: 2x weekly + transport
2) Aqua Therapy: 2x weekly + transport
3) Massage for pain control: 2x weekly
:::::::::::::::::::::::::::::::::::::::::::::::::::::::::::::::::::::::::::::::::::::::::::::::::::::
Each treatment including transport, is approximately 100.00 US Dollars. The cost of transport sometimes exceeds his therapies, as the treatment centers are far from Judah's village.
You can help . . . anything from 1 US DOLLAR will be greatly appreciated.


A photograph of your choice from my Africa Collection/Sudan
I am Judah's mother, residing in Denmark
I am Judah's mother, residing in Denmark
Judah's recovery
Update posted by Linda Ruth Horowitz at 05:03 pm
My son's progress is going downhill at the moment; I'm deeply concerned.Now two years after his tragic fall, his rehabilitation therapies have now been completely shut down permanently by national insurance. We have been grateful for their help until now, but this is the present situation. We are also Extremely. . . . .
Photo from personal African Collection
Update posted by Linda Ruth Horowitz at 01:58 pm
My son Judah, age 49, father to four young children, is now a paralysed from chest down from a serious #SpinalCordInjury in dire need of treatments toward his recovery. With a contribution of 25 US dollars or more, as a documentary photographer, I would like to offer you a choice
Create a support campaign in seconds!
Support campaigns allow you to get your own fundraising page dedicated to 'JUDAH: No one can stop him now'
You'll have your own unique link that you can share, and all funds raised will go directly to 'JUDAH: No one can stop him now'. It's the ultimate way to show your support!
Create support campaign