Joan's fight against schizophrenia
₱100.00

raised of ₱75,000.00 goal goal
Raised offline:
₱1,200.00
No more donations are being accepted at this time. Please contact the campaign owner if you would like to discuss further funding opportunities
Campaign Story
Our classmate and dear friend, JOANNE CAALIM, 26 years of age has been diagnosed with SCHIZOPHRENIA . She is a BEAUTIFUL and TALENTED young woman, dreaming to become a FLIGHT ATTENDANT. She has a voice and a face of an angel, and you could tell just by looking at her that this girl would go places. Alas, during her College days, she had Clinical Depression. Her mother noticed she had been acting different, preferring to stay at home more often and refuses to go to school. She couldn't sleep, couldn't even take care of herself. So they took her to a doctor and gave her meds which she took religiously. And she started being her own self again. Our friends offered help to watch over her and to keep her company while she was fighting against her depression, her parents allowed them to, since they felt the sincerity in their actions. That's when she met this guy who later pursued her, and resulted to Joanne being pregnant with a baby girl, and she stopped taking her meds since, and the guy left her eventually.
On the year 2016, she delivered a healthy BABY GIRL which she named QUEENCIL, who looks just like her. She stopped going to school and became a full time MOM. But that's when she started 'LITERALLY' going places. Recently, one of our classmates spotted her hanging out in their church, sort of lost and disoriented. They allowed her to stay there until her mother came to pick her up. This came to our attention, and some of our classmates went to their house to pay her a visit. That's when we got a peek of the situation of their family right now.
Her father has ALZHEIMER'S DISEASE and keeps breaking their things and needs to be attended, her brother is always in front of the computer, indifferent to his surroundings and not offering any help, so it's up to her mother to take care of her father and her daughter while doing all the household chores. It was a wreck. Her mother shared that it wasn't the first time Joanne went missing for days. She was often found out of town, and was spotted by the police, LGU officials or by the DSWD. Her mother admits to giving her money to go out because she understands that Joanne needs a breather from their situation at home. And since she is already busy taking care of her husband and her granddaughter, it's already beyond her capacity to look out for Joanne. Later after that, we found out she rode a bus to Catbalogan, Samar and was taken to the Police station by the driver. Then she was found at Alang-Alang, Leyte two weeks after the Samar incident. It was just recently that one of our classmates was able to convince her to consult a doctor. That's when she was officially diagnosed with Schizophrenia and that she needs to take her medications, and be confined to a health facility where she can be monitored 24/7 but they are requiring to have 2 persons to watch over her on the duration of her stay. Knowing the situation at their home, we don't know any of her relatives that could offer to watch over Joanne. It is scary to think of her travelling alone to a place where nobody knows her. We are considering the risk of bad things that could happen to her. We are deeply concerned for the welfare of our friend, she still has a lot of time and a bright future ahead of her and for her daughter. But she needs help, that's why we are taking this action to help fund for her medical needs. We opt to bring her to a private mental health facility since there we are assured that she is safe and well taken care of, but it would take a lot of money to send her there. We are humbly asking for your help. Any amount would do. Help us bring the old Joanne back, help her have a chance to have a normal life.
You can message throught messenger or you can email me at [email protected].
All funds will be sent to Joanne Caalim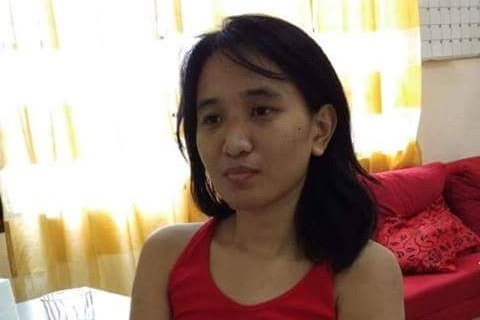 No updates for this campaign just yet
Create a support campaign in seconds!
Support campaigns allow you to get your own fundraising page dedicated to 'Joan's fight against schizophrenia'
You'll have your own unique link that you can share, and all funds raised will go directly to 'Joan's fight against schizophrenia'. It's the ultimate way to show your support!
Create support campaign