Invest $300, get $2075 monthly profit
Invest $3000, get $20750 monthly profit
Company introduction :
Uber changes all cars become taxi .
Foodper changes all houses become restaurants.


For those house wife or mother who cook at home everyday , they just need to take photo on the food and upload the photo to www.foodper.com , then all customers will go to pick up the food from their house door and pay cash to them.
How to ensure the safety of sellers and customers?
Worry some security issue? Are you worry that robber pretent to be customer go rob in the food seller's home. For this security issue, Foodper company has taken some precautions. For example, when a seller is posting a food advertisement, there is an option of "only allowing the customer to pick up the food at the door". It is safe if the seller handover the food to the customer when the house door is locked. And when people register their accounts at foodper web app, they must tick the "Agree the terms and Conditions" checkbox. They must agree to bear all risks by themselves then only allow to register their accounts with the foodper web app. The foodper company will not bear their risks. In fact, Airbnb and Uber are also facing this security issue, but they are still doing the so great and so big, and making so much money. So we can do it too with Foodper .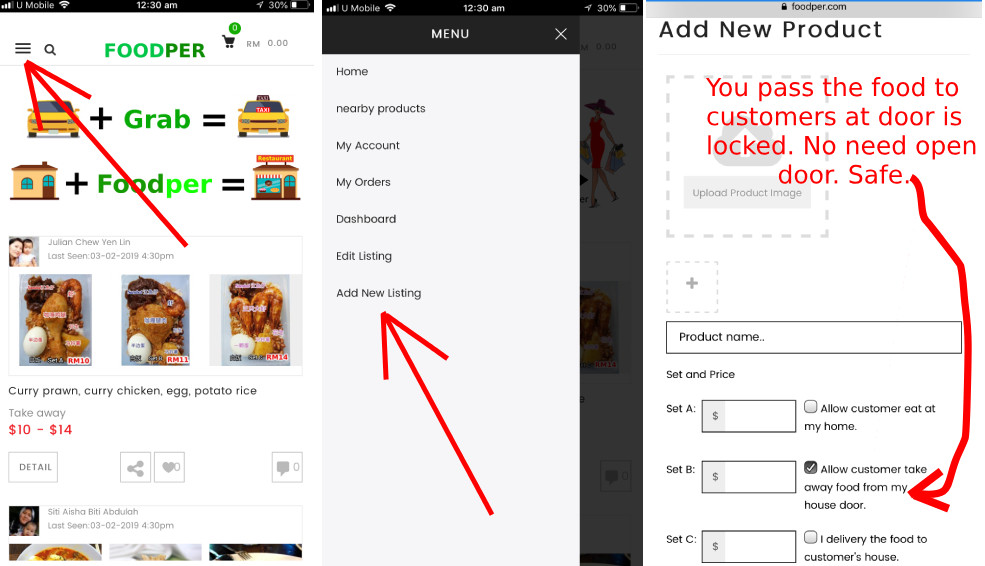 Why we want to do this?
You see everyday so many cars produce poison gas cause air pollution harm to the earth. Many people drive car go out buy food. Many people call food delivery to their house by motocycle . Air pollution is getting worse. What if all people can buy the food from neighbour ? Everyone just walk to nearby neighbour to get their food. We reduce air pollution and save the earth. Please join us to save the earth together.
How does Foodper company earn money?
When a seller sells food in www.foodper.com , seller earn 90% of product price, upline earn 5% of product price, foodper company earn 5% of the product price.
5% is for marketing, for example, Mr. A invite Mr. B to sell food at foodper.com, When Mr.B sold out $10 food, then Mr.A earn 5% which is $0.5 and Foodper company earn 5% which is $0.5 too. If the food seller doesn't have introducer / upline, then Foodper company earn 10% of his sales.
Uber company earns 20% commission from drivers. Uber currently has 100,000 drivers, and each driver makes an average of $ 200 fares per day. So how much profit does the Uber company makes in one day? $ 200 fare x 100,000 driver x 20% commission = $ 4,000,000 one day profit! Earn $ 4,000,000 x 30 days = $ 120,000,000 profit in one month.
Ebay yearly sale is usd10,746,000,000
Uber yearly sale is usd1,000,000,000
So if Foodper company makes half of Uber revenue which is usd500,000,000 x 5% commission = usd25,000,000 net profit yearly. So how much u get if you invest $3000 on Foodper company? Invest $3000 get 1% share. Usd25,000,000 Foodper revenue x 1% share to you = usd250,000 / 12 months = usd20,833 monthly return for ur investment. It mean u invest USD3000 and u get usd20,833 monthly.
Progress :
Foodper website is completed already at www.foodper.com , it is available for all sellers to sell food and available for all customers to buy food too. We just launch our website foodper.com and do marketing advertising for 2 weeks already got 2000 users using our website now. We don't have APP available in Apple store and Android market, we need to get funding to develop our APP. Now we only make Foodper website looks exactly like APP now. Just press 2 buttons already can download the Web App to your phone, screenshot below :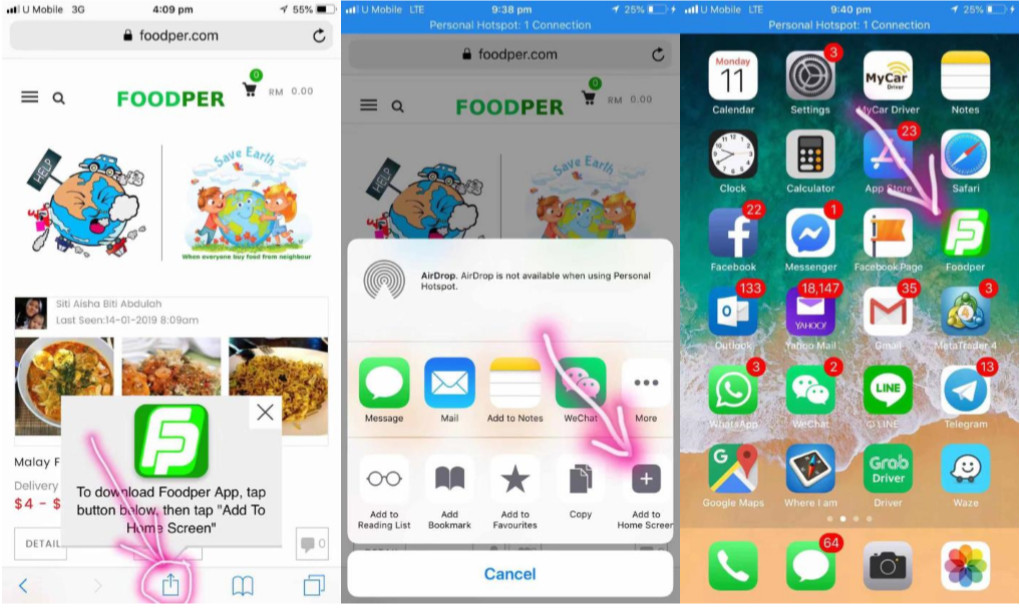 Marketing :
We just launch our website foodper.com and do marketing advertising for 2 weeks already got 2000 users using our website now. Now we waiting to get more fund to do more advertising and marketing. We will apply many difference marketing strategies and methods to get many people to use foodper web app, example we pay money and giveaway free gift for those who upload their house food photo to sell the food on foodper web app, and we also pay money to advertise in lift of many building like condo and shopping mall. We will do google advertising and facebook advertising too and youtube advertising too.
Investors' fund collected will be used for our apps development and advertising to achieve target 5000 food sellers and 5000 customers in 5 months. We ensure getting 5,000 sellers and 5,000 customers within 5 months so that all investors can get the return on their profits after 5 months of investing. Investors can't get profits within five months after investing money. Investors can only start getting profits after 5 months. Profit is 1% of the total profit of Foodper.
Invest USD300 and get 0.1% share / profit sharing.
Invest USD3000 and get 1% share / profit sharing.

We only need USD150,000 for the APP development and marketing advertising. We only give out 50% of the company's shares to crowdfunding USD150,000. First come, first served.
Term and Condition :
Investors can't get profits within five months after investing money, and they can start to make profits after 5 months. Profit is 1% of our company's total net profit.
Risk :
If the our Foodper website and APP are not famous and there are only less or none people using our Foodper website and APP, then we can't make money, the company can't make money, and investors can't make money too. So please consider this before investing. Of course, we will do our best to do marketing and advertising to attract more and more people use our app. Let us make money together. As an investor, you may also give us advice and suggestion to make our APP and marketing more better and more improving, makes more and more people like to use our app.
If you want to invest, kindly contact me, I will give you a simple agreement to sign to protect our interests of both parties. Thanks for your support.
My contact :
My name : Ang Eng Keat
My portfolio : www.2aek.com
My blog : www.ye5.blogspot.com
My facebook : www.facebook.com/zac1987
My email : [email protected]
My phone / whatsapp / wechat : 0164833944
Please click the style of widget you'd like to install