The Cordillera Project Philippines began in 2016 with the main goal to provide sustainable educational, healthcare and livelihood programs to the identified communities in the Cordillera region, Luzon, Philippines. More specifically, the project has currently extended help to the people living with disabilities (PWD's) in the rural mountain province of Bauko. This community of farming families is extremely hard working, live very simply and most have small homes with limited electricity (no cell service except at the one high school). The sole objective of this fundraiser is to give them access to a better education and quality of life; these are their stories.You can read everything about the Project here: https://www.gavagives.com/cordilleraprojectph

Shane became blind at age 2, due to medicated eyedrops, after a doctor wrongfully diagnosed her with "glaucoma" and "cancer of the eye". Her mother explained the story and how being a young mother of only 19, she was terrified for her child and fully trusted the doctor she was seeking advice from.

Shane is now 12 and in 2nd grade at Monamon Norte Elementary School. She loves to sing and has the voice of an angel. Her teachers noted that even though she lives a 30-minute walk away from school, she is there every day, rain or shine.

With proper funding, Shane has options that could immensely improve her education. First, there is a possible surgery that could hopefully help Shane regain her eyesight. Second, there are proper schools for the seeing impaired in Baguio city, but this 155km away and remains too costly for the family because of transportation and boarding.

Judamay is a young girl in her 20's who suffered from a bad fall as a child and sustained a severe head injury. She cannot verbally communicate at this time and has limited mobility, because one of her feet has not correctly developed and causes pain when walking. Her family has reached out with extreme concern for her safety because she recently sustained mild burns while trying to cook for herself.

Judamay longs to be self-sufficient and wants to learn how to cook and be more helpful around the house. She has a very curious and friendly disposition, but not enough training to know how to properly communicate.

It is imperative that she get the proper treatment as soon as possible due to the risk of choking on her own saliva. The family of Judamay is seeking funding for a speech therapist to give her better control of her mouth, to teach her better communication strategies and someone to give her loved ones the proper brain injury education. Judamay has also expressed interest in a tablet to play educational games, since she spends the majority of her time at home.

Brialin is an 18-year-old girl who suffers from epilepsy and possible subsequent brain injury. The family think the seizures are triggered by cold temperatures, especially at night. She has problems with all motor skills and mobility, so Brialin requires total assistance from her family.

She loves to write in her journal and does so by slowly and carefully cutting out letters from magazines. Brialin is a wonderful, creative author and especially loves writing romance stories. When interviewed, she emphasized that her main desire is to help her mother. Brialin's mother suffers from diabetes and this has put further financial and physical strain on the family. She is very close with her older brother, who is pictured in the photo above.

Brialin would greatly benefit from a speech and occupational therapist. With proper training techniques, she could learn how to better walk and stand, which would alleviate stress off of her sick mother. Money raised will also go to make sure the family gets proper heating in their house and will help with the high cost of insulin for Brialin's mother.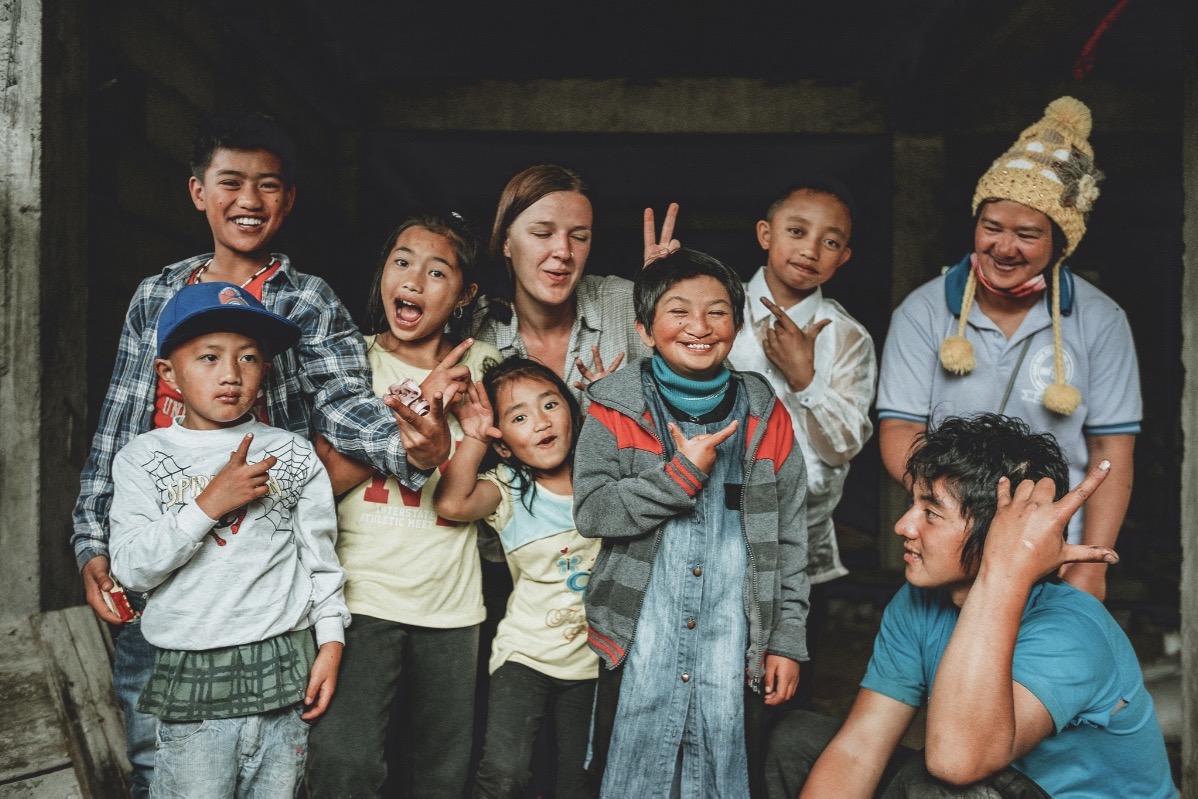 Angelica is a 10-year-old girl with Down Syndrome and questionable undiagnosed autism. She suffers mainly from developmental delays in speech and has a vocabulary of less than 10 words. She struggles a lot with social skills, paying attention and dressing/feeding herself.
Angelica's family is largely concerned with her lack of socialization and exposure to people outside of her close family. After having the immense pleasure of getting to know Angelica one afternoon, it is apparent how much she craves friendship. She started off very shy and didn't want to leave her mother's leg. Once she felt more comfortable, Angelica was playing games with myself and the other children, with a huge smile on her face and even joined us for group pictures (see group photo above).
With proper funding, Angelica could receive the one-on-one education she needs to catch up and hopefully be able to join peers her age. She also needs proper diagnosis from a doctor to help her family better understand her condition.


These families have been affected by different disabilities, but all have one thing in common; they all give more than they receive and do not take anything for granted. These young girls are in a region with little access to healthcare and an inability to ask people all over the world, like yourself, for help. Thank you for taking the time to read their stories.

*Please note that I am an individual raising money on behalf of the Cordillera Project Philippines (2016), which is a group of volunteers and professionals raising money on behalf of the families of Bauko. All donations will be divided equally among the needy families mentioned above, as well as any other newly identified people with disabilities in Bauko, Philippines. Updates of any additional families receiving funds will be posted here.

Please click the style of widget you'd like to install