Burying Your Dog at Home
Pet home burials are still popular despite an increase in pet cremations. Home burials are private, personal and less expensive than other alternatives.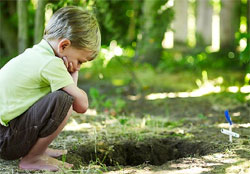 Although the popularity of pet cremations has increased in recent years, it isn't for everyone. Some recent stories in the media of people abusing the trust put in them must have put many people off pet cremation. Apart from the horror stories, pet cremation has other pitfalls that you need to be aware of such as individual versus communal cremation. Communal cremation is common. Always assume the cremation of your pet will be communal unless told otherwise.
Do you really get your own pet's ashes back? Was your pet even cremated or simply dumped somewhere while the fee was pocketed? The intricacies and pitfalls of pet cremation are many. It is not like human cremation. It doesn't seem to be regulated… but that is a whole other article.
Let's talk about performing a home burial for your dog. If you want to bury your dog at home, here are some things to be aware of.
Don't feel afraid of making sure of death. It is important. You may even want to call your vet and explain that you would like help determining the death of your pet. Don't be afraid to do the checks above or to ask for help if you need it.
Their body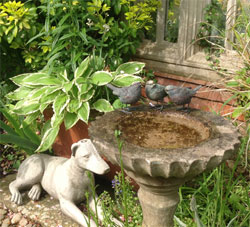 WE ARE RAISING FUND TO KEEP YOUR MEMORY OF DOG REMAIN FOREVER.
WE HAVE A SMALL HOME FOR STREET DOGS WHO ARE IN NEED OF FEED AND ILL HEALTH. BY THE GRACE OF THE ALMIGHTY THE HOME IS RUNING OUT OF FUND.
Please click the style of widget you'd like to install