(Help us, please Support Project to help Thai childrens)
"Tamlafun" donated educational supplies. And Integrated Building repairs school for childrens in remote areas.
Tamlafun was established on August 11, 2015by the founders and members of the two people. Tamlafun location at 117/168 Green and Park#B2/3 Soi Chinnaket 2/6 Ngamwongwan Rd.TungsonghongLaksi Bangkok 10210
Currently (as of August 13, 2016) Tamlafun has done 36 missions, 67 schools, donation to 5033 childrens, traveling at least 44,697 kilometers, Integrated Building repair four times (1 x building, 1 x built toilet , repaired school three times.
PURPOSE PROJECT
-Donations to help school children and villagers in remote areas.
-To help children School and community The integration of the construction, repair buildings, roads and utilities, including water, electricity, etc. as appropriate and opportunities.
-To increase educational opportunities for disadvantaged children lack educational equipment.
-To find suffered the hardship of children and villagers come out to the public by media still and video To increase opportunities and contributes to the development in the future.
-To create inspriration prototype to many people.
TARGET PROJECT
-The project will take at least three years (starting on August 11, 2015).
-Target of at least 200 schools across the country (currently 67 schools on August 13, 2015).
TAMLAFUN have 2 type of subproject.
1. Donation to very poor children in remote areas.We go to donation 3 times per month
Duration: 2-4 day depend onthe difficulty of the road.
Vehicle : Current have one 4x4 pickup car. Some areas need to be put into chains and very dangerous. Some areas require a motorcycle or boat.
2.Mission trips to help students to construction repair the school. Such as school building renovation school bathrooms, including roads, water and electricity utilities by occasional and appropriate.The team will carry out their own every time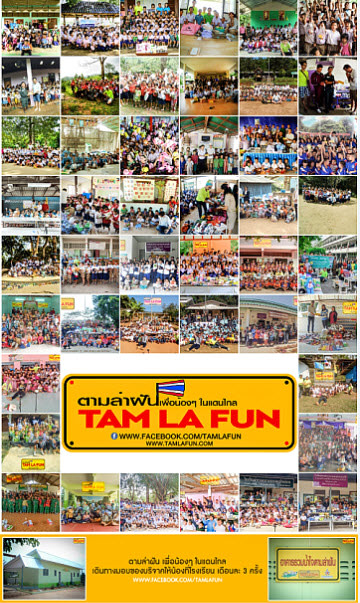 The implementation costs of the project.
Currently we pay of all the costs by myself. These include the cost of the following
-Rent the room to store donations item at Bangkok Thailand : $250 per month.
-Water, electricity, Internet: $60 per month.
-Averageoperation cost when go to donationfor 3 times per month
Gas for one pickup car : $345 per month
Food and drink for 12 day and 2 person : $124 per month
Hotel for 9 night one room : $207 per month
-Car maintenance : $170 per month
Total cost : $1,156 per month
Because we go to donation only not working any jobs. We don't have income.
It's very big problem to work Tamlafun in the future
We need donation cose for doing 1 year = $1,156 x 12 = $13,872

Procedures and details of the project's mission to deliver the donation per time.
-We have donation center in Bangkok. We standby receive one or second handdonation item from public person. But!! We not receive money anyway anycase! Receive donation item only. Example school uniform, school shoes, socks second hand. Equipment for teaching pencil eraser, ruler, eraser, crayons, colored wood Sketchbook sports recreation soccer balls, badminton sets, toy basketball creative dessert dry food, medicines, seeds, etc.
-Search the school and children in remote areas.
-Provide educational materials To donate to children To all people
-Traveling to the school in remote areas.
-Donation activity with the childrens 2-3 hr.
-Take a photo and video upload to social media and tamlafun website.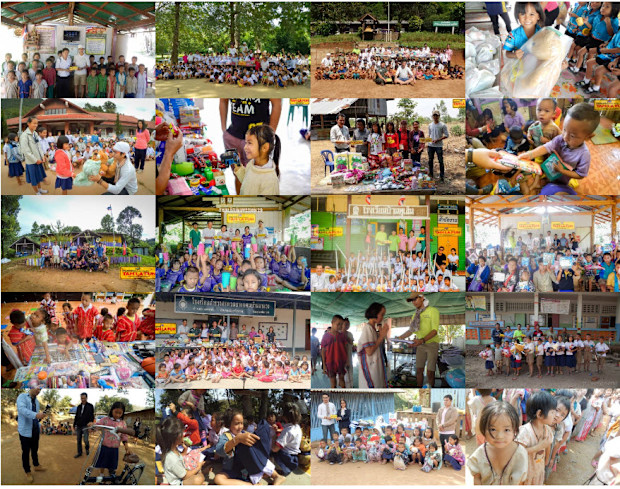 Procedures and details of the project's construction repair school mission.
-Search problem school in remote areas by myself.
-Analyze problem and solution to help the school the teacher.
-Public relations project in Social media and website to help and donation.
-Operation construction or repair the school or road.
-Take a photo and video upload to social media and tamlafun website.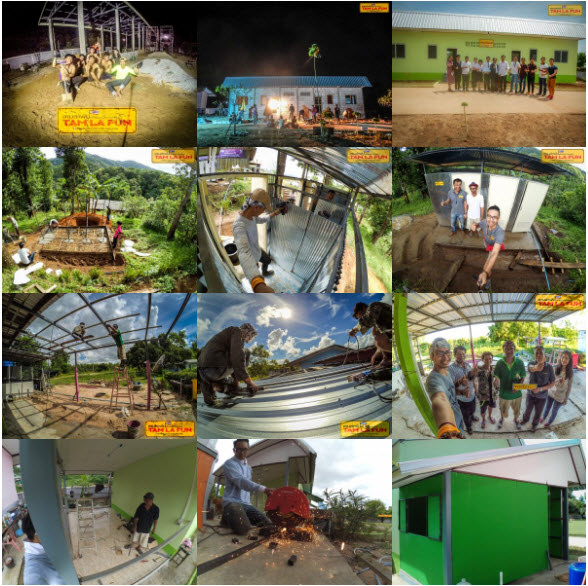 More information
More mission pictureห on website : http://goo.gl/eOSYxM
Mote mission pictures on facebook : https://goo.gl/lIJgbO
More mission video: https://goo.gl/nJ2rmA
Best regards

Mr.Kan Sakkamdoung
(Founder of TAMLAFUN)
TAMLAFUNAddress: 117/168 Green and Park#B2/3 Soi Chinnaket 2/6 Ngamwongwan Rd. TungsonghongLaksi Bangkok 10210
Call : +66965421606
Line id : @tamlafun
Website : www.tamlafun.com
Facebook : www.facebook.com/TamLaFun
Youtube : www.youtube.com/c/tamlafun

Please click the style of widget you'd like to install