Hi, everybody. My name is Ivan, it, probably, the most widespread Russian name. But I was born and grew not in Russia. I was born in 1992 while the USSR, in one of the union republics under the name Tajikistan collapsed. Then in the countries of the former USSR occurred such that terribly and to think that the such can repeat. For example, in our Tajikistan civil war, the majority of people of the European nationalities began, in a hurry left the country. Many left the apartments and things and left with anything, some were lucky to manage to sell them, however, very cheap. We too were rather lucky, we managed to sell the personal belongings and property. Usually those people who left Tajikistan, went to Russia. But at us in Russia was nobody (friends, relatives). In those days, Russians and other Europeans who remained with anything, especially in Russia were necessary to nobody (if at you there nobody was, there was to go no sense there) therefore our mother decided to stop in Uzbekistan. Uzbekistan the country peace, here anybody offends nobody and for that sum of money which remained with us after apartment sale in Tajikistan, it was possible to buy the apartment, the truth it small and in one of the most unsuccessful districts of the city, but nevertheless it is better than anything. Since then here also we live. I in Tajikistan don't remember an event, I was very small, to me year when we left it was executed only. And about those events I learned from mother and from stories of the senior generation.
I grew without father, as and as my little sister, her name is Ksyusha, it is younger than me for 3 years. It is sick with a mental disorder. At us different fathers with it, we are relatives on mother.
My father left mother till my birth, I don't know why so occurred, mother didn't tell me, and now to ask it about it has no opportunity. I only know that my father called Anatoly, and that it went, it seems, to Russia. Where it now, concepts I have no. And at us after we moved to Uzbekistan, everything was good, life took its course. Mother even got acquainted with the man, called him Sergey. This is the father of my sister. The truth it arrived as with mother, as well as my father – threw it. It is possible to tell that it was the end of my childhood. Mother started anew to drink after work. Having often come home in the evening, it brought with herself a bottle of vodka which also drank. First it seemed that in it there is nothing serious, at us here many drink. But then when I already was 6-7 years old, our house began to turn into a dump and a brothel. Mother drove home any unfamiliar men who drank together with her, rustled at night, had sex in the presence of us with the little sister. The apartment at us small (the total area of 32 square meters) therefore to us was necessary to look at all this. To usual school me didn't send. At us to it go from 7 years but as to me was to nobody almost any business, I didn't get to it. I began to walk the streets, sometimes taking away from the house the little sister. So we were noticed by our neighbors. It is good that among them there were many good people. Some of them gave food, someone gave the kidswear which has remained with them from the children who already became adults. Happened, even we spent the night not houses, and at somebody from neighbors, such happened when mother was strongly drunk and couldn't open to us a door. And matured.
I didn't get an education. I received more true, but only the document which says that I allegedly, have school education and that thanks to neighbors. Neighbors sent me to school for children with special needs, in which, however, in that don't train. In fact, this such place where bring together street children to keep their account. And all. You won't believe, but I very badly read and I write in the native language and I don't know some simple mathematical actions. And it my friend, whose parents me helps to write me the message helped with the childhood. It uses the program the translator as he too doesn't know English.
In 16 years I graduated from this school at which "studied", I needed to arrive in college. But for the reason that I had no money, I in it didn't arrive. I would think and with money didn't arrive in it as I am not competent and wouldn't pass examinations. From this point I survive as I can.
I have an array of problems which I to solve one isn't able, and to help me there is nobody. I have no relatives. Only some neighbors who for that time that we are familiar already managed to become me as relatives and help me. But their opportunities too aren't boundless, they so made a lot of things for me.
My first problem is my mother. She suffers from alcoholism. I still remember it the normal person, but now from that person a little that remained. Now she lives that houses, on a garbage dump. There, on a garbage dump it had a cohabitant with whom they there and live, collecting paper, plastic and glass bottles. Then they sell all this, and the earned money spends on drink. When for some reason they don't earn, they come to us to the apartment, demand money or food. Happens that mother finds money which I earn, then as always them spends on drink. Therefore I try to give recently money to the neigbour, on storage. I earn very little and therefore for me any trifle is important. Somehow time, business reached before that they sold the TV which to me were presented by neighbors while I wasn't at home. I had to buy on the saved money another, a little less cheaper in order that when the little sister stays at home one, it wasn't boring for her And quite recently sold a table therefore now the little sister and me should eat anywhere. How to struggle with mother I don't know, I already tried everything. I changed locks in the apartment, but it made scandals, called the police which forced me to let in it and to furnish the spare clue. After them the house the chaos is created, it with the cohabitant or litters or simply looks for what to sell. In the last I even ceased to bring houses an order as it is necessary to work for days on end and without days off what to pay debts. Under the law, mother is right, there's nothing to be done. Mother is the owner of that apartment in which we live, but documents on property it somewhere lost, according to her. In fact, I now live from hand to mouth. And already I start being rather afraid of that that, any swindlers (which at us here enough) I can take my housing and I with the sister will remain on the street. I also it is so possible to tell, I come home what to have a sleep or bring food to the little sister. In the rest of the time at work among a lot of garbage.
Such mess happens after mother and her friend visit our house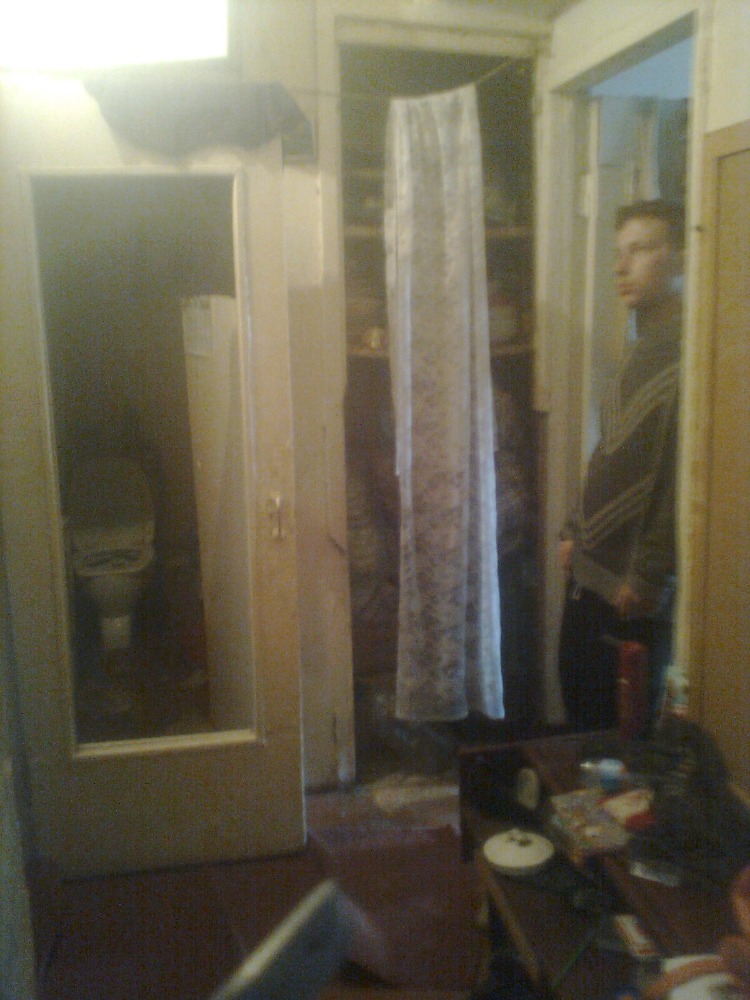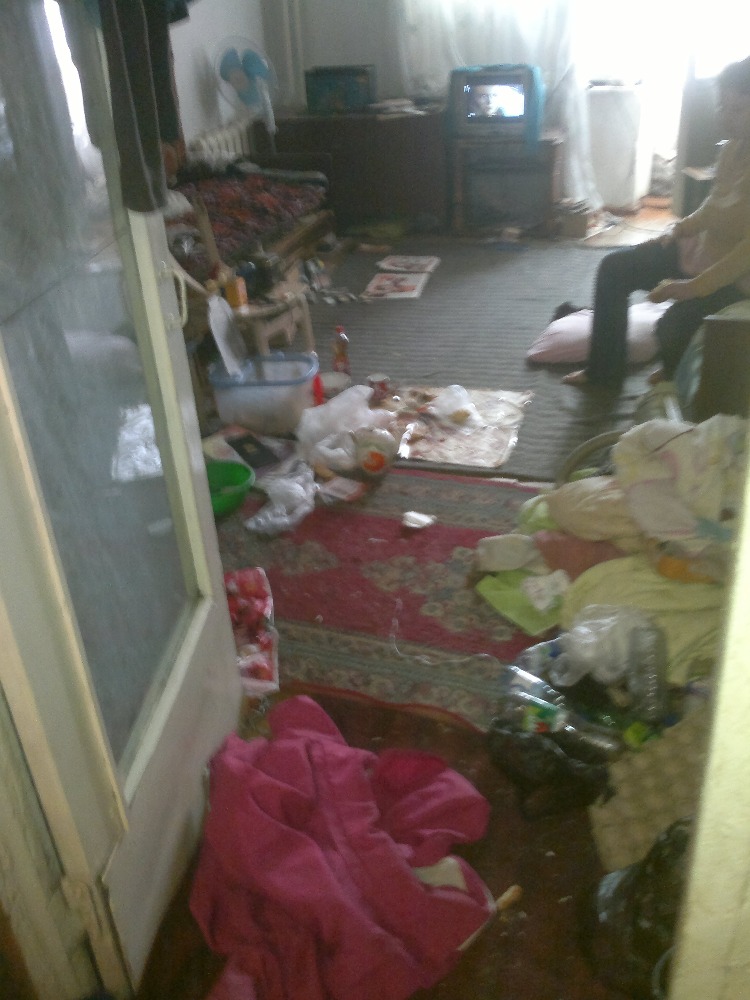 My second trouble is my little sister. It is sick with mental diseases. I even precisely also can't tell how they are called. It is shown they that the sister practically to anybody doesn't talk (though it is able), lives where that in the thoughts, as though she not from this world. It very much lagged behind in development. It isn't independent. Is afraid of the street, is afraid of people. It is very difficult for me to provide it, especially after that that occurred not long ago. I sometimes itself undereat if only it was full. It it is necessary to be engaged, go on doctors, but I can't afford it. At present I hardly can support myself and it. Behind it it is necessary to look constantly. Somehow time was a case when any alcoholic got into our apartment, it appears, she opened a door to it. He deceived her, and got into the apartment for the sake of what it made it, I don't know. Then I came back home and saw him drunk, sleeping on a floor. I asked the little sister that occurred, but the distinct answer didn't receive and simply caused militia, they took away it. Since then, leaving for work, I or itself close it on the lock, or I ask, somebody from neighbors to glance behind it. If it is lucky, I leave it at somebody from neighbors. All life it will need leaving. Only the miracle, can make her the person independent and realizing the actions. I can't throw it. To send her to special clinic, I am not able to afford financially and I am afraid. At us here these clinics are worse, than prison. And that it would get in normal, clinic small money for me is necessary not. It is possible to employ the nurse. But also on it money which I don't have are necessary. What to do in this situation I don't know.

This is my little sister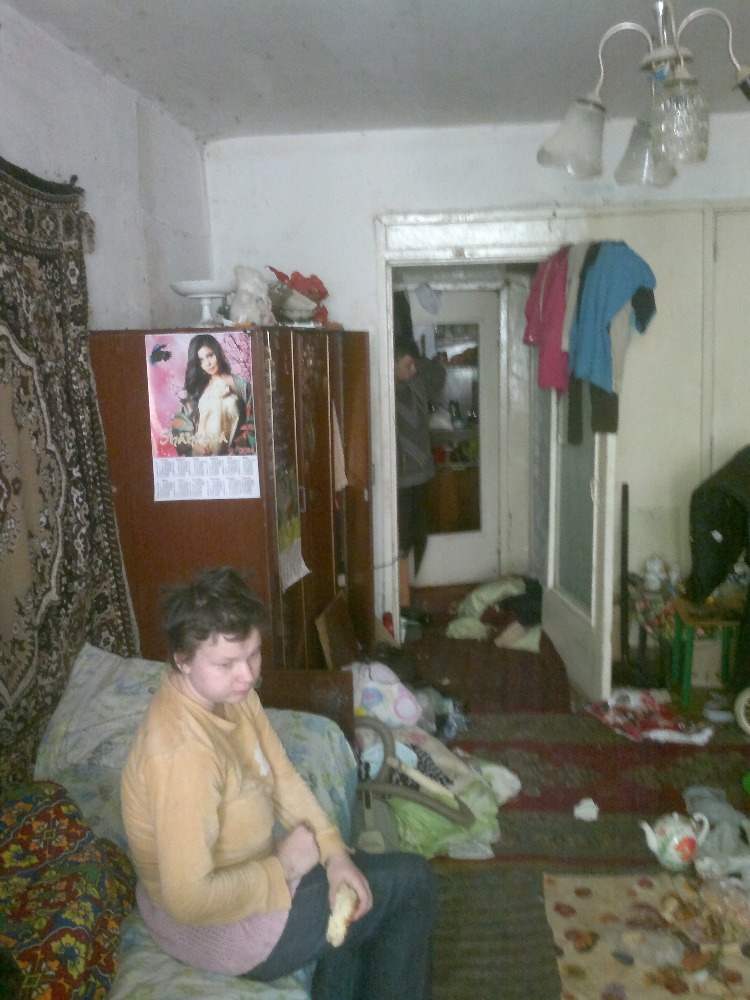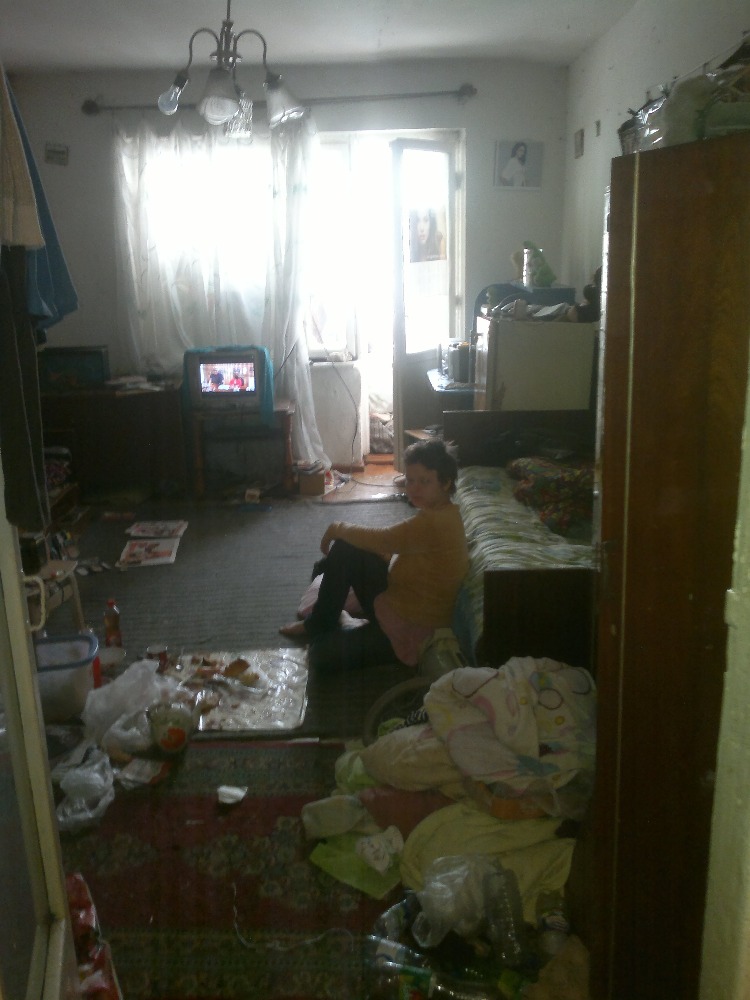 My third trouble is those debts that mother leaves behind. It at all the trouble, is my ticket for the street. Before me nobody disturbed on this matter, I, frankly speaking, even couldn't assume that so it will turn out as a result. But when to me was 21 years, I should be responsible for the mother as from mother, neither to give, nor to take. There is it, didn't pay in general any utilities, since 1999. In 15 years such amount of debt which people with average earnings (to our measures) will save up years for 7 accumulated. I can't count on it in my situation at all. The amount of debt - 20535000 our local currencies (sum), in dollars is about 7000, it is ridiculous if to consider that the cost of our apartment about 12-13 thousand dollars. Recently to us disconnected supply of hot water. Now say that will disconnect the electric power and heat in the house. Threaten also shutdown of the rest. I am almost all the earnings, and it me not big (is much lower than an average to our measures), I spend only for that what to delay shutdown terms. Meanwhile, some of these companies, show condescension on the attitude towards me. I, of course, can in general for what not to pay as all responsibility on mother, but as a result our apartment will arrest because a debt too big. I thought that can it is worth selling the apartment what to pay off with debts, but first as I already spoke, I have no document which would grant to me such right, and secondly even if I and will sell the apartment somehow, a difference which remains after debt payment, such small that I will be able to buy nothing here. In general anything and as I will remain on the street with anything.

And it is our apartment if it is so possible to call it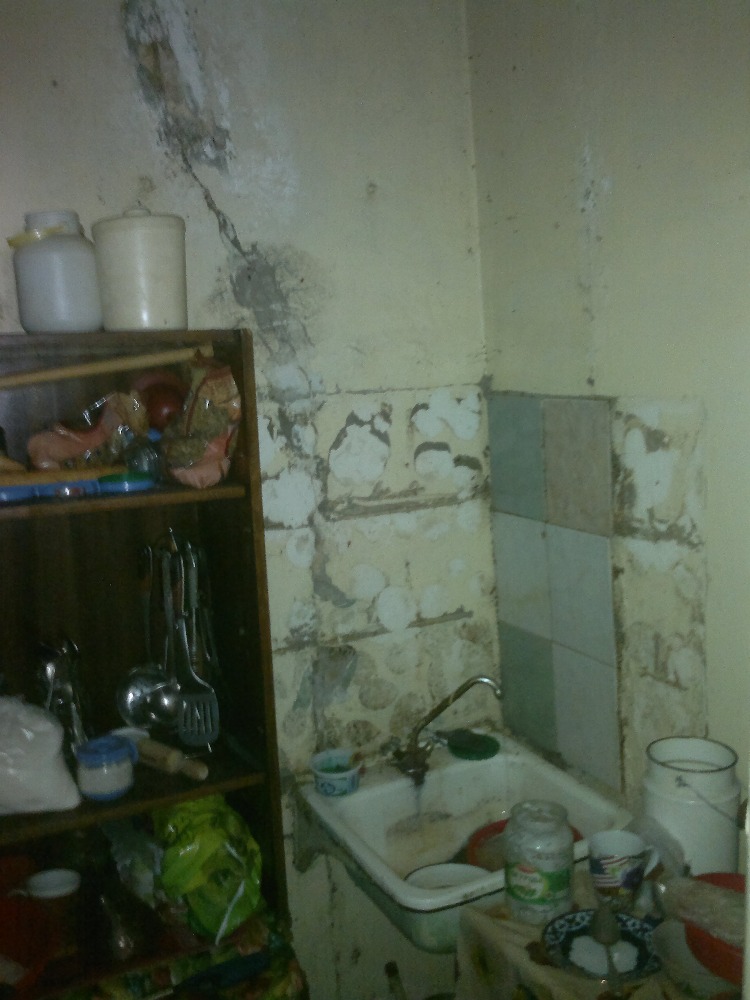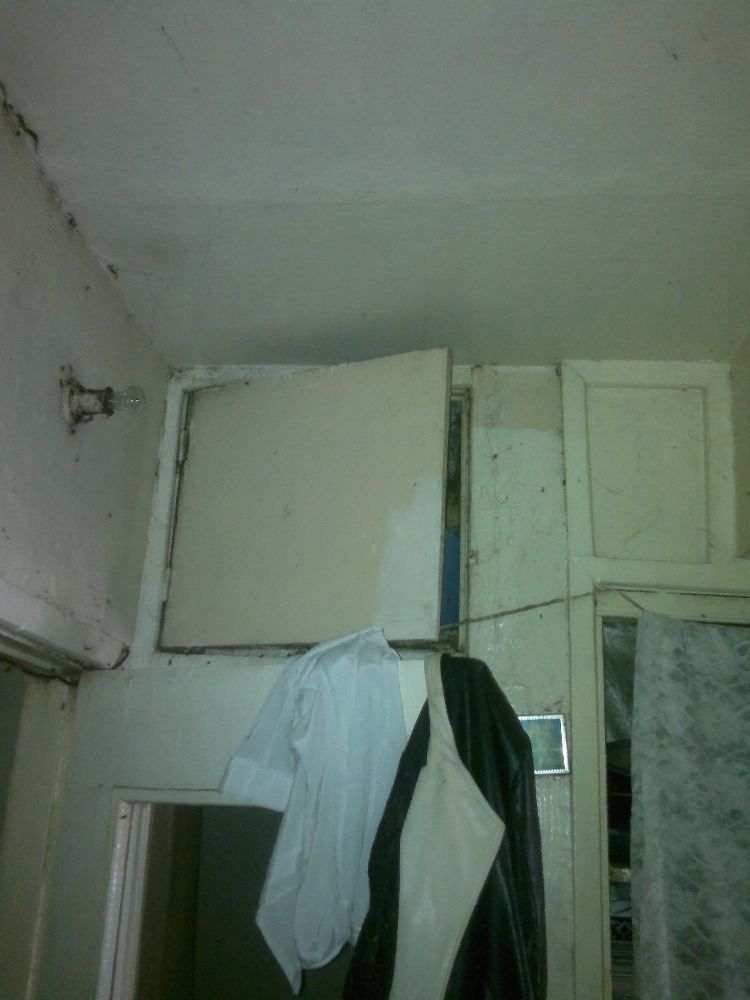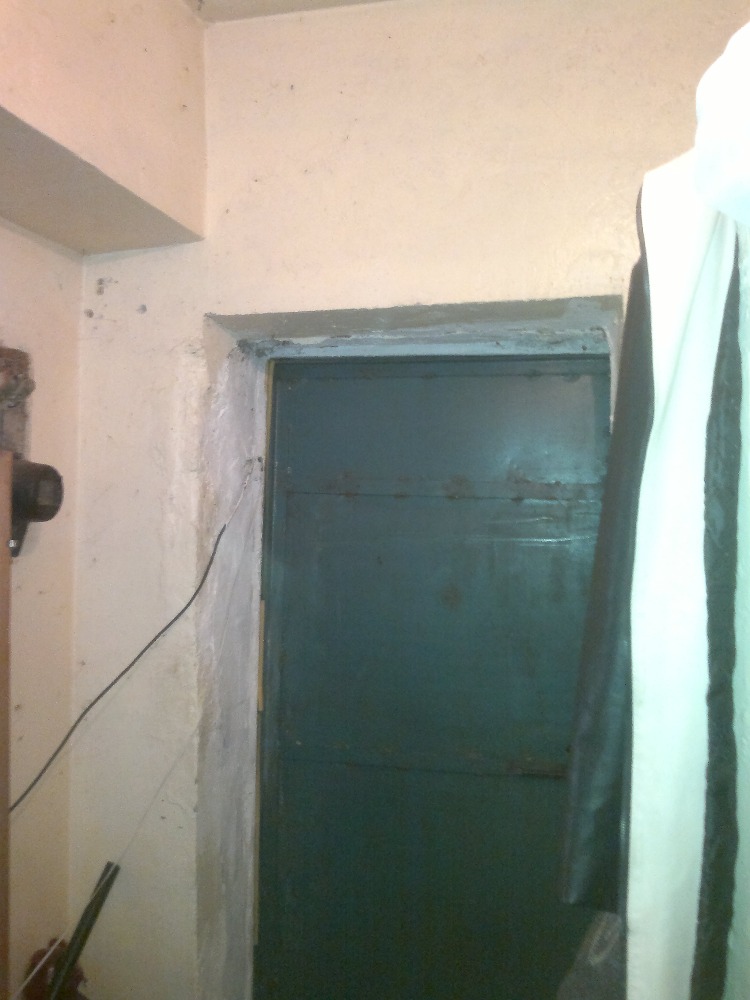 Now I work for the enterprise for waste recycling, I work as the ordinary watchman. Other vacancies for me aren't present. In the same place I also earn additionally, separating from waste paper, glass and plastic bottles, cellophane, metal and bringing together them. And then I hand over them in special points of reception. As a salary at me small (I receive about 30-35 dollars a month though the minimum average compensation in a month at us in the country about 100 dollars), this side job very much helps out me. However, by rules of our enterprise to collect waste which then it is possible separately it is forbidden to sell, but I persuaded the administration, thank God, that they meanwhile concern me with understanding. To me don't allow to collect so much, how many for me it is necessary, I am given a certain norm. But it suffices to me. Suffices, what though somehow to remain afloat. I am afraid of that that can discharge me from office, you know, we in the country have such rule if you became a chief that you is obliged to arrange all the people, from a circle of the friends, familiar relatives. It is such tradition. In our country people aren't estimated on talents and abilities, and estimated by number of available communications. Simply waste recycling plant not the most prestigious place therefore relatives of the chief didn't run more many though at some positions, it isn't necessary where especially to work the already such are available. Most likely, it will concern also me further. For now everything is normal.

Abroad, on earnings as it is done here by many, I can't leave. I have nobody will leave the little sister, and I am afraid that when I will return, even that apartment that I have, any more won't be. It is my main problem, I at all don't represent that will be if I have no apartment and as I on it will earn. In our country it is difficultly to obtain the credits for housing and even if receive, on such conditions that you will regret, and will pay them not really if only you don't work abroad. I appeared at such deadlock that I can't normally sleep and work at night in the afternoon. The whole day in my head of thought what to do and how to be. Earlier I dreamed of that, as though to escape with the little sister, to live in other place. Now my dream began not to remain on the street. My friend prompted to me about such projects as yours, in our country such isn't present. Though I still don't believe in their reality. The house I have no computer and the Internet therefore it helps me to that trains me in computers, registers on any sites, creates virtual accounts any, I in it understand nothing, but it tells that it, it is necessary for modern life, though for me to normal life as to the moon on foot. Having read with the friend of a request of people on gofundme.com which happen at people, it became a shame to me even to ask about something. It is a shame because I have also hands and feet and forces and health, but to change considerably to the best the life, it is impossible to me though I and try as I can. To one me won't consult, and seriously to help me not to whom. It is my last hope and that will be farther, I don't know. But I trust, can do it and it is naive, but I believe that there can be someone, will be able to help me.

Thanks to all to those who read it up to the end. If you read it, you already helped me, you granted the right to me to express and will share the experiences. Help me to get out of this nightmare. Sometimes I envy both except alcohol more it is necessary nothing for mother and the sister, mother, and the sister simply goes down stream, owing to the helplessness. And what to do to me I already and I don't know. Your project, is my last hope.

As I would like to ask gofundme.com administration, to render me assistance as we understood from rules of your project that in order that my request was published, the active account in facebook is necessary. But I didn't have it, I never used it, and to me it was got only just by the friend. But I, in fact, don't use it as I have no computer and Internet house. I would like that you would turn on this attention.

All good also store you the God.
Please click the style of widget you'd like to install