Hello dear friends,
No one can deny that Gaza live in a disastrous situation and suffer from everything . Gaza still suffering Over 10 years of ongoing Tight siege that caused creation a lot of crises and large percentage of families joining under the poverty line.
First, I want to thank you for the amazing things we did together; the happiness we brought to kids after their life was reduced to bleak ruins in Gaza, the dreams we made come true, and the life we re-plugged to colorless homes that were struck with despair and hopelessness. Together we stood for humanity, dug deep into our hearts and shared the blessings that life gave us with the isolated unheard poor.
Today I may ask you for another great favor, whose benefits will be everlasting.
Let us not suffice with aiding the poor timelessly. We should rather set them free from poverty, give them a push that would put them on the first step of the ladder of sustaining a living for themselves, and their surplus would go to help others in the same circumstances.
Kuzaa is a voiceless village in Gaza's periphery. It is struck with unspeakable grieve and despair. Its people are far below the poverty line, and their unlivable conditions, not only deprive them from realizing their dreams, opportunities and chances in life, but it makes them more vulnerable to preventable death.
Yet, its people are clinging to life with every breath. Children fight the harshest weathers to get to school, while their parents struggle non-stop to put food on the table.
However, despite their determination for living, they remain trapped in a vicious circle of poverty and cannot break out of it on their own. They need our help, and they deserve sharing our blessings with them.
That is why I've decided to come out today and ask you to put our hands together and lift those people out of poverty. My approach is to fan the flames of creativity, and to spark a spirit of entrepreneurship in the village. Which I believe would have a multiplier effect to create sufficient levels of income where surplus will be used to generate more growth and create more projects exponentially.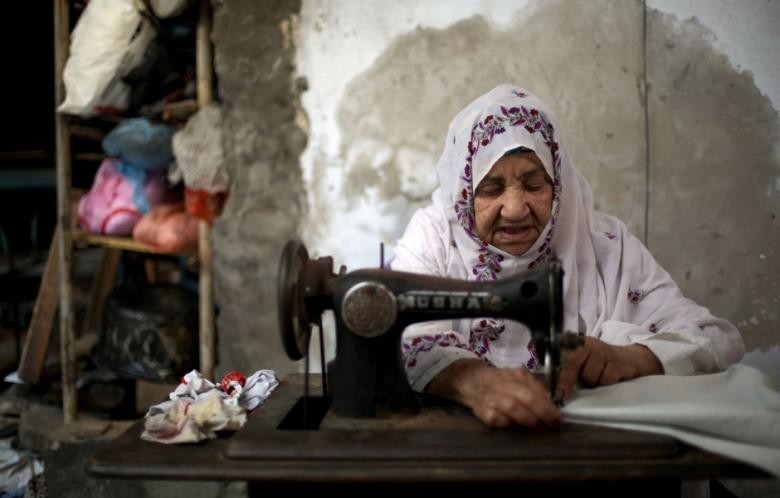 The project:
My plan is to buy five sewing machines and put each of them in a different part of the village. We will target the most vulnerable groups in the village; widowed and divorced mothers.
I will also buy textile for the women who will create unbelievable beauties with their imagination and skills; from embroideries to school uniforms, to winter clothes and blankets, all would be produced locally.
I would then open an actual store in Gaza city and an online store for their productions, which I will supervise and direct personally with the help of marketing experts, so that we could sell it locally and ship it to the outside.
This way, we could provide many families with sustainable income, and create jobs for many young men and women.
Furthermore, 25% of our first two years profit will be used to expand the project and give more sewing machines to more people in the village. In addition, some of our productions will go to the village's orphans.
Once the store stands on its feet and the business starts, generous donors and contributors to the campaign will receive gifts from our productions, and the campaign page will be turned into an online store, where buying our products will be a support of those families and a great help to expand the idea.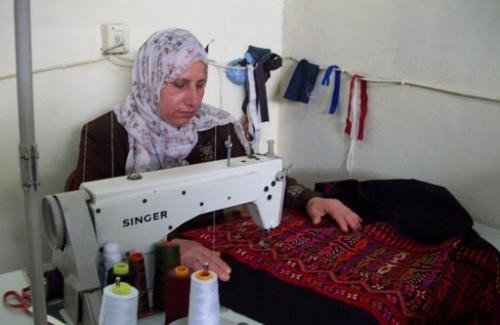 Most importantly, in the first two years of the project, 25% of the profit that we will make in that business will be invested in other projects with high potentials that will bring life back to the village; Organic farming, raising and breeding domestic animals, fish farming and others. Each of these newly created projects will be asked to run their businesses in the same way as the clothing store; pay it forward and create other projects, and thus the growth will be exponential.
Additionally, 10% of the money raised in the campaign will be immediately used to buy and give away blankets to poor people in the village, in order to shield them from the freezing winter.
Together we could develop one of Gaza's most despairing village into a model of entrepreneurship, and trust me; the little we give means the world to those people.
ـــــــــــــــــــــــــــــــــــــــــــــــــــــــــــــــــــــــــــــــــــــــــــــــــــــــــــــــــــــــــــــــــــــــــــــــــــــــــــــ
We team "shyrian alhayat youth center " live in Gaza and i am trying to help the poor people here as much as we can to help them to buy food and clothes . We hope all of you help and trust me and send your donations to help poor and We will post the pictures and videos for everything INSHA ALLAH.
ـــــــــــــــــــــــــــــــــــــــــــــــــــــــــــــــــــــــــــــــــــــــــــــــــــــــــــــــــــــــــــــــــــــــــــــــــــــــــــــ
We have accomplished many humanitarian, social and recreational projects.
You can see the photos of our activities on this link or video or through the images
You can send donations through the following accounts
WesternUnion : " Mahmoud Mohammed Alkhatib "
Palestine-gaza
WhatsApp : +972599655946
FaceBook : facebook.com/shys.palestine
Twitter : twitter.com/shys.palestine
. With your donations we continue the journey .. And draw the smile on the faces
Please click the style of widget you'd like to install